George H.W. Bush Hospitalized Following Wife Barbara's Funeral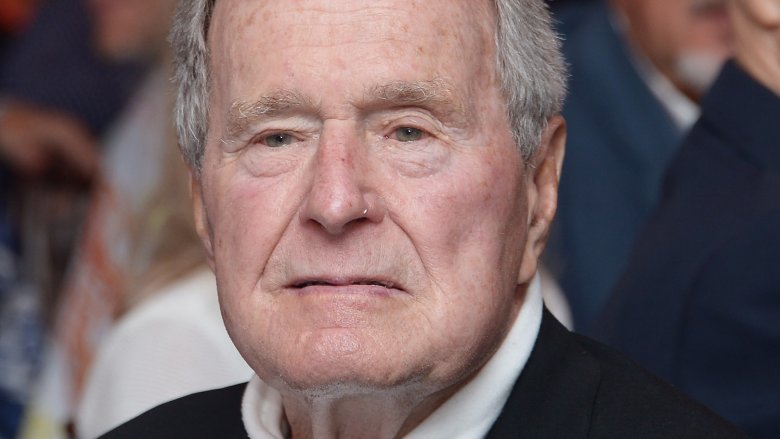 Getty Images
George H.W. Bush has been admitted to the hospital.
Shortly after his wife of 73 years, Barbara Bush, was laid to rest, the former president of the United States was hospitalized for a reported infection that entered his bloodstream. George H.W.'s spokesperson, Jim McGrath, announced the news via Twitter on Monday, April 23, 2018. "President Bush was admitted to the Houston Methodist Hospital yesterday morning after contracting an infection that spread to his blood," McGrath tweeted, adding that George H.W.'s condition was, fortunately, improving. "He is responding to treatments and appears to be recovering. We will issue additional updates as events warrant."
A source told CNN that George H.W., who has been diagnosed with a form of Parkinson's disease, was in critical condition. The insider also added that the 93-year-old's blood pressure had been dropping, which caused some to worry that he might soon pass, but he has since been stabilized.
As Nicki Swift previously reported, Barbara passed away on Tuesday, April 17, 2018, following the decline of her health in recent weeks. Prior to her death, she had decided "not to seek additional medical treatment." She was 92 years old.
Barbara was laid to rest on Saturday, April 21.
Following Barbara's passing, George H.W. released a statement via McGrath. "I always knew Barbara was the most beloved woman in the world, and in fact I used to tease her that I had a complex relationship about that fact. But the truth is the outpouring of love and friendship being directed at The Enforcer is lifting us all up," he said, calling his wife by her nickname. "We have faith she is in heaven, and we know that life will go on — as she would have it. So cross the Bushes off your worry list."