Scheana Shay's Hook-Up With John Mayer Was Spicier Than We Originally Thought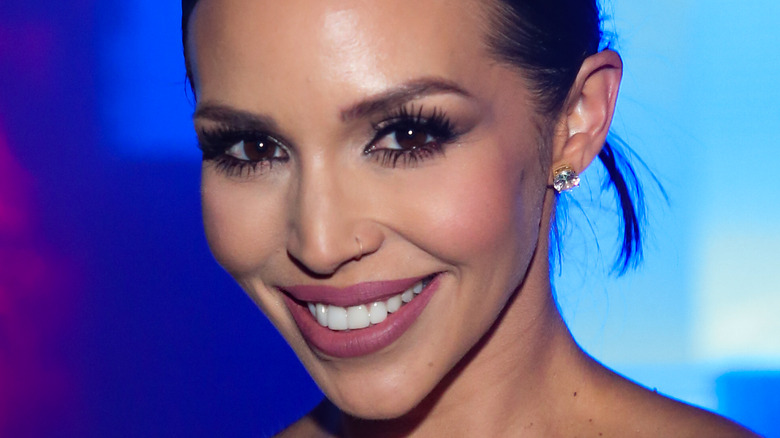 Paul Archuleta/Getty Images
Since 2013, Scheana Marie Shay has been an essential cast member of Bravo's "Vanderpump Rules." But before that, she was toying with acting, getting some gigs on "Greek," "Jonas," and "Victorious." She also appeared on one episode of "The Hills," which her friend Stacie Adams, known as "Stacie the Bartender," was on at the time. Adams wasn't a big personality or "character" on the MTV reality series — however, she was still a memorable one. And the two shared more than just a small spot on "The Hills." They also once shared John Mayer, too.
Back in 2009, it came out that Shay was linked to Mayer. At the time, she was an unknown in the world of celebrity, but People called her Mayer's "new gal pal" after rumors swirled that the two were hooking up following his split from Jennifer Aniston (yeah, we also forgot they were a thing at one point). A source told the outlet they'd been together for a few months and "enjoying getting to know each other." And even though Shay told People that they were friends and he was a "great guy," she was definitely a bit more than friends with the "Gravity" singer and Adams.
Scheana Shay and John Mayer were in a throuple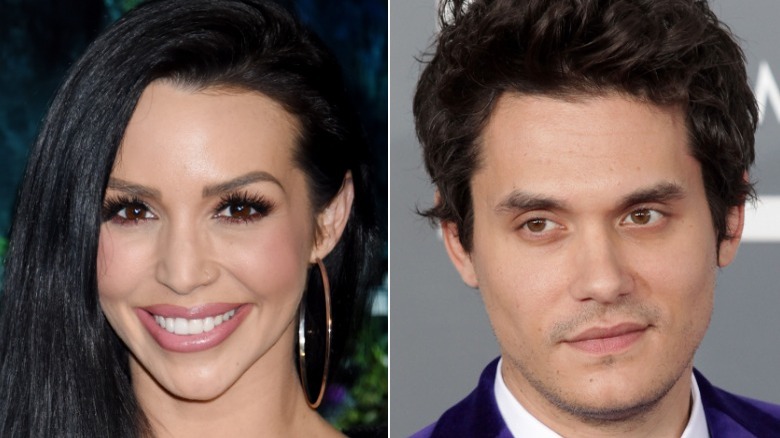 Ga Fullner & DFree/Shutterstock
More than a decade after those rumors were swirling around, Scheana Shay went on the "Flashbacks" podcast in 2020 and gave a more detailed account of her time with John Mayer (via People). She was working as a waitress at the Grand Havana Room in Los Angeles in 2008 when Mayer and then-girlfriend Jennifer Aniston came in before their breakup. Shay hit it off with the couple and "[ended] up getting wasted" with them. While Shay didn't take them up on an after-party invite, Mayer came back after his relationship with the "Friends" actor ended. Shay started hanging out with Mayer, along with her friend Stacie Adams.
The "Hills" bartender, Shay, and Mayer hung out for six months. "It just became, you know, kind of the three of us," Shay said. "We had a little throuple going on. But then there was, like, me and another her. Everyone always had attention." She clarified that the situation was sexual and the attention was well-balanced in the beginning, but things "got a little jealous" near the end. She got a bit upset when it seemed like Mayer liked Adams more, because Shay was the one who brought her in. It didn't help that Adams and Mayer continued talking even after Shay left the group. "Her and I had like a year of just awkward friendship falling out," Shay said. "But then came full circle a year later and ... have never been closer."
Scheana Shay thanks John Mayer for her role on 'Vanderpump Rules'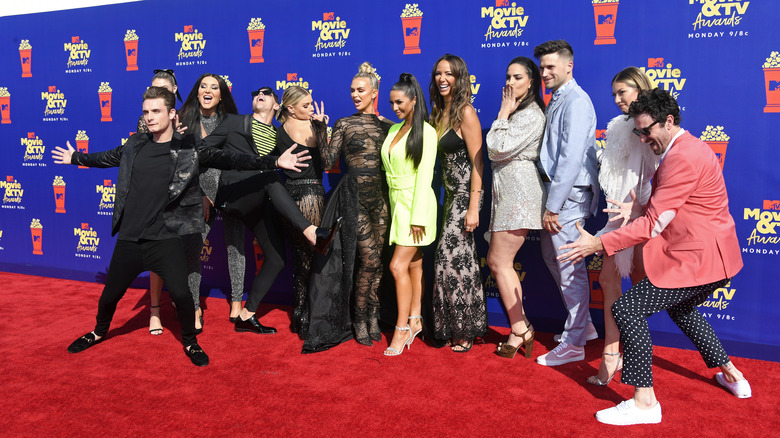 Frazer Harrison/Getty Images
Despite that stressful bump in Scheana Shay and Stacie Adams' friendship, the two did reconcile, as Shay said in 2020. Adams was even a bridesmaid at Shay's first wedding in 2014, according to People. And even though the throuple situation with Mayer nearly ended their friendship, Shay is grateful for it overall, because otherwise she wouldn't have ended up on "Vanderpump Rules."
After word got out that Shay and Mayer were having a fling, it also got to her bosses at the Grand Havana Room, and she lost her job. They had a policy that staff couldn't "fraternize" with members, and since Mayer belonged to the New York club, she had to go. When looking for work, she ended up at the Villa Blanca restaurant, which Lisa Vanderpump owned. But she also told the "Behind the Media" podcast in 2022 that she nearly blew that job too.
"Started the next day, had to work a double shift, messed up his dinner order," Scheana said. "It was like a whole thing. I have like vivid memories of like starting working for Ken and Lisa. But lo and behold, fast forward a decade later, nine successful seasons of a reality show came out of it. So I like to think that, you know, if it wasn't for John Mayer, I wouldn't be on 'Vanderpump Rules.'"