Why Meeting Timothee Chalamet Got Awkward For Chloe Fineman
Dimitrios Kambouris/Getty Images
Chloe Fineman is a "Saturday Night Live" star best known for her hilarious impressions. According to her IMDb, Fineman joined the sketch comedy show in 2019 and has so far given her take on celebs from Jennifer Coolidge to Drew Barrymore and even Britney Spears. Fineman also famously impersonated Meryl Streep, Elizabeth Holmes, and Keira Knightly during a segment of "The Tonight Show." However, that barely scratches the surface of her social media arsenal, which is chock full of even more celeb impressions. As Nerdist notes, Fineman's skill impressions helped her to land her "SNL" gig.
When it comes to Fineman's best impressions, her fans seem to differ on which ones they prefer. However, her impression of actor Timothée Chalamet definitely sits high on the list. Fineman has impersonated the "Dune" star on a couple of occasions over the years. The first occurred in 2020 when Fineman appeared in an at-home "SNL" sketch titled "Masterclass Quarantine Edition," where she portrayed Chalamet hosting a Masterclass on fashion. That December, Fineman again took on Chalamet's likeness as she performed "'Twas the Night Before Christmas."  And while both impressions went over well with fans, Fineman's skits led to an awkward encounter with Chalamet after they finally met in person. 
Chloe Fineman met Timothée Chalamet after impersonating him
Timothée Chalamet hosted "SNL" in December 2020, which increased the likelihood that he'd cross paths with Chloe Fineman. If the past is any indication, it's not always pleasant when comics come face-to-face with celebs they've poked fun at — just ask Chris Rock. Interestingly enough, Chalamet and Fineman appeared in a skit titled "The Dionne Warwick Show." Fortunately for Fineman, she and Chalamet didn't actually exchange any dialogue and weren't even on camera at the same time. But somehow, the two still wound up meeting.
Fortunately, Fineman's exchange with Chalamet wasn't unpleasant, though it was definitely a little awkward. During an appearance on "The Tonight Show," Fineman recounted the moment she and Chalamet officially met. Prefacing the encounter by sharing that it's "sometimes really scary" to meet celebs she's impersonated, Fineman confirmed meeting the beloved actor. "[Chalamet] was at the show on Saturday secretly, undercover with a hat and a mask — as you should be in a mask — and he was like, 'We should figure something out," shared Fineman (via People). "I was like, 'Ah! It's Timothée Chalamet!" Fineman then shared Chalamet's response. "I'm actually working on an impression of you, haha," said Chalamet. "No, I'm not — yeah, I am — No, I'm not.'"
Chloe Fineman sometimes gets nervous after impersonating celebrities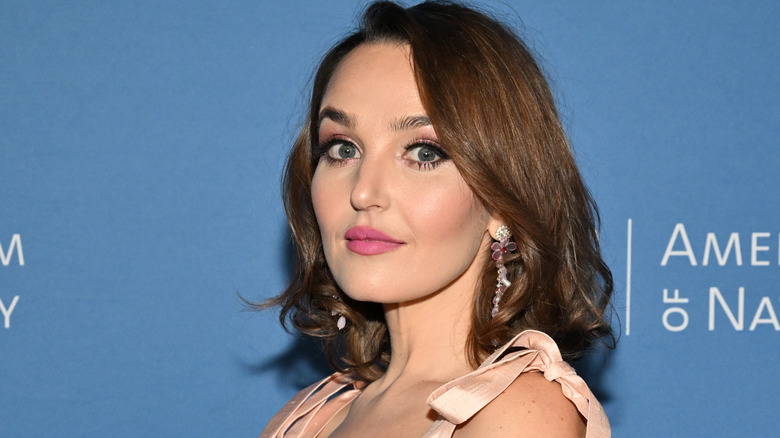 Slaven Vlasic/Getty Images
While it's swell that Timothy Chalamet managed to see the humor in Chloe Fineman's impression of him, their encounter could've gone a lot differently. While some celebs have loved being roasted on "SNL,"  others stars don't appear to appreciate the show's spin on their likeness. It should come as no surprise, then, that Fineman has been nervous about how some of her impressions would go over. Fineman revealed as much during an appearance on "The Tonight Show." 
"I'll do these impressions, and then it's sort of this panic of 'Have I humiliated myself' or 'Do they think I'm awful?'" Fineman recounted to host Jimmy Fallon. "And then, this like little blue check thing will appear in your Instagram DM's, and it's this celebrity you've done an impression of, but you don't know what it's saying. And to me, it's like getting a letter from the president. It's huge!" Fineman then revealed she was once on a mountain in Montana when she received a message from Reese Witherspoon. And while a lack of service required that she descend the mountain — she soon learned that Witherspoon, who she'd formally impersonated, approved. Whew!