WWE Legend Jerry Lawler On The Mend After Scary Health Emergency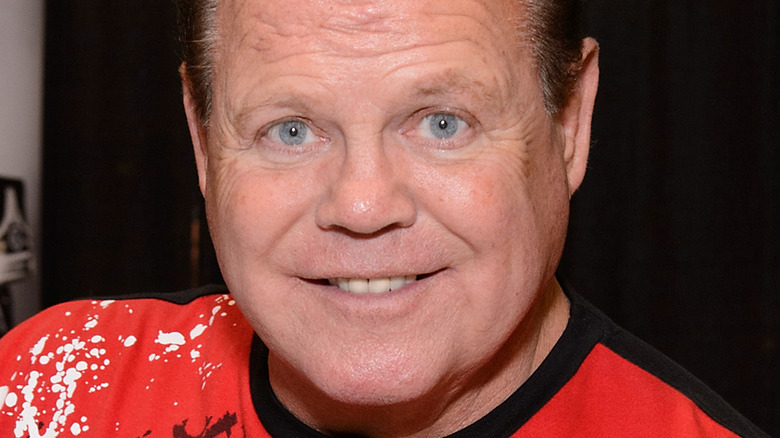 Daniel Boczarski/Getty Images
Wrestling legend Jerry "The King" Lawler had a medical scare earlier this month, suffering a stroke on February 6, per TMZ. Lawler was rushed from his Florida home to a hospital, where he underwent surgery. His friend and fellow pro wrestler Ricky Morton tweeted at the time, "Please direct good vibes, thoughts, & prayers to Jerry at this time. Genuinely appreciate it & hope to hear good news in the very near future."
Inducted into the WWE Hall of Fame in 2007, Lawler has a history of heart illnesses, even suffering a near-fatal cardiac arrest on live TV during a 2012 episode of "Monday Night Raw." Upon suffering a stroke in 2018, he admitted to Action News 5 that he had stopped taking his previously prescribed blood pressure medication. "The right side of my mouth was drooped all the way down," Lawler described in 2018. "I turned to talk and I couldn't say anything." After recovering from that second medical emergency, Lawler went on to appear as a commentator on WWE's "Royal Rumble Show" in January. 
Thankfully, the Hall of Famer has good news for his 2023 road to rehabilitation. 
Jerry Lawler should bounce back from stroke fully
Jerry Lawler is expected to make a full recovery after suffering his second stroke in five years. Recovering in a Florida hospital after his February 6 stroke, the WWE Hall of Famer's Twitter account posted an optimistic update on his condition. "After suffering a massive Stroke Monday. He is now recovering in a Fort Myers, FL hospital," the tweet informed fans, adding that Lawler's speech was currently "limited," but rehabilitation should bring "a full recovery." 
As reported by Action News 5, Lawler was discovered on February 6 face down outside his Fort Myers, Fla. home. Unable to speak at all at the time, Lawler also had no feeling down the right side of his body. His friend Dutch Mantell tweeted that Lawler "experienced paralysis on his right side immediately following the stroke," with him first regaining "partial use of his arm." Noting that the wrestling legend was on the steady mend, Mantell added that Lawler's "speech is still affected but that takes a bit more time."