Concern For Britney Spears Reportedly Headed To Intervention — But Target Trip Says Otherwise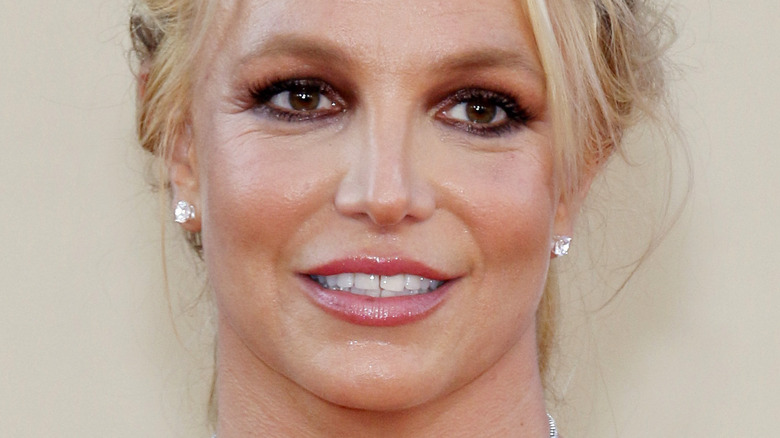 Tinseltown/Shutterstock
This article includes mentions of mental health and substance use.
Worry about Britney Spears' well-being has been building as of late. Certain public appearances, such as Spears' odd date night, have further rattled fans. In January 2023, the "Toxic" singer went to a restaurant with her husband Sam Asghari. Sources told TMZ that Spears became agitated when patrons started recording her. According to eyewitnesses, she acted "manic" and spoke in "gibberish." However, Spears has insisted that she's mentally stable, and took to Instagram to voice her feelings. She wrote, in part, "I know the news is all hyped about me being a little drunk at a restaurant ... it's like they'll be WATCHING MY EVERY MOVE !!! I'm so flattered they talk about me like a maniac THEN have the balls to talk about all the negative things that happened in my past !!!"
Spears' inner circle is reportedly concerned about her. A source recently told People that she "has been acting increasingly erratically." They added, "She is often up all night, sleeps during [the] day and has a lot of anger." According to the outlet, the superstar has been stubborn about getting help. Another insider said, "Everyone had hoped Britney could be convinced to seek treatment before things got any worse but they knew it wouldn't be easy. She's been going through a lot and has been increasingly combative." Recently, an intervention was arranged for Spears. Yet, a Target trip has left fans wondering about the urgency and seriousness of her condition.
Britney Spears' Target trip leaves fans confused
Britney Spears has reportedly been dealing with mental health and substance use issues, which has caused concern amongst loved ones. An insider told TMZ, "I'm afraid she's gonna die." As a result, an intervention had been planned in order to offer Spears assistance. Insiders revealed details, noting that Spears' manager rented a home in Los Angeles. She was to be brought to the house on February 7, where she would be confronted by her husband Sam Asghari, her manager, an interventionist, and doctors. Apparently, she was going to reside there for a few months as she obtained treatment. Although the plan fell through, Spears met with a doctor on February 8 and it "went well."
Meanwhile, Asghari posted an Instagram Story that has left fans confused, to say the least. In the short video, Spears and her husband dance in front of the mirror in matching outfits at Target, where they appear as cheery as ever. A user who re-posted it wrote, "Does this look like a woman who looks near to death?" Fans offered their theories, with one user tweeting, "She looks better and happier than ever and her family can't stand it." Someone else wrote, "I said it from day one, I don't think the public truly knew the entire story of why there was a need for a conservatorship, and worried there could be a sad ending to this story. I hope she can get the help she needs."
If you or someone you know needs help with mental health, please contact the Crisis Text Line by texting HOME to 741741, call the National Alliance on Mental Illness helpline at 1-800-950-NAMI (6264), or visit the National Institute of Mental Health website.