Why Snoop Dogg And His Wife Shante Nearly Got Divorced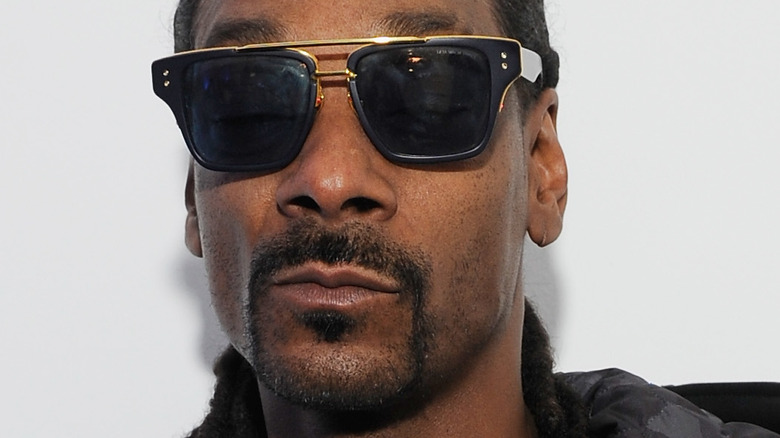 Matteo Valle/Getty Images
If there's one thing Snoop Dogg loves more than music, it's his wife, Shante Broadus. Like Snoop, Broadus grew up in Long Beach, California, and the pair later met in high school, per Us Weekly. Apparently, the "Drop It Like It's Hot" rapper had to work hard to get Broadus to date him.
Snoop told Djvlad that getting his future wife's attention was no small task. "I had to go over there and date her for, like, four months before I was able to kiss her," he revealed. "I had to call her on the phone. I had to write love letters." Broadus met Snoop before the fame and fortune while he was still working to become an established rapper. "I was there with him when he started all this. Even before he came out [as a musician], our friends and I were his fans." As one of his only fans, Broadus listened to Snoop's songs and offered feedback. 
From high school sweethearts to marriage, the couple ended up tying the knot in 1997. While it seems as if the couple was made for each other, their marriage hasn't always been smooth sailing. The two are among Hollywood's longest-lasting couples — but their union almost ended divorce.
Snoop Dogg filed for divorce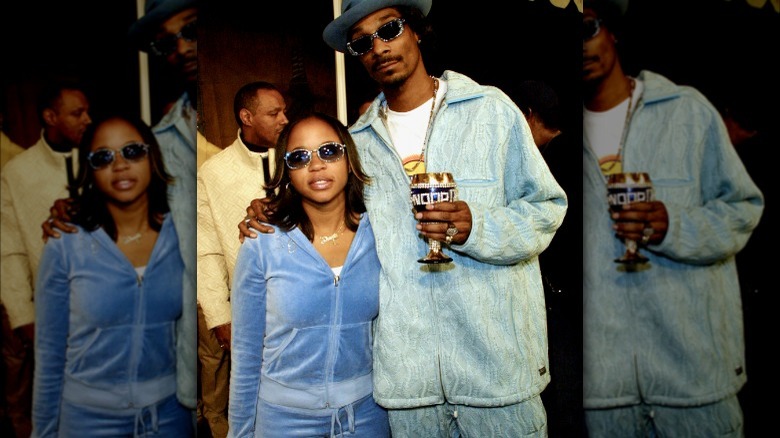 Frederick M. Brown/Getty
While it's not usually a surprise when Hollywood couples call it quits, many were stunned when Snoop Dogg and Shante Broadus decided to part ways in 2004. According to Us Weekly, after seven years of marriage, Snoop asked Shante Broadus for a divorce, citing "irreconcilable differences." However, in a surprising about-face, the divorce never happened.
According to E! News, "The Next Episode" rapper revealed that fame had gotten in the way of his love for Broadus. He shared that he attempted to get a divorce, but when he came back home to his wife and kids, it clicked that nothing could get better than that. Snoop said, "This music industry is a mother, man, and it'll take your vision and blur it. But God is good, so I understand that I need my wife and my kids in my life—so I threw the papers away." The rapper joked that if divorce ever surrounds his marriage again, it will be because his wife asked for it, not him.
Although Snoop and Broadus wound up getting back together, it didn't come easy. Snoop said, "A whole lot of begging and pleading...it was up to me to try to put it back together because I'm the one who said I didn't want to be a part of it no more..." Despite the bump in the road, the couple moves past it.
Snoop Dogg and Shante Broadus marriage is strong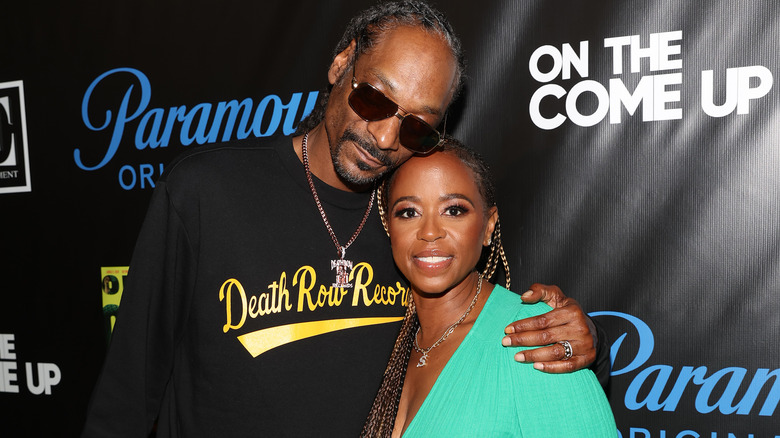 Jesse Grant/Getty Images
Not long after the divorce debacle, Snoop Dogg and Shante Broadus decided to prove their love for one another. According to Buddy TV, the "Gin and Juice" rapper planned a surprise vow renewal for his wife in 2008. The rapper shared a speech dedicated to his wife before a minister stepped out for the ceremony. Some of the couple's closest friends and family attended to celebrate the unity. The couple's love only grew as they took on exciting milestones together.
At the time of their renewal, Snoop and Broadus already had four children together: Corde, Cordell, Cori, and Julian, notes Us Weekly. But the couple took another milestone when they welcomed their first grandchild in 2015. The grandbabies kept coming, and Broadus and Snoop became the grandparents to four more children before long. Throughout all the craziness, the two continue to set time aside for one another.
In 2022, the rapper and Broadus celebrated 25 years of marriage. According to HipHopDX,the two took a romantic trip to Bora Bora to mark the occasion. Snoop and Broadus documented their trip on Instagram with a series of stunning photos on the island. Broadus captioned her shot, "We Go Together? Real Bad! ....... After All These Years We Still Look At Each Other The Same *Alexa Play "Anniversary" From Tony! Toni! Toné" Snoop reciprocated his love in the comments.