The Untold Truth Of Snoop Dogg's Kids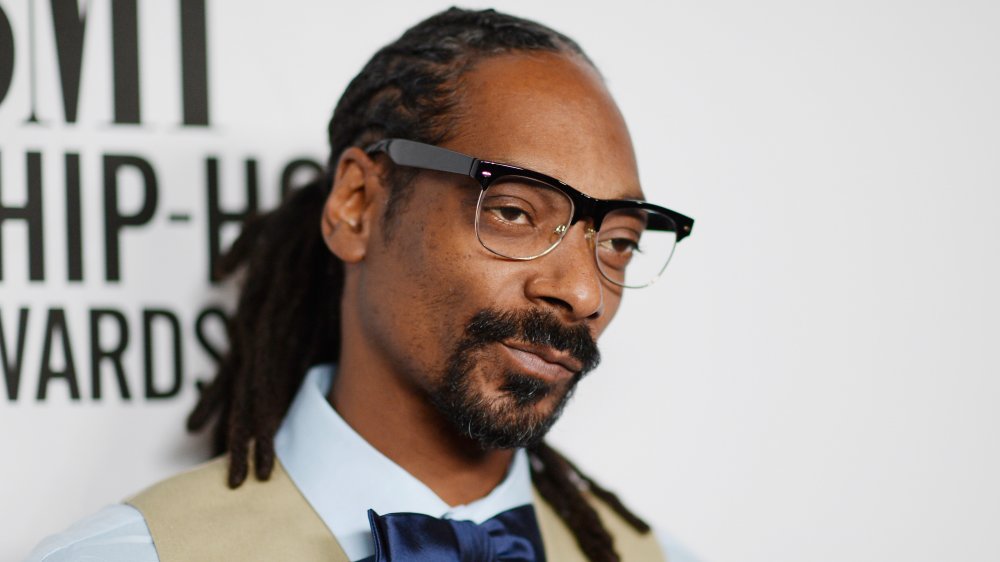 Frazer Harrison/Getty Images
Snoop Dogg might be best known for rapping about gin and juice and smoking large quantities of cannabis, but he's also quite the family man (not that any of those things are mutually exclusive). Snoop Dogg has four children and three are with his current wife and childhood sweetheart, Shante Broadus: Corde Broadus, born in 1994; Cordell Broadus, born in 1997; and Cori Broadus, born in 1999. He has another son from a relationship with Laurie Holmond named Julian Corrie Broadus, born in 1998. 
Shante and Snoop married in 1997 and have been through a lot together — for example, his extramarital relationship with Holmond, a divorce in 2004, and then a vow renewal in 2008. Now, they seem to be living happily ever after. However, clearly it wasn't always simple. Holmond told Star magazine (via Artisan News) that she and Calvin (which is Snoop's real name) were together up until she found out that he was getting married to Shante. "Calvin told me I wouldn't understand, and he was right, I wanted nothing to do with him," she said. Holmond added that they did get together one more time after that, and nine months later, Julian was born. For a long time, Snoop and his son were reportedly estranged. 
One of Snoop Dogg's son's said he felt left out
According to Amo Mama, Snoop Dogg was with Laurie Holmond in the hospital when his son Julian was born in '98 and he reportedly took financial responsibility for his son. It wasn't until Holmond established paternity and took it to the courts that Julian was really known to Snoop's fans, though. When Snoop, his wife Shante Broadus, and his other three children had an E! reality show, Snoop Dogg's Father Hood, a then-9-year-old Julian told reporters that he felt left out. "I don't want to be an actor; I want to be a basketball player. But I want to be on the show to get to know my family. It would be so nice for all of us to just hang out together. I hope we can do that one day," he said, according to the outlet. Although he said he wanted to play ball, he said in an interview with LA Talk Live that he wanted to pursue music. 
"When I was a basketball player, I could only do so much, and I couldn't be unique," Julian said. "Everybody plays basketball. And this music stuff is what I love. I'm really glad that God opened those doors for me and showed me... [that this is where he's supposed to go]." Now that the kids are all grown up and pursuing their own lives, though, they seem to be closer — at least judging from his Instagram posts. 
Snoop Dogg is also a grandfather
Snoop Dogg's other three kids are old enough to have children of their own, too! His son Cordell had a daughter, Cordoba Journey, with girlfriend Phia Barragan in 2019. And Snoop's son Corde has two kids of his own: Zion Kalvin, born in 2015 to his then-girlfriend Jessica Kyzer, and a daughter, Elleven, who was born in 2017 with his partner Soraya. Sadly, Corde had a third child in 2019 with Soraya as well, Kai, but the baby passed away just 10 days after he was born, per People. Corde posted about his loss on Instagram, per Yahoo! Entertainment. 
"It makes perfect sense to me why 2 spiritual loving and healing people like me and Soraya was given an angel like Kai and now we will use his energy to raise 11 to the best person she can be for ALL of us," Corde wrote. "Life is beautiful y'all and I want y'all to kno Soraya is at peace and is moving forward with huge smiles and A little baby running around thinking she grown. Jus want to use my spotlight for happiness and growth and not anything less than. Thank you! Now let's get back to our soul purpose."
While life hasn't always been easy for Snoop Dogg and his children, the family continues to grow and support each other, which is all that matters.