Snoop Dogg Shouts Out Daughter Cori For Milestone Accomplishment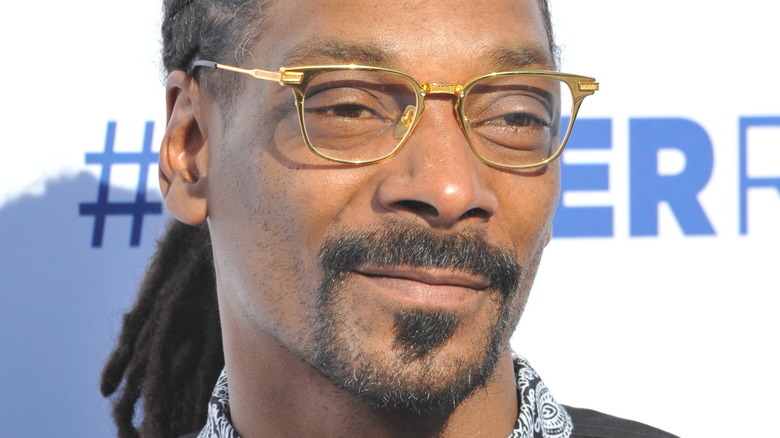 Jaguar PS/Shutterstock
Trigger warning: This article contains content regarding mental health struggles and suicide.
Snoop Dogg is taking some heat after buying Death Row Records and then removing most of its music — save for Tupac's two iconic albums, "All Eyez On Me" and "The Don Killuminati: The 7 Day Theory" — from streaming services such as Spotify, per Billboard. Death Row Records is transforming into an NFT label, and Snoop revealed that they would be "putting out artists through the metaverse." Netizens, however, were not pleased with the move. One tweeted, "very cool of snoop dogg to turn Death Row into an NFT label and take all their legendary albums off of streaming services for no reason." They continued, "i love not being able to listen to my favorite classic rap albums" before (sarcastically) thanking the rapper. 
While Snoop may not be popular among streaming platform subscribers at the moment, he still takes pleasure in his family. Snoop Dogg has two sons and a daughter with his wife Shante Broadus, and a son from a previous relationship. The "Who Am I" rapper only has one daughter, Cori Broadus, and it seems she may have her father wrapped around her little finger. In mid-March, Snoop took to social media to share some special news. The proud father sang Cori's praises because she has achieved so much at a young age — and he has every reason to gloat about how she's breaking barriers.
Snoop Dogg's daughter just opened a beauty salon
Snoop Dogg's daughter, Cori Broadus, seems determined to shape her own future and has been busy with a major venture. Snoop Dogg posted photos of a beauty salon and its staff on his Instagram page. He wrote, "@chateaubeautybar 1st black owned salon in Santa Monica California." He then continued, "[S]o proud of my baby girl @princessbroadus." Broadus is the first woman of color to open a beauty salon in the upmarket area, trailblazing her own path.
In 2021, Broadus opened up about her mental health. In a candid Instagram post, she revealed, "The last few weeks my mental has not been so great." She then got really vulnerable and shared, "[A]t one point I tried to end my life but you & my family really give me a purpose to live & helped me realize Iife is much more than materialistic things." She added that she was "pushing through the bulls**t." 
Broadus later posted a 36-minute video and said that her depression had started in childhood and that she contemplated suicide from the age of 13. She said (via ABC), "I grew up with two light-skinned brothers, and I was the only chocolate one ... I got lupus at 6, so I was overweight from being on steroids," Broadus added, "People looked at me like I was an alien." She was placed under involuntary psychiatric hospitalization after attempting suicide in recent memory.
If you or anyone you know is having suicidal thoughts, please call the National Suicide Prevention Lifeline​ at​ 1-800-273-TALK (8255)​.