How Did Snoop Dogg Really Get His Stage Name?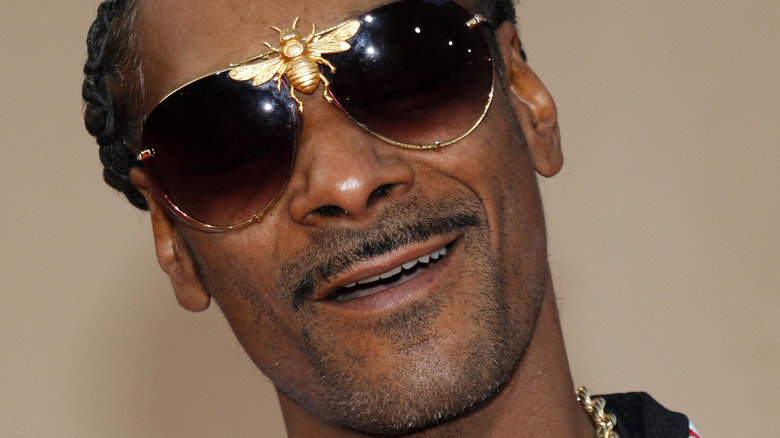 Tinseltown/Shutterstock
Snoop Dogg's name is easily one of the most recognized hip-hop stage monikers in the entertainment industry. Before his title came to be known globally, Snoop started out on the music scene when rapper and hip hop mogul Dr. Dre discovered him in 1992, per Snoop's IMDb bio. Dre then produced Snoop's debut album, called "Doggystyle," which was released in 1993 and stayed at the top of the Billboard 200 for three weeks. In a 2020 interview with Showtime Basketball's "All The Smoke," Snoop reflected on meeting Dre and working with him as Dre was starting up Death Row Records.
"[Dre] was like, he's starting a label and this and that. We just started bonding. I started coming to the studio every day," Snoop said. "[I had] no money, just every day, writing, writing, writing, 'til we finally just, like, we caught a ... hit." Snoop has now come full circle in his career, as he recently performed with Dre at the Super Bowl halftime show, and he bought Death Row Records in early February 2022.
According to Capital FM, Snoop was born Calvin Cordozar Broadus Jr. Over the years, he has taken on various different stage names, such as Snoop Doggy Dogg, Big Snoop Dogg, and Snoop Lion, as reported by Classic Hip Hop Magazine. Snoop Dogg, however, is the stage name that has endured throughout his professional journey. The origins of this name trace back to a childhood nickname for the West Coast rapper.
Snoop Dogg's family influenced his nickname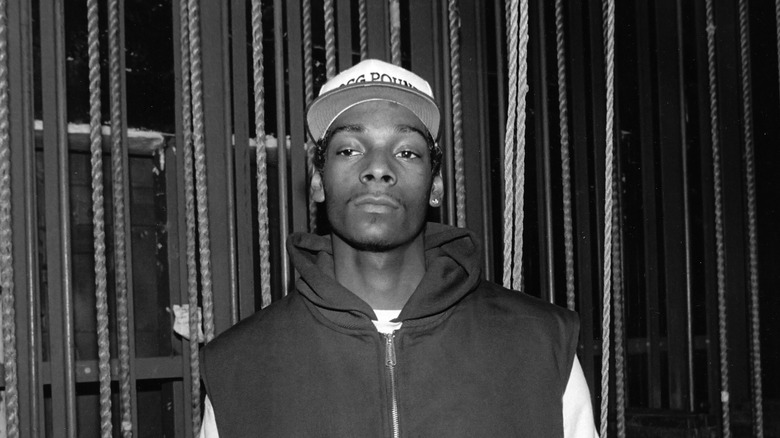 Raymond Boyd/Getty Images
Although he was born as Calvin Cordozar Broadus Jr., Snoop Dogg acquired his nickname of "Snoop" from his mother during his childhood. She chose the nickname because she thought the young Snoop resembled Snoopy, the dog character of the Peanuts cartoon, per Biography. Although he goes by Snoop Dogg rather than Snoopy for his stage name, in one of his early hits "Who Am I (What's My Name)?", Snoop includes some lyrics that hint at the Peanuts character, with the words, "I know his name / C'mon Snoopy, c'mon Snoopy (The bomb) / And the Dogg Pound," as Genius stated.
In a 2013 interview with Vlad TV, Snoop discussed how his stage name evolved. He said his first rap title was Snoop Rock-Ski after Kool Rock-Ski, a member of The Fat Boys, but he later borrowed parts of a relative's name to create the moniker of Snoop Doggy Dogg, which he used early in his career. "As I got older, I became Snoop Dogg, and then my cousin ... his name was Tate Doggy Dogg, and I just liked the way that Doggy Dogg sounded. So I was like, I gotta have that." Using his childhood nickname, mixed with his cousin's moniker, while creating his rap persona made for a memorable image that has served Snoop well throughout his career.
Snoop Dogg remembers how his mother helped him flourish
The name Snoop Dogg has become a title known around the world due to the rapper's great success in the music industry, and this persona started with a nickname his mother, Beverly Tate, gave him in his youth. Although she lived to see Snoop's prominence as an entertainer, Tate sadly died in 2021, The Hollywood Reporter stated.
In a "Breakfast Club" interview, Snoop revealed that when he got the news that his mother had died, he initially wanted to cancel the show he had planned for that night. But, after shedding some tears, he thought about what his mother would advise him to do in this situation. "I was like ... what would my momma want me to do? You know, she would want me to get in front of these people and give them a show, and I went out there and I gave it to them." Snoop also credited his mother for giving him freedom in his childhood to explore and discover important life lessons.
"I was able to be out in the mix. My mother allowed me to go outside and to be a kid ... and to learn and to grow," Snoop said. "And I feel like it taught me how to deal with life." It sounds like Snoop's connection with his mother was a very special one, and his stage name is a testament to the affection she had for her talented son.