Why Leonardo DiCaprio Used To Have A Problem With Mark Wahlberg
Andrea Raffin/Shutterstock
Leonardo DiCaprio and Mark Wahlberg are two of the most prominent actors to come out of the 90s. DiCaprio started as a child actor, though he eventually became Hollywood's most sought-after leading man. And while his acting history is too extensive to summarize, "Titanic," "Inception," and "Wolf of Wall Street" are among the highlights of his career. Meanwhile, Wahlberg got his start as a rapper named Marky Mark. And while he achieved moderate success, he eventually made the brilliant decision to transition into acting and has since starred in some of Hollywood's most popular and profitable projects, including "The Perfect Storm," "Ted," and the "Transformers" franchise, to name a few.
Fans of both actors are probably well aware that DiCaprio and Wahlberg also share one of Hollywood's most enduring friendships. And they've actually worked together on a few occasions. Their most recent joint venture was 2006's "The Departed," an Irish mob drama. Before that, Wahlberg and DiCaprio worked together on 1994's "The Basketball Diaries," where they initially met and formed their bond. 
In 2019, Wahlberg took to Instagram to share an old Entertainment Tonight clip of the two actors on set flaunting their burgeoning friendship. "Are we friends?" Asked DiCaprio. "Yeah, we're friends. Right, Mark?" Naturally, Wahlberg agreed, replying: "Friends 'til the end." And while it appears they've maintained that declaration, the famous friends weren't always as chummy. As Wahlberg once revealed, DiCaprio was not fond of him in the beginning.
Mark Wahlberg didn't make the best first impression on Leonardo DiCaprio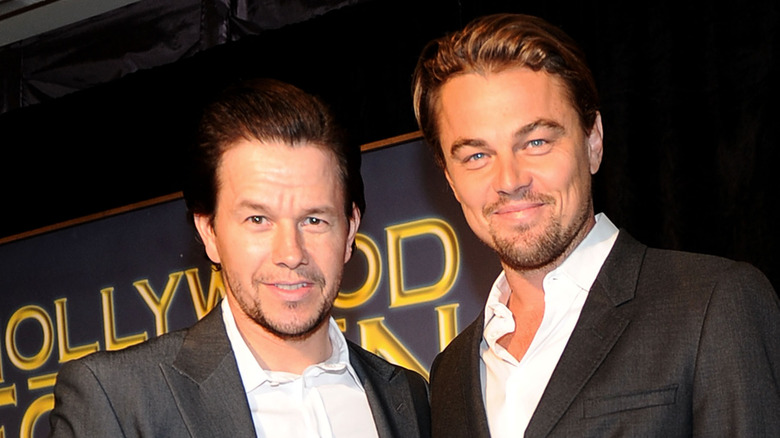 Frazer Harrison/Getty Images
Things seemed quite swell between Leonardo DiCaprio and Mark Wahlberg by the time they participated in that iconic Entertainment Tonight interview. However, "The Basketball Diaries" co-stars couldn't stand each other at first. While chatting with The Hollywood Reporter in 2013, Wahlberg shared that DiCaprio didn't want to star beside him in the film. "Leonardo was like, 'Over my dead f***ing body. Marky Mark's not going to be in this f***ing movie,'" shared Wahlberg. "Because we'd had a thing — I didn't even realize it, [but] I was a bit of a dick to him at a charity basketball game," continued Wahlberg. "So he was like, 'This f***ing a**hole is not going to be in this movie.'" 
Fortunately, DiCaprio came around, agreeing to go over lines with Wahlberg and eventually warming up to him. "The next thing you know, boom, we're hanging out," declared Wahlberg. In 2018, Wahlberg recounted a similar tale and revealed that DiCaprio initially "didn't want him" in the film while speaking at the LEAP Conference.
Mark Wahlberg didn't think Leonardo DiCaprio was right for The Basketball Diaries either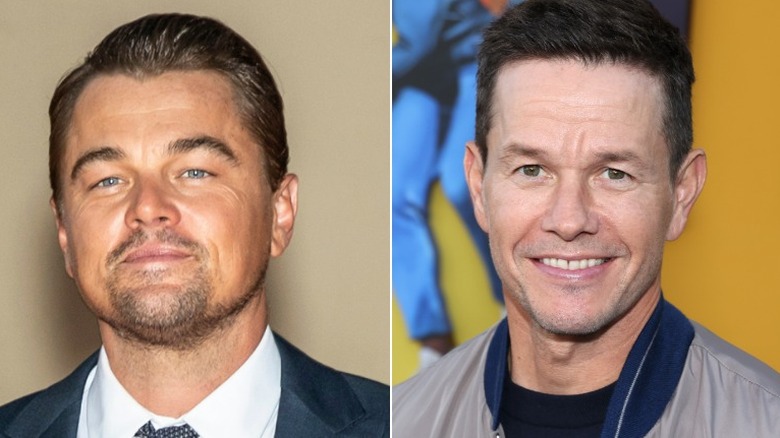 David Livingston/Getty & Ovidiu Hrubaru/Shutterstock
Judging by the number of times he's mentioned it, It's safe to say Mark Wahlberg's past feud with Leonardo DiCaprio impacted him on a large scale. In 2014, Wahlberg shared even more details about their prickly start with HuffPost. After recounting DiCaprio's initial reaction to his involvement in "The Basketball Diaries," Wahlberg shared that he didn't think DiCaprio could handle his role either. "He wasn't a New York street guy basketball player," said Wahlberg. "I was like, 'I've seen this dude play ball!' So we both had a bit of chip on our shoulder."
And while it's wonderful that Wahlberg and DiCaprio both moved past their differences, It's safe to say that "The Basketball Diaries" is one of the duo's under-appreciated films. Unlike many of DiCaprio's other projects, "The Basketball Diaries" grossed only $2.3 million worldwide, per Box Office Mojo, and only received a 47 % approval rating on Rotten Tomatoes. Oh well. At least they got a friendship out of the flick.