Inside Drew Brees And Brad Pitt's Friendship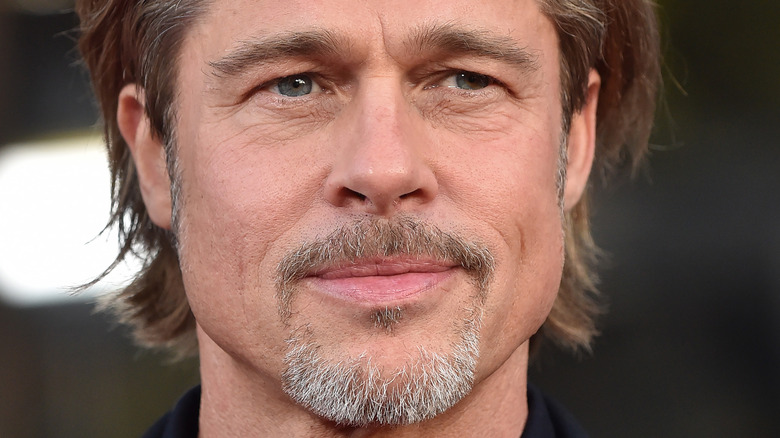 DFree/Shutterstock
Brad Pitt may be one of the biggest movie stars alive today, but that doesn't mean he doesn't indulge in sports like the rest of us. Pitt hasn't just been a mere spectator, though. While attending high school in Missouri, the Oscar winner dabbled in different modalities. "I wrestled one year. I dove one year," he told Sports Illustrated in 2011 (via People). Despite his love for sports, Pitt isn't a big fan of America's national pastime. "Baseball and I didn't get along that well," he said.
Pitt's passion for America's most popular sport — football — makes up for that disappointment (maybe). Because he was primarily raised in Missouri, Pitt supports the Kansas City Chiefs, a team he has celebrated, even on the red carpet. "My Chiefs won today," he told Variety at the 2020 SAG Award. When it comes to college football, though, Pitt takes his passion back to his birthplace: Oklahoma. In 2018, Pitt was seen in the crowd rooting for the Oklahoma Sooners, who won the Rose Bowl, as GQ pointed out.
But two football teams aren't enough. The "Fight Club" star also roots for the New Orleans Saints, though his relationship with the Louisiana city came later in life. After buying a house in the Big Easy in 2007 with ex-wife Angelina Jolie, Pitt started going to football games in the company of his kids, Radar noted in 2010. During that time, he struck up a friendship with one of the Saints' most celebrated players: Drew Brees. 
Brad Pitt and Drew Brees met through another actor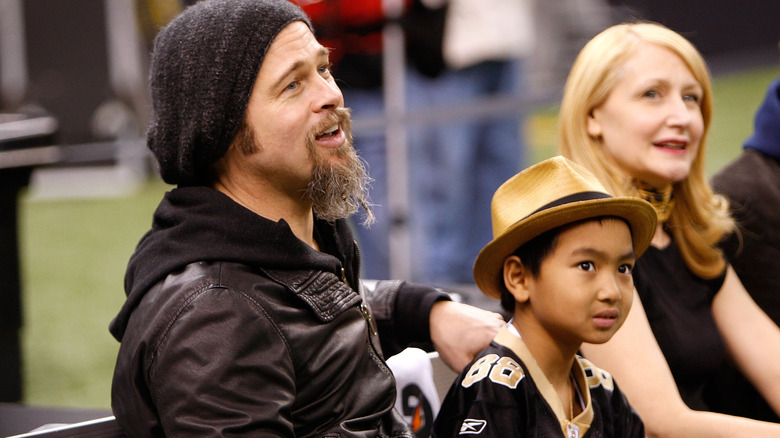 Chris Graythen/Getty Images
Brad Pitt met the New Orleans Saints quarterback thanks to another celeb. Drew Brees was hanging at Matthew McConaughey's New Orleans home in 2014 when the latter found out the "Once Upon a Time in Hollywood" star lived right across from him on Bourbon Street, according to BuzzFeed. When Pitt stepped out onto his balcony and realized that Brees and McConaughey were enjoying food and some cold ones, he decided right then and there that he wanted in on the fun.
With no hesitation, Pitt threw a beer can to his newfound neighbor, who proceeded to enjoy the beverage. The unusual interaction was the kickstart to the friendship between Brees and Pitt, but it strengthened thanks to their mutual dedication to charity work. "Brad Pitt is a guy who has a strong connection with New Orleans," Brees told TMZ in 2015. "He is making right to the community that he's really building towards."
A few months before, Pitt stood up for Brees amid criticism the athlete received during the 2014 season, which Brees described as his "most frustrating" in a January 2015 interview with Sports Illustrated. But Pitt didn't think the season mattered in the grand scheme of things. "Drew Brees is one of the greatest quarterbacks in the world. Come on, man," the 59-year-old told a TMZ reporter who said Brees "ain't playing too good lately." Pitt seemed genuinely annoyed, suggesting his defense of Brees went beyond the realm of sports. 
Both Brad Pitt and Drew Brees are passionate about social work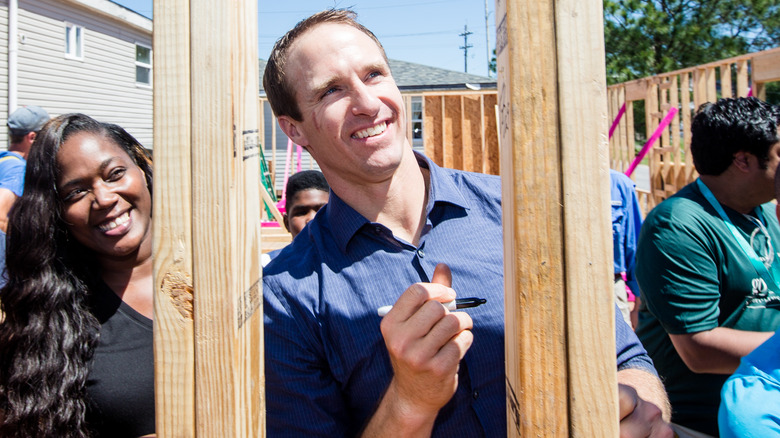 Josh Brasted/Getty Images
Neither Brad Pitt nor Drew Brees hail from New Orleans, but both has strong ties to the city and its community. Brees moved to New Orleans in his 20s and spent 15 seasons there repping the Saints. Playing football isn't all he did while in New Orleans, though. Brees arrived in early 2006, just months after Hurricane Katrina ravaged the city and surrounding areas.
Upon witnessing the destruction, the Texas native expanded the work of his foundation, Brees Dream, to help rebuild the city, Sports Illustrated noted. "Some guys might be playing 10 hours of 'Madden' today, which is cool," Brees said during a 2010 charitable event. "But this is my outlet. This is what I love to do." His dedication to Louisiana didn't falter as New Orleans started to get back on its feet. As recently as 2020, Brees was involved in expanding healthcare facilities to different corners of the state, per Fox News. 
Pitt's involvement with the city also came on the heels of Katrina. In 2007, the "Legends of the Fall" actor unveiled an ambitious project to rebuild one of the hardest-hit parts of New Orleans, according to USA Today. Through their passion for social work, Pitt and Brees got to know each other and deepen their mutual admiration. "We've actually had the chance to actually buy two houses or refund two houses within that development to help people get back in their homes," Brees told TMZ or their overlapping projects.