Diamond Expert Estimates Luxury Price Tag For Vanessa Hudgens' Engagement Ring — Exclusive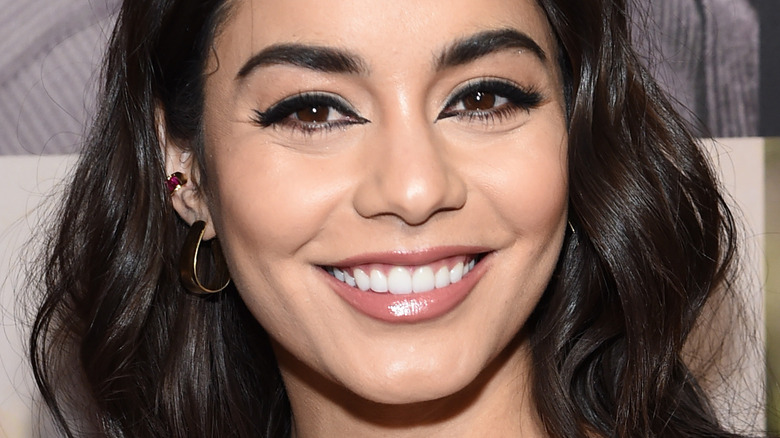 Jamie McCarthy/Getty Images
A ring experts has revealed that Vanessa Hudgens engagement ring packs some serious diamond punch. Since making her mainstream debut in Disney Channel's "High School Musical," the talented singer has remained a permanent fixture in the pop culture sphere. From her expansive film and music portfolio to her influential Coachella days, no stone has been unturned in Hudgens' career. However alongside her continued feats, the "Sneakernight" singer has also made headlines for her various relationships. While Hudgens has been known for her relationships with Zac Efron and Austin Butler, the "Gigi" star has recently made waves for her passionate romance with Colorado Rockies player Cole Tucker.
After dating for nearly two years, rumors began to swirl that the pair were engaged. According to a report from TMZ, Tucker asked Hudgens at the "end of 2022." While the lovebirds remained mum on the topic, the "Princess Switch" star confirmed the news in a heartwarming social media post. "YES. We couldn't be happier," she wrote on Instagram. The post also featured a photo of them embracing a snapshot of the impressive rock. In response to the happy couple, a jewelry expert has shared some facts about Hudgens' ring in an exclusive interview with Nicki Swift.
Vanessa Hudgens' engagement ring is worth a pretty penny
With the wedding bells ringing in the distance for lovebirds Vanessa Hudgens and Cole Tucker, one ring expert has taken a look at the "High School Musical" star's massive rock. In an exclusive interview with Nicki Swift, The Diamond Pro CEO Mike Fried revealed that the star might be sporting a 7-carat ring. "I'd estimate the value at a quarter of a million dollars, which tops the average cost of a Lamborghini," he explained. "With a thin band, the size of her diamond stands out even more, making this ring eye-catching from every angle."
Before securing their future as a married couple, the pair first met in a Zoom meditation group during the height of the pandemic. After Hudgens secured Tucker's contact information, the two wasted no time hitting it off. "If I want something or someone, I'm going after them. I fully just slid into his DMs and was like, 'Hey, it was nice to meet you,'" she explained on "The Drew Barrymore Show" in 2021. "So I think there is no shame in making the first move." We can't wait to see Hudgens and Tucker's marriage journey unfold.