Here's Why Dave Bautista Always Wears Sunglasses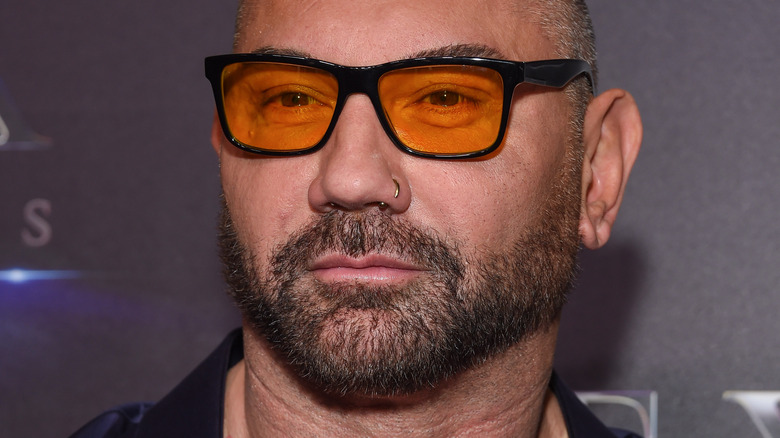 DFree/Shutterstock
Not all athletes and stunt performers can make their way into Hollywood and find immense success like Dave Bautista. The former WWE wrestler is one of the most prolific athlete-turned-actors in showbiz today, and is arguably the best one out there. (Sorry, Dwayne Johnson!) Since his breakthrough role as Drax the Destroyer in Marvel's "Guardians of the Galaxy," Bautista has proven his acting chops in films like "Blade Runner 2049," "Army of the Dead," "Dune, and "Glass Onion: A Knives Out Mystery." He also starred in M. Night Shyamalan's mystery-horror film, "Knock at the Cabin" as Leonard, which many have praised as one of his strongest performances to date (despite mixed reviews from fans and critics). 
Acting skills aside, Bautista is known for his imposing 6'4" build and extensive collection of tattoos. (He has a lot, but Bautista says he only has, like, three. "Because most of them are just all connected together," he explained to GQ.) Moreover, he's famous for his signature look: bald head, bushy beard, and tinted sunglasses. He has famously worn shades to movie premieres, award shows, and other red carpet events — and it's not because Bautista wants to look cool (although it certainly does the trick!). There's a deeper reason behind why the actor often wears sunglasses in public, which he finally divulged to Men's Health in 2021. Here's why Dave Bautista always wears sunglasses. 
Dave Bautista suffers from social anxiety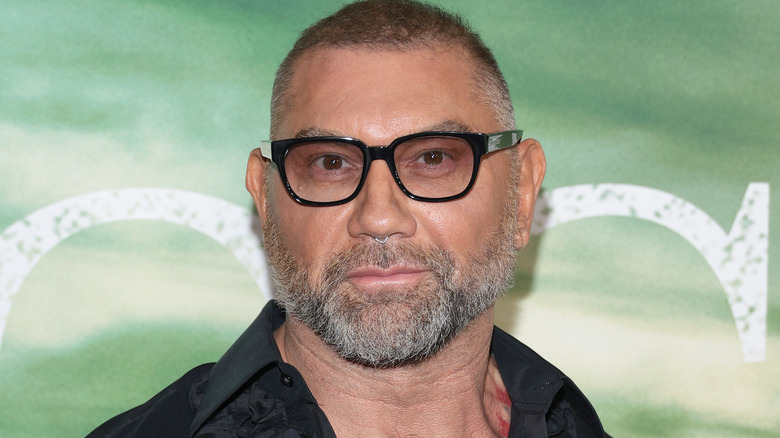 Dimitrios Kambouris/Getty Images
There's a reason why Dave Bautista wears his signature tinted sunglasses to movie premieres and red carpet events (and no, it's not necessarily so he can look stylish). Chatting with Men's Health in 2021, the "Guardians of the Galaxy" actor said wearing them helps calm the social anxiety he feels whenever he has to step out in public. He said it serves a sort of "pacifier" — a thing he does to help soothe his nerves. "When press junkets go on for days and days, I struggle," Bautista, who has admittedly struggled with shyness and public aversion since he was a kid, explained. "When I was a kid, you could barely get two words out of me. I was just such an introvert, and I was attached to my mom's leg."
Without his sunglasses, Bautista feels vulnerable and exposed. "But if I put on glasses and a hat, that's my security blanket," he said in another interview with GQ. "I want to cover up and have some protection." Speaking about his social anxiety, the former wrestler said it took him a long time — "some 40 odd years" — before he came to terms with it. "I just got tired of feeling embarrassed about it and started owning it!" he told a fan on Twitter, adding, "And I wear sunglasses a lot! Trust me it helps!"
How wearing sunglasses helps Dave Bautista cope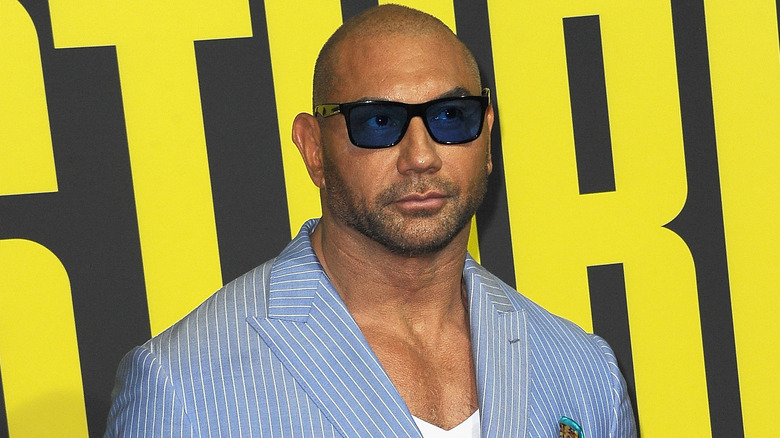 Albert L. Ortega/Getty Images
Although there's not enough research behind it, many people have attested to wearing sunglasses as a good coping mechanism for social (and general) anxiety. As explained by occupational therapist Jenny Timms, sunglasses provide a form of protection and serve as a mask, making a person feel less "seen," and therefore, less self-conscious. 
"They create a barrier between yourself and the other person. This creates emotional distance and therefore a reduced sense of vulnerability," she explained. But, while they can offer relief, Timms said wearing sunglasses is merely a coping strategy for those struggling with social anxiety disorder like Dave Bautista. "They simply put a plaster over the problem," she said. "They are a form of safety behaviour — an action taken to help manage anxiety."
Chatting with Film Inside in 2017, Bautista shared that he has struggled with social anxiety and extreme shyness for most of his life. And while he's learned to finally embrace it, things never really changed, as he continues to be socially awkward to this day. "It's just the nature of who I am," he said. Thankfully, wearing sunglasses seems to do the trick. And while Bautista has admitted that it "drives his publicist insane," it seems he isn't planning on putting away his signature sunnies anytime soon. (And why should he? They look great on him!) As he once pointed to a fan on Twitter, "Better sunglasses than me dry heaving on the red carpet!"