The Dave Bautista And Dwayne Johnson Drama Explained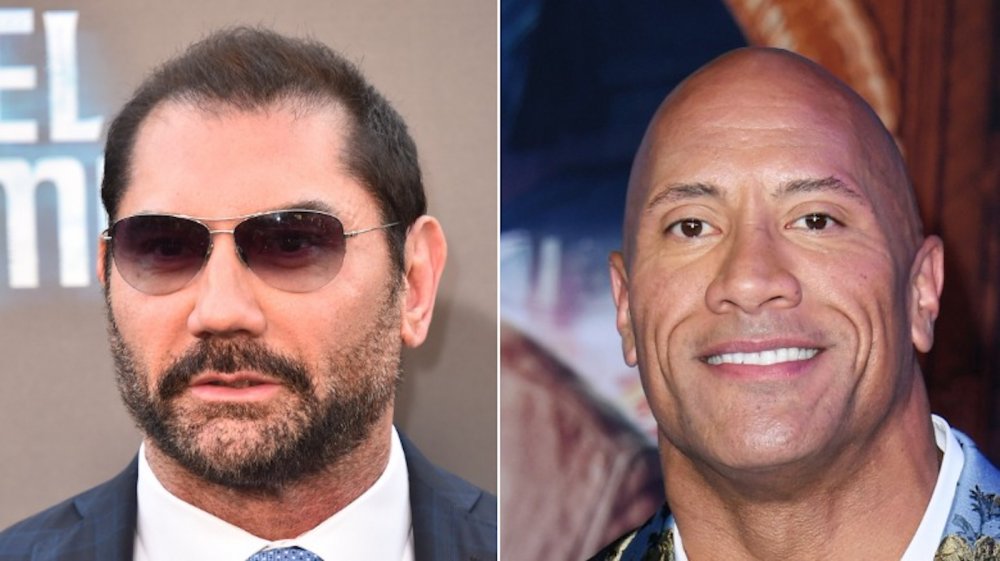 Matt Winkelmeyer/Getty Images
Apparently, Dave Bautista has some fighting words for The Rock.
From Hulk Hogan's turn in Rocky III to Andre The Giant's appearance as a rock-hurling henchman in The Princess Bride to John Cena's comedic cameo in Trainwreck, it's not uncommon for WWE wrestlers to make the leap onto the big screen. But few have ever made that transition as successfully as Dwayne "The Rock" Johnson or Dave Bautista. Johnson, who broke into fame playing the (CGI-questionable) villain Scorpion King in 2001's The Mummy Returns and its spin-off films, has since risen to — get this — Hollywood's highest-paid actor in both 2020 and 2019, per USA Today. Impressive! With starring roles in humungous blockbusters with the Fast & Furious franchise and the recent Jumanji films, it's no surprise. The likable former brawler has essentially "rocked" the box office! Fans even want him to run for president. Hmm...
Meanwhile, Dave Bautista isn't far behind, career-wise. The wrestler-turned-star rocketed onto the scene in 2014's Guardians Of The Galaxy as the loveable Drax, reprising his role for the sequel in 2017. Plus, with a major part in Denis Villeneuve's upcoming, star-studded film adaptation of Dune, things are looking good for him as well. But apparently, Bautista doesn't exactly think The Rock is a knockout, acting-wise. In a February 2019 interview, he offered some pretty harsh words for his peer that we're still grappling with, and it wouldn't be the last time either. Scroll down to see what Dave Bautista has had to say about Dwayne Johnson's acting.
Dave Bautista doesn't think The Rock is a "great actor"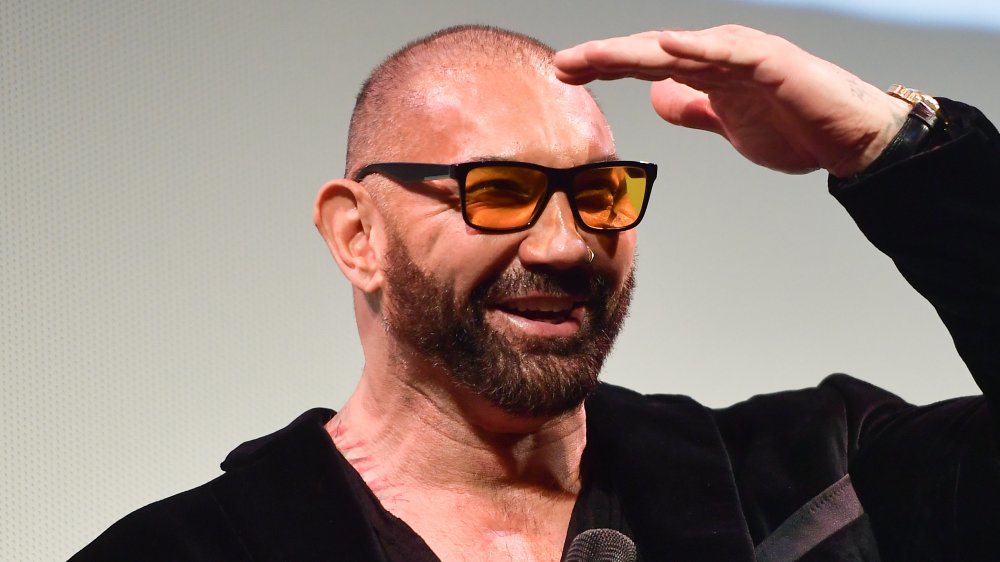 Matt Winkelmeyer/Getty Images
What's Dave Bautista's beef with fellow former WWE star Dwayne "The Rock" Johnson? Apparently, Bautista sees Johnson as a blockbuster movie star, but not as a serious actor, as opposed to himself. "Do not compare me to The Rock or John Cena. Everyone does it," Bautista told The Tampa Bay Times in February 2019. "Those guys are wrestlers who became movie stars... I was a wrestler. Now, I'm an actor." 
The Guardians of The Galaxy actor added that, at the very least, Johnson does have undeniable star quality. "There is something about him that's really special," he said. "I'd never take that away from him." But as far as the acting goes? "Would I consider him a great actor?" Bautista answered himself, "F*** no." Well, how do you really feel? 
Clearly, Bautista, who went on to say he wanted "to work with Academy Award winners" like "Sam Mendes and Jodie Foster," wasn't just having an off day. According to USA Today, the decided thespian stayed firm on his stance later in 2019, doubling down when a Twitter user suggested that he star in a future Fast & Furious flick alongside Johnson. "....thank you for your consideration...," he responded betwixt two different vomiting emojis. "#idratherdogoodfilms." Huh. 
Welp, now that Dave Bautista is set to appear in Dune, he's clearly going the acclaimed route. But to diss Dwayne Johnson? As they say, "Leave it in the ring!" 
Dave Bautista later clarified his "harsh" comments about The Rock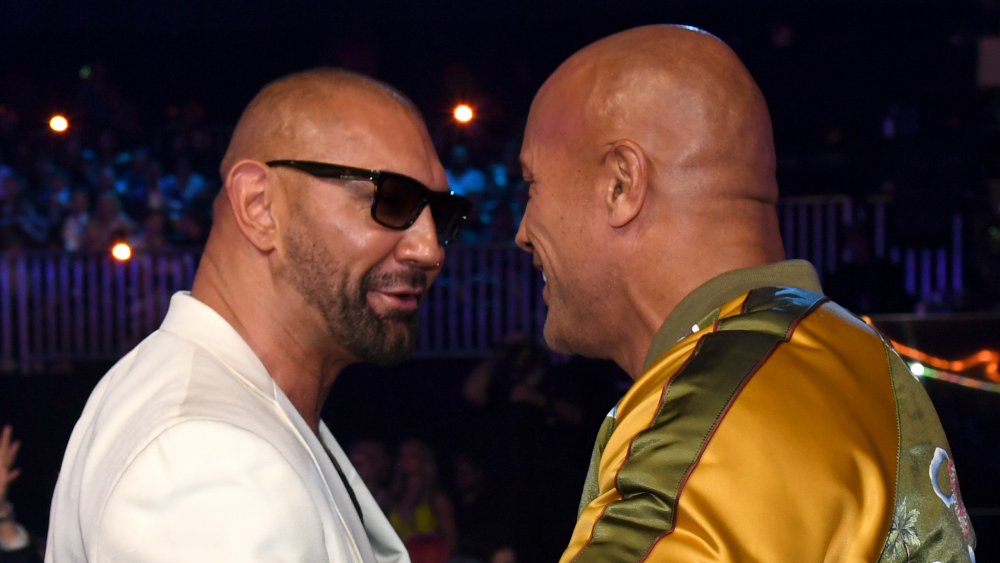 Kevin Mazur/Getty Images
Despite making it very clear what he really thinks about Dwayne "The Rock" Johnson's acting skills, Dave Bautista later pointed out that he was not "bashing anyone" or being disrespectful in his 2019 interview with The Tampa Bay Times. He even admitted he could come across as harsh sometimes. You think?
"Retweeting this because although the headline is a bit misleading, I really appreciate them pointing out that I was not bashing anyone," the former WWE wrestler tweeted. "I'm not a disrespectful person. I speak from the heart and sometimes it comes across harsh. I stand by the interview."
But considering there's a photo of Bautista and Johnson hugging it out at the 2019 MTV Movie and TV Awards, we think there are no hard feelings between the two, even after Bautista's scathing comments. In fact, Bautista has said The Rock would be a better POTUS than Donald Trump. (There was talk of Johnson running for president in 2017 after he revealed he would consider running for president in 2020.)
Even though that never happened, Bautista felt like Johnson was more than qualified to replace Trump, according to The Washington Examiner. He said, "I think he'd be a better president than our current president... I think I said he was much more qualified and I believe he is."
Bautista may be quick to talk smack about The Rock, but there's a reason Johnson was called "The People's Champion" in the WWE ring.