Who Is Ralph Macchio's Wife, Phyllis Fierro?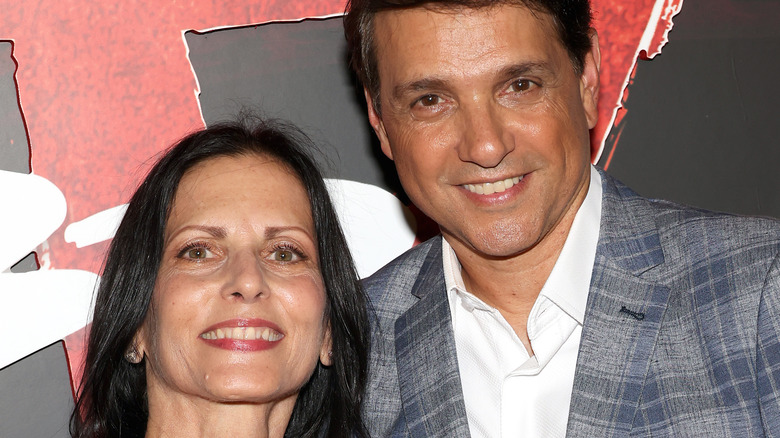 David Livingston/Getty Images
It's so rare to see couples in Hollywood who last more than a decade, but when they do exist, it's a sweet thing to see. And when it comes to Ralph Macchio, he's been married to his wife Phyllis Fierro for over 30 years, as Country Living reported. The two got married on April 5, 1987, a few years after "The Outsiders" and the first "The Karate Kid" came out. But the two met nearly a decade earlier in his grandmother's basement at his cousin's sweet sixteen. Macchio was 15 years old.
"This is 1970 or whatever, so this is Cheez Doodles, 7Up, Tootsie Rolls, probably the Ruffles with onion dip," Macchio told People about what the atmosphere of their first meeting was like. "She was a friend of my cousin, and we just smiled and talked and danced a little. Probably the Hustle!" And as for Fierro, she was a goner from that first meeting. "The first time I saw these big, dark brown eyes, I felt a natural bond," Fierro said in 2009, according to People. So who is Fierro, the woman who Macchio has been with throughout his biggest career highs and into his newer roles?
Phyllis Fierro, Ralph Macchio's wife, was on the front lines of COVID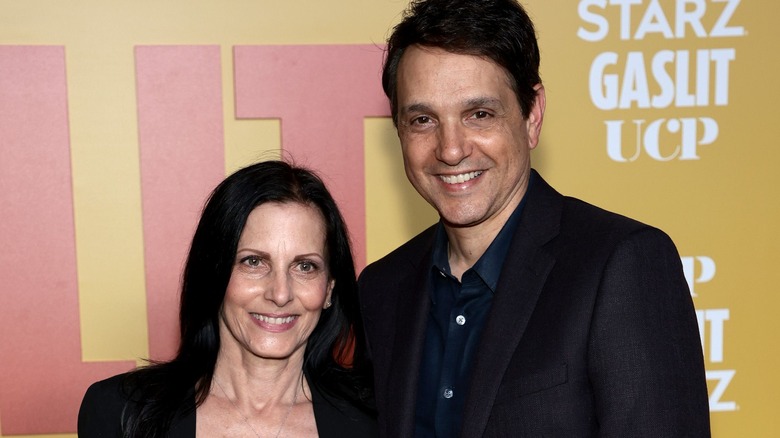 Dimitrios Kambouris/Getty Images
While Ralph Macchio has been an actor all of his career and even did a little stint as a dancer on "Dancing With The Stars," his wife Phyllis Fierro is a nurse practitioner as Country Living reported. And with the COVID-19 pandemic taking up the past few years, Fierro has been more than busy. 'It's tough," Macchio said during a January 2021 appearance on "The View." "A lot of what she does is dealing with the families and palliative medicine." This means she's a nurse practitioner that deals with end-of-life care and those patients' families. "It is hero work, and I am so proud of her ... We are hanging in there," he said of his wife. Macchio's family consists of his wife as well as their two kids, Julia and Daniel Macchio (yes, Daniel is named after Macchio's famous "The Karate Kid" character). 
And that's not the first or only time he's called his wife a hero for her line of work. While on "The Drew Barrymore Show," he said Fierro's "one of the heroes of the family." He went on to describe more of her work, saying that she helps those patients and their families "manage those very difficult decisions" that come with people near the end of their lives. "It's hero work, you know, it really is," he told Barrymore.
Macchio credits his wife for keeping him grounded in Hollywood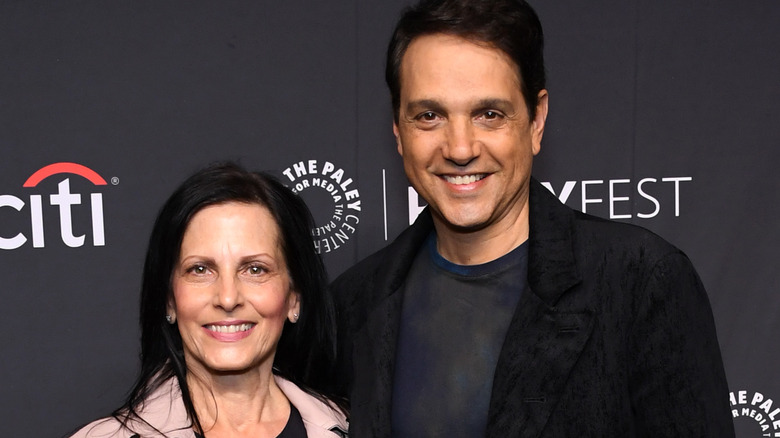 Jon Kopaloff/Getty Images
When you see anyone who's been married for more than three decades like Ralph Macchio and Phyllis Fierro, it makes you wonder what their secret is. How have they kept such a strong relationship for so long? Well, Macchio said it's all about wanting to make it work and knowing they're both where they're intended to be. "It's the belief through the easy times, through the tough times, whatever we encounter, that we are meant to be together," Macchio told People (via Country Living).
Macchio also said that his wife is what keeps him grounded while he's an actor in Hollywood. He told People that he has a "one foot in, one foot out" mentality when it comes to show business and a lot of that has to do with Fierro. "Without her and without the foundation and the family we established, 'one foot in, one foot out' would have been very, very difficult on my own," Macchio said. "Because there would not be balance."