Alec Baldwin Got Kicked Off A Plane Once For Playing Words With Friends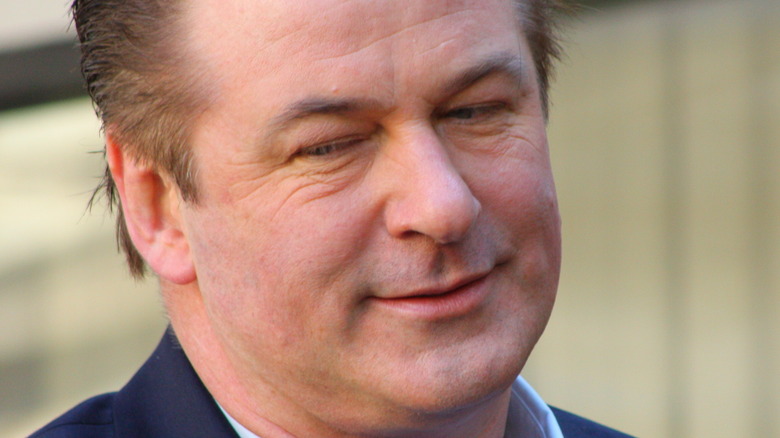 RoidRanger/Shutterstock
Alec Baldwin is like a walking hand grenade, just waiting for somebody to pull on his pin. Baldwin's explosive temper is legendary, and he might be better known for his antics than acting these days. And, for somebody so talented at comedic impressions, Baldwin takes himself very seriously. Per Vanity Fair, the actor even failed to appreciate the humor in insisting to Howard Stern that his court-mandated anger management classes taught him that he's not an angry person.
In 2014, after countless altercations with paparazzi, Baldwin announced he was retiring from public life. "I started out as an actor, where you seek to understand yourself using the words of great writers and collaborating with other creative people," he wrote in a farewell essay for New York Magazine. "Then I slid into show business, where you seek only an audience's approval, whether you deserve it or not." 
Before long, Baldwin's retirement was over, and it was back to business as usual. Still, his love for words continued, and he's apparently willing to fight for them. On one occasion, Baldwin's opponent was a flight attendant that asked him to switch off his phone as the plane departed. However, Baldwin was engaged in an online game of Scrabble with a buddy he wasn't willing to put down. Maybe he was about to play a Q? Instead, the actor erupted, resulting in his removal from a flight over the game Words With Friends.
Alec Baldwin shared words with Twitter after getting kicked off a plane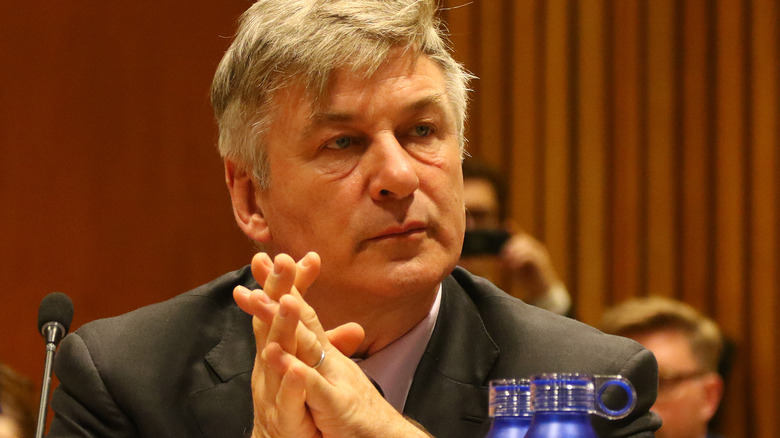 a katz/Shutterstock
Getting forcibly ejected from an airplane was just another knot in the tangled life that Alec Baldwin has made for himself. The actor took to Twitter to profess his innocence. "Flight attendant on American reamed me out 4 playing WORDS W FRIENDS while we sat at the gate, not moving," he tweeted.
Baldwin's fellow passengers were not impressed, and one of them fired up his phone to vent. "On an AA flight at LAX. Alec Baldwin removed from the plane. We had to go back to the gate. Terrible that everyone had to wait," he shared. Twitter users were equally unforgiving. "Oh, so you are the inspiration for the GEICO commercial PIG on a plane," one commenter wrote. But the "SNL" star was just getting started.
"Last flight w American. Where retired Catholic school gym teachers from the 1950's find jobs as flight attendants," Baldwin tweeted, unaware of his apostrophe faux pas. "I guess the fact that this woman, who had decided to make some example of me, while everyone else was left undisturbed, did get the better of me," he conceded in a #SorryNotSorry HuffPost piece he penned following the incident.
Alec Baldwin's airplane antics are the least of his woes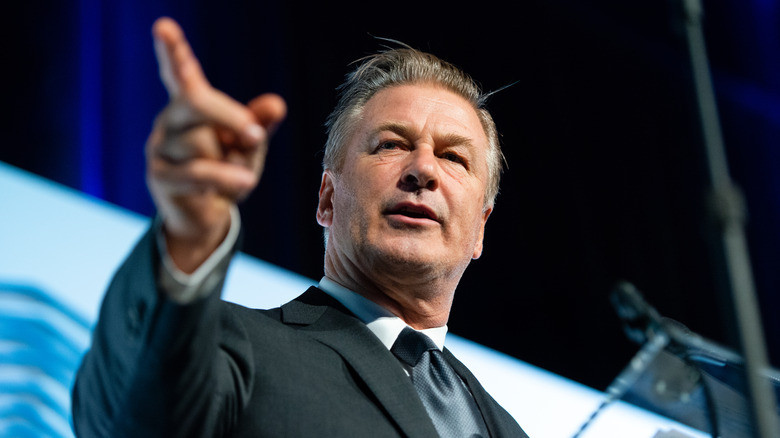 Jeffrey Bruno/Shutterstock
True to form, Alec Baldwin refused to express any genuine regret over his airline antics. Although, CNN noted that the actor did apologize to himself — while dressed as a pilot with a handlebar mustache. "What harm would it do to let him keep playing his game?" Baldwin asked in a southern drawl during an "SNL" skit. "Not any game, mind you, but a smart game for smart people." It's little wonder some people accuse him of being overbearing.
"Alec Baldwin is an ignorant, pompous jacka** who really needs to stop speaking for others. Maybe just stop speaking," one Twitter user opined. "Alec Baldwin is an a**hole (but especially to me)," a writer on Medium proposed. Even Piers Morgan bashed the "arrogant" actor in a video. Morgan mauled Baldwin over his "self-pity PR tour," accusing him of "failing to take responsibility" for his actions and "playing the victim card."
Morgan's attack was in response to Baldwin's latest legal issue, which none of us saw coming. The star shot and killed cinematographer Halyna Hutchins with a prop gun loaded with live rounds on the set of "Rust." He's been charged with involuntary manslaughter along with the film's armorer, Hannah Reed Gutierrez. "This decision distorts Halyna Hutchins' tragic death and represents a terrible miscarriage of justice," Baldwin's attorney, Luke Nikas, said in a statement (via Variety). "We will fight these charges, and we will win."