Here's Why Patrick Mahomes' Parents Really Got Divorced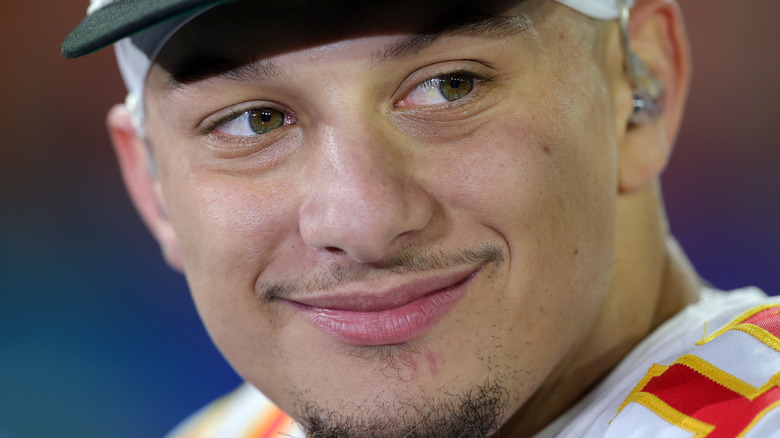 Carmen Mandato/Getty Images
Super Bowl LVII delivered on all fronts — from the star-studded commercials, to Rihanna's long-awaited halftime show, to (most importantly) the action on the field. The Kansas City Chiefs came back with a vengeance following RiRi's pregnancy announcement... err, we mean performance, but their victory was not without drama. While Patrick Mahomes visibly fought an ankle sprain and played through the pain, a questionable late penalty sent Eagles fans into an uproar, but in the end, the Chiefs clinched the title, 38-35. And Mahomes took home the second Super Bowl MVP Award of his career (so far), per ESPN. Other than Mahomes himself, no one was more excited by the outcome than his parents, Randi and Patrick Mahomes.
Following the big game, proud mama Randi took to Instagram to share how proud she was with a number of snaps of her son, including a very candid one beside which she gushed, "My first born, who made me grow up and be a mom... he taught me how to forever love unconditionally." His dad and namesake was just as thrilled and the father-son duo shared a long, emotional hug on the field, which got Twitter talking. As one fan said, the sweet embrace was "a powerful moment in history." So, who exactly are Patrick's parents, how did they meet... and why did they get divorced?
Who are Patrick Mahomes' parents?
Patrick Mahomes is unquestionably an NFL GOAT and, as it turns out, pro athlete genes run in his family. His father, Patrick "Pat" Lavon Mahomes, was actually a professional pitcher who played MLB from 1992 through 2003. He got his start with the Minnesota Twins, then jumped to the Boston Red Sox in 1996 before switching four more times and eventually retiring. These days, he hosts "The Big Mahomes Show" podcast, on which he gets to talk about all things sports. As for Patrick's mom, Randi Mahomes, she's been an event planner for Hollytree Country Club in Tyler, Texas since 2005, according to her website. On the side, she also runs a fashion line called QuarterBack Producer and is closely involved with giving back to her community by supporting Variety KC, a nonprofit which builds inclusive playgrounds for kids with disabilities.
Both Pat and Randi have been instrumental in their son's career and have supported him from the very start. In fact, Pat told USA Today in February 2023 he was sure his eldest would follow in his footsteps. "I thought he was going to be a baseball player," he shared, noting he had the potential to be a pro outfielder. Eventually, football stole his heart, but Pat is convinced it's baseball that drove his son. "When he got to see that 2000 World Series with me, with those 60,000 people in the stands, that excited him," he recalled. "I think that's why nothing is too big for him now."
Inside Randi and Pat Mahomes' marriage — and divorce
Patrick Mahomes' parents, Randi and Patrick Lavon Mahomes, haven't spoken much about their love story, but Randi does offer some insight into their marriage (and eventual divorce) on her website. As she reveals, Randi first met Pat soon after she graduated from high school and, although she fell in love with him, she had no idea he was a pro athlete. She also didn't expect to start a family so soon. As her official bio reads, "Randi never intended to be a young mother, but her faith told her that this was God's plan." She and her MLB beau tied the knot and had their first child, Patrick. Randi put her career on hold and became a devoted mom, soon welcoming their second son, Jackson. Unfortunately, fame took a toll on their marriage. According to Randi's bio, "married life with a professional baseball player is a hard life" and so, she and Pat got divorced. 
As People reports, they were married from around the late 1990s through 2006 and officially split when Patrick was just 11 years old. Randi would later tell Sports Illustrated that year proved to be one of the most difficult in her young son's life. But, following their separation, Randi and Pat were determined to keep a close relationship — and they did. As Pat told Tyler Today, "His mom and I are still best friends." Indeed, they have been a team all throughout their son's life, pushing him to follow his dreams and continuing to show up to support him.