Sasha Alexander: From Dawson's Creek To NCIS And Beyond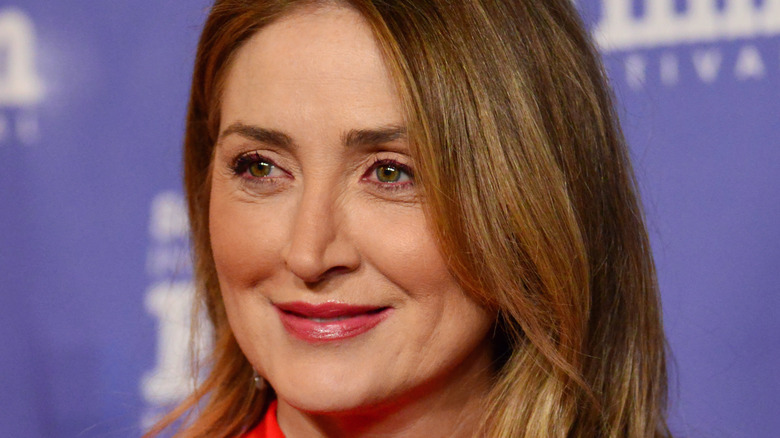 Chelsea Guglielmino/Getty Images
From her main roles in crime procedurals "NCIS" and "Rizzoli & Isles" to her recurring turns in "Shameless" and "Dawson's Creek" to her cameos in "Friends" and "Curb Your Enthusiasm," Sasha Alexander has appeared in some of the most popular and critically acclaimed TV shows in recent memory. What's more, she's popped up in a handful of huge flicks, acting in everything from "Mission: Impossible III" to "He's Just Not That Into You."
There's no doubt about it, Alexander has put in the work to get to where she is today. In a 2001 interview with IGN, she recalled how she had to take on a part-time job reading screenplays for various studios while trying to forge her own acting career. She was paid approximately $100 for each script that came her way, allowing her to make ends meet in the wake of her graduation from USC.
As for how Alexander became such a staple of the small and big screen? And which of the two mediums does she prefer? Here's the lowdown on the actor who's been a Hollywood fixture for the past quarter-century.
Sasha Alexander is of Serbian descent
Sasha Alexander, who is of Serbian descent, was born Suzana Drobnjakovic in Los Angeles in 1973. As she revealed to Meaww, her since-divorced parents were in an arranged marriage.
Alexander said, "Even though my parents remain good friends, my mother never believed that a set-up marriage was the right way. She never wanted anything like that from me and my life. I had a mother who had the courage to give me a life of freedom but not many people have that." Interestingly, Alexander went on to play a mother who leads her daughter into such a setup in the opening episode of the "Amazing Stories" reboot.
What's more, Alexander's mom was a travel writer, which meant the future TV star got a chance to see and experience cities outside of the United States from an early age. The actor told Her Campus, "I realized my little world was not the end all be all. I definitely credit my mother for always keeping my feet on the ground ... and we need to help others. We just have to exert our civil duty."
Sasha Alexander had Olympic ambitions
It appears as though the likes of "Blades of Glory" and "I, Tonya" missed a trick by not casting Sasha Alexander. Before pivoting — or should that be triple axeling — into the world of acting, Alexander had plans to become a superstar on the ice rink. And she may well have made it to the Winter Olympics had it not been for a career-damaging injury.
In an interview with Good Housekeeping, Alexander recalled, "I was an ice skater from the time I was four until I was 14. I hurt my knee, so I couldn't pursue it anymore, but it was a huge part of my childhood because I practiced before and after school!" She's also expressed her continued love for the sport on Twitter, too.
But Alexander's talents don't end there. She also trained as a dancer before finding fame, a skill she told TV Tango she wished could have been utilized in "Rizzoli & Isles." "I keep telling Janet [Tamaro, executive producer] 'Why can't Jane and Maura go dancing? They should go dancing,'" she said. "And Angie [Harmon] is a fantastic dancer as well; so put us two together and a little Beyoncé, and we're ready to go."
Sasha Alexander wanted to be behind the camera
After her Winter OIympics dreams shattered, Sasha Alexander channeled all her energies into the film world. But initially she was more interested in being behind the camera rather than in front of it, as she explained to her alma mater, the University of Southern California's School of Cinematic Arts.
Though Alexander had experience acting in school plays and summer stock productions in New York, she was reluctant to get too serious about it. "The unpredictable nature of it scared me," she admitted, referring to the acting profession. "When I was 15 I watched David Lynch's 'Blue Velvet' and I remember wondering how the film was made. I was curious about the filmmaking process, so I thought if I learned more about what happens behind the scenes, it would ultimately be a better road for me." However, the Los Angeles native eventually decided to take the plunge and give her acting career a shot. 
Alexander went on to make her screen debut in "Visceral Matter," a 1997 short film helmed by future "Donnie Darko" director Richard Kelly. Another short, "Battle of the Sexes," followed that same year before the actor appeared in her first feature film, indie drama "Twin Falls Idaho," as Miss America.
Sasha Alexander got her big break
Sasha Alexander no doubt had to pinch herself when she landed a major role in 1999's "Wasteland," a post-graduation drama from the creator of "Dawson's Creek." Unfortunately, the ABC show in which she starred as dating-obsessed publicist Jesse Presser didn't quite have the same impact as the verbose adventures of Capeside's finest. It was taken off the air after just three episodes.
Luckily, showrunner Kevin Williamson recognized the potential of its leading lady and offered her a juicy role in his longer-lasting teen hit. Alexander subsequently became a Season 4 regular as Pacey's older sister, and Dawson's love interest, Gretchen Witter. But she was left puzzled by the direction that her character took.
Indeed, in the aforementioned 2001 interview with IGN, Alexander said, "They weren't sure about my role in the beginning, but then the chemistry kind of worked and then they really loved the storyline and began to go with it. But by the fifth episode I was on they'd given me like a storyline that I'd had a miscarriage, like all this random stuff. It was like 'Where did this come from?'"
She married the son of a silver screen legend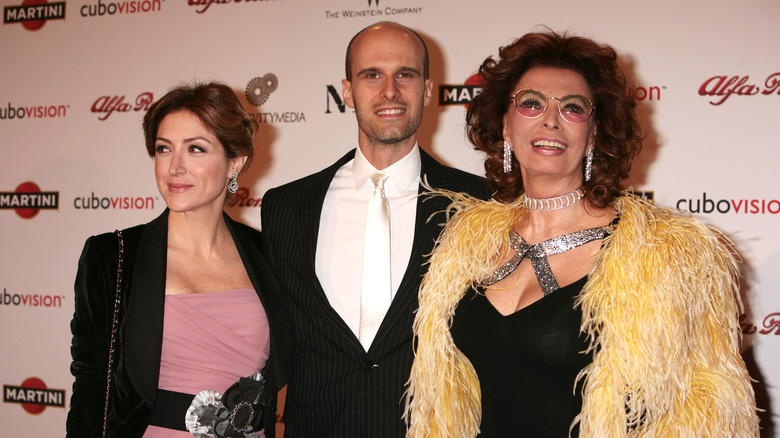 Elisabetta Villa/Getty Images
Following a brief marriage to Luka Pecel, Sasha Alexander walked down the aisle for a second time in 2007 to Edoardo Ponti, an Italian director with a hugely famous mom: the one and only screen goddess Sophia Loren.
When asked by TV Guide what it's like to have a Hollywood icon for a mother-in-law, Alexander admitted she was initially intimidated but that Loren soon made her feel like part of the family. And they now appear to be bosom buddies. "She's phenomenal; she's stunning. She loves to eat and sleep and live," Alexander gushed. "When we go out, we have Prosecco, chocolate and everything in between. It's funny: I took her to the airport yesterday, and she was like, 'What is this book everyone's talking about?' I bought her 'Fifty Shades of Grey' and told her she needs to read it."
So how did Alexander meet her Mr. Right? Well, they were first introduced to each other while studying at the University of Southern California's School of Cinematic Arts. But it wasn't until eight years later, when they randomly reconnected at a restaurant, that sparks began to fly.
Sasha Alexander gave NCIS fans a shock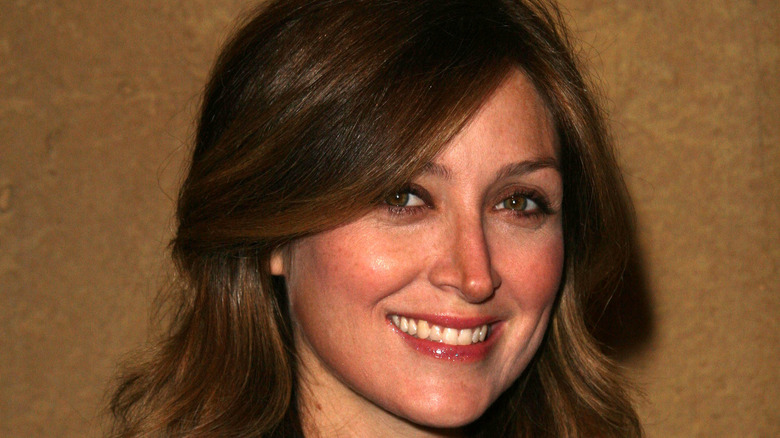 s_bukley/Shutterstock
In 2003, Sasha Alexander was cast as Special Agent Caitlin Todd in the first season of the still-ongoing procedural "NCIS." The actor quickly became a fan favorite, which is why news of her departure just two years later came as such a surprise.
Fans were also left shocked by the manner of Todd's departure. Indeed, writers made sure that Alexander could never return by having a terrorist fatally shoot her in the second season finale. So, what was the reasoning behind her exit? Well, showrunner Donald P. Bellisario told the Chicago Tribune at the time that the grueling schedule was to blame: "We work very long hours, and Sasha just didn't feel she was physically up to that kind of time and commitment."
While Alexander initially claimed she was simply wanted to work on other projects, she did later tell TV Guide that Bellisario wasn't far from the truth. "People don't realize that on a network show, you make 24 episodes a year — that's 10 and a half months a year, 17 hours a day," she said. "It's hardcore."
Sasha Alexander became a procedural regular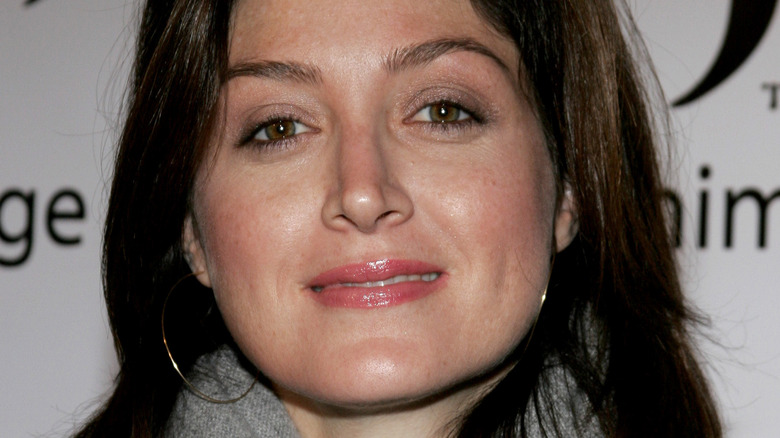 Tinseltown/Shutterstock
In 2001, Sasha Alexander was cast as District Attorney Robin Childs in an episode of "CSI: Crime Scene Investigation." While the role was only a one-off, it did appear to inform much of her career. As she's appeared in pretty much every major TV procedural since.
Indeed, just a year later, Alexander bagged the recurring role of Dr. Jackie Collete in one-season wonder "Presidio Med." The leading roles of Special Agent Caitlin Todd and Dr. Maura Isles in long-running hits "NCIS" and "Rizzoli & Isles," respectively, then followed, and she later went on to guest on "House," "Law & Order: Special Victims Unit," and "FBI."
In a chat with The Advocate, Alexander admitted that she had no intention of becoming such a small screen staple. "I don't know if I thought that I would be working in television as much as I have," she said. "I remember thinking that, 'God, I don't have a small nose and I'm not blond.' Like I actually thought like people doing TV, like my face was more European. And I thought, 'God, Isabella Rossellini is my idol.' [Laughs] I thought I was going to make obscure European films and if I wanted to be an actress, I would go to London. I really thought that that's what my path would be."
Sasha Alexander got a taste of blockbuster success
Kathy Hutchins/Shutterstock
Although most of Sasha Alexander's movies have been of the low-budget, indie or straight-to-DVD kind, she has occasionally found herself in one that makes significant money at the box office.
In 2006, for example, she played Melissa Meade, the friend of Michelle Monaghan's Julia who tells Tom Cruise's Ethan Hunt about her gal pal's romantic history, in "Mission: Impossible III." Two years later, Alexander got an A-list love interest herself when she showed up as Bradley Cooper's fiancée in the comedy "Yes Man." And then in 2009, she reunited with the latter and a string of rom-com favorites in "He's Just Not That Into You."
Alexander may well have entered the Marvel Cinematic Universe had things gone differently, too. In 2008, she was invited to play opposite Robert Downey Jr. in his screen tests for "Iron Man." Sadly, the "Rizzoli & Isles" star didn't get a part herself, although you can still see her performances on the film's DVD extras. 
Motherhood changed Sasha Alexander's life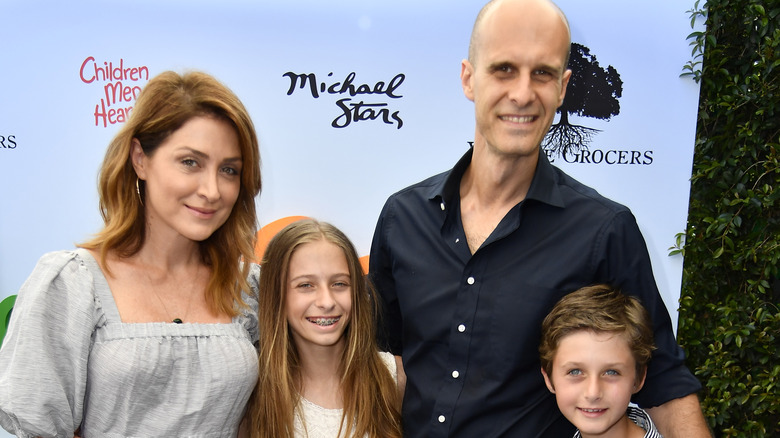 Frazer Harrison/Getty Images
In 2006, just a year before they walked down the aisle together, Sasha Alexander and Edoardo Ponti became parents for the first time with the birth of daughter Lucia. The couple then completed their family unit in 2010 with the arrival of son Leonardo, in turn also making screen icon Sophia Loren a grandmother of three.
In a chat with Collider, Alexander acknowledged how much motherhood had changed her perspective on life. "It just allows you to have access to your emotions, even more than you already did," she said. "You're watching this little person grow in front of you, and you realize that you're seeing how precious life is and how quickly it goes. You get to things faster, even emotionally. I'm not as timid about reaching into some areas in myself and bringing that to my work."
Alexander has rarely been given the chance to play a mom on screen, which is why she relished the role of foster parent Marianna Buultjens in 2018's "The Ride." Alexander, who co-starred opposite rapper Ludacris in the true-life tale, told She Knows that the script reduced her to tears on no fewer than six occasions. "I just believe we all are born into the world wanting love, and the way we learn love is from the people who teach us about love," she said.
Maura Isles was a career-defining role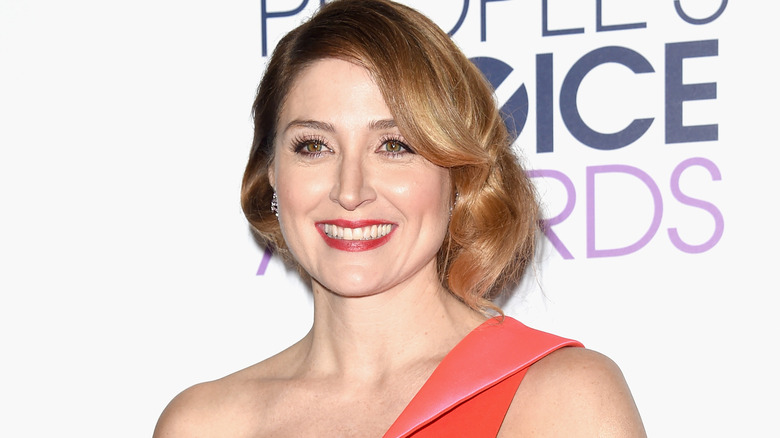 Jason Merritt/Getty Images
While Sasha Alexander had enjoyed being part of an ensemble in "NCIS," "Rizzoli & Isles" was the first TV show where she was given top billing. Well, equal anyway. The actor starred alongside Angie Harmon as Chief Medical Examiner Maura Isles and Boston Homicide cop Jane Rizzoli, respectively, in the hit TNT drama which premiered in 2010.
When asked by Mystery Scene Mag what drew her to the character, Alexander replied, "I was very compelled by a woman who would choose this profession. [She] came from a very highly educated wealthy background and could have chosen to do a lot of other things. She is this uber-feminine kind of modern woman [who chose] to work this job."
"Rizzoli & Isles" ran for seven seasons, wrapping up its final mystery in 2016. And although Alexander was sad to say goodbye to her character, she understood the time was right, telling TVLine, "We've been really fortunate from the very beginning to have a fan base that stayed with us throughout. Unlike a lot of shows that do a big run and then you get bored by the end, I actually feel like we're leaving on an 'up,' in that there are more stories to tell."
Sasha Alexander became a gay icon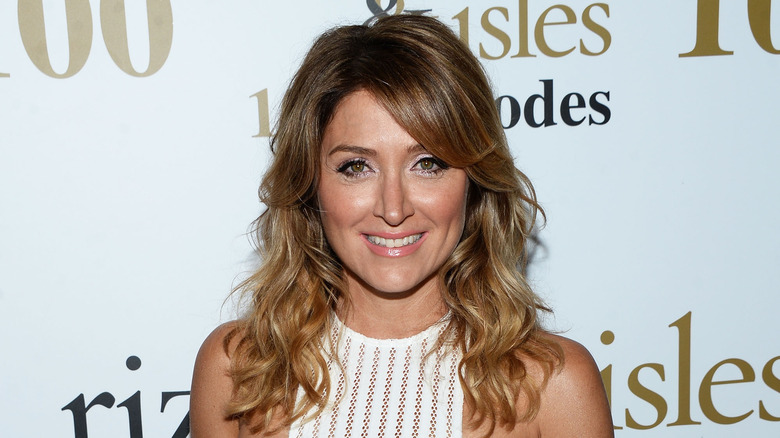 Matt Winkelmeyer/Getty Images
Although the characters were not explicitly written as queer, Angie Harmon and Sasha Alexander's natural chemistry as the leads in "Rizzoli & Isles" prompted many fans to start shipping the titular cop and medical examiner as a couple. So how did the latter feel about becoming a gay icon in her 40s?
Well, in an interview with After Ellen, Alexander acknowledged why some viewers have interpreted her on-screen relationship as something more romantic. "We physically don't really look alike and we're very complimentary to each other. And there is a sexiness to that," she said. "We're very different types of women and both have a certain appeal to people. It's not that people don't like Jane, but like Maura, or vice versa. It's that they love the pairing. They love how that clicks. And I think that's a really special quality to have."
Unfortunately, for those who wanted Rizzoli & Isles to become an item, the show ended in 2016 without the pair consummating their relationship. However, they did throw them a bone by having both jet off to France together for a month-long vacation in the final episode. You may not know, however, that Alexander has enjoyed a smooch with a woman on screen elsewhere. In 2002, she kissed Sarah Silverman while playing a TV Guide reporter in Fox comedy "Greg the Bunny," while the year previously she took top billing in same-sex rom-com "All Over the Guy."
Her first nude role arrived when she joined Shameless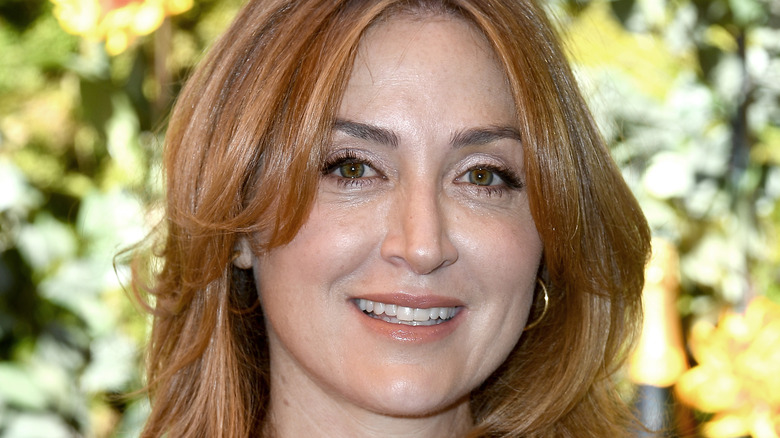 Frazer Harrison/Getty Images
In 2015, Sasha Alexander landed the role of lecturer Helene Runyon in the fifth season of Showtime's long-running dramedy "Shameless." And as she perhaps could have predicted by the fact that almost every adult character has taken their clothes off at some point, the actor was required to go naked. Several times, in fact.
Yes, with Helene embarking on an illicit affair with Jeremy Allen White's student Lip Gallagher, Alexander had to film several sex scenes in the Chicago-based show. Luckily, as she told The Hollywood Reporter at the time, the star had no qualms about showing some skin on camera. She just never expected to do it with a man young enough to be her kid.
Alexander also believes that such scenes were all filmed in the best possible taste. "I don't think the scenes I've done are gratuitous," she said in The Hollywood Reporter. "Sexuality doesn't bother me as much as violence does; sexuality and the human body, I feel is like, 'Go for it.' And I do feel that for the character, when you see her episodes this season, you'll say, 'I think the nudity that was there was meant to be there.' It wasn't all that she was about."
Sasha Alexander took the director's chair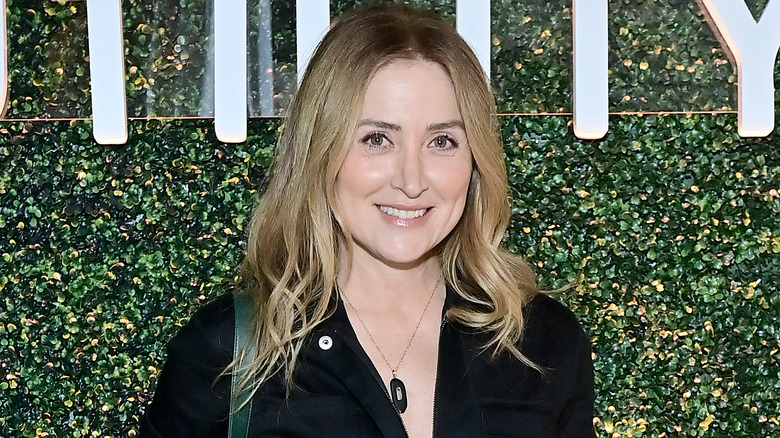 Stefanie Keenan/Getty Images
Sasha Alexander further proved she's a woman of many talents in 2016 when she took the director's chair for the hit procedural she also starred in. The actor, who'd actually graduated from the University of Southern California's School of Cinematic Arts with a degree in directing, helmed the "Rizzoli & Isles" season seven episode titled "For Richer or for Poorer." And the whole process couldn't have gone better.
As Alexander said in the aforementioned TVLine interview, "It was a really inspiring, enriching and fun experience for me, to be able to work with everybody behind the scenes. That part of the collaboration is something I've really missed as an actor. It's so much more insular, and one of the reasons I went to film school was to hone behind-the-scenes skills." The actor admitted that she'd actually wanted to take on such a role since the TNT hit's second season but had frustratingly been denied by the network.
Although the show wrapped up soon after, Alexander did get to add to her list of directorial credits with a third season episode of Netflix's stalker drama "You" and a season seven episode of "Bull," the legal procedural fronted by her former "NCIS" co-star Michael Weatherly.