Camille Kostek Talks About Eye-Opening Moment In Relationship With Rob Gronkowski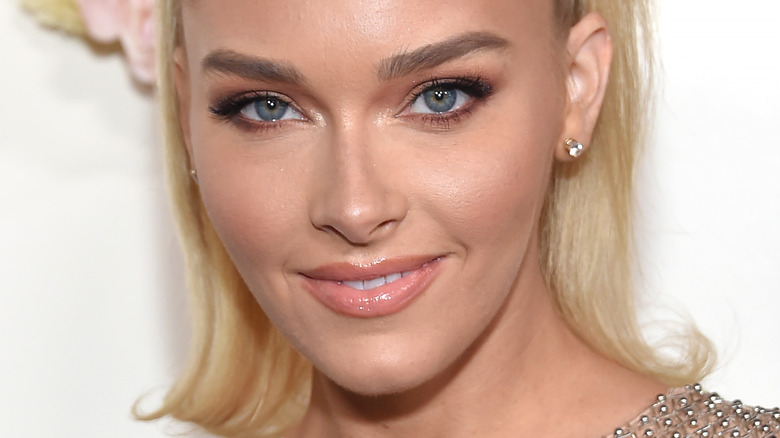 DFree/Shutterstock
Camille Kostek met Rob Gronkowski at a charity event in 2013. At the time, Kostek was a cheerleader for the New England Patriots and Gronkowski was one of the team's star tight ends. While at the event, Gronkowski gave Kostek his number, which, she admits, she felt weird about taking. "I was like, 'Oh no, no, no, I can't take this. I can't take his number,'" Kostek said on a 2021 episode of the "This Is Happening" podcast. Kostek ended up calling Gronk and the two kept in touch, dating casually until taking their relationship public in 2016. 
In the time since, Kostek and Gronkowski have fostered a successful relationship and have really fallen in love. However, things weren't always that easy. In an interview with Sports Illustrated Swimsuit, Kostek revealed that she and Gronkowski kept their relationship very hush-hush because she didn't want to lose her job. "I had to keep it a secret for like, two years. Fun fact," she told the outlet. In November, Kostek shared a post on Instagram celebrating nine years since she got her man's digits. In the caption, she admitted that she broke the rules as a team cheerleader but said it was "worth it." There was an event in their lives, however, that drew them closer and really solidified their relationship.
Camille Kostek shared what really made her relationship with Rob Gronkowski legit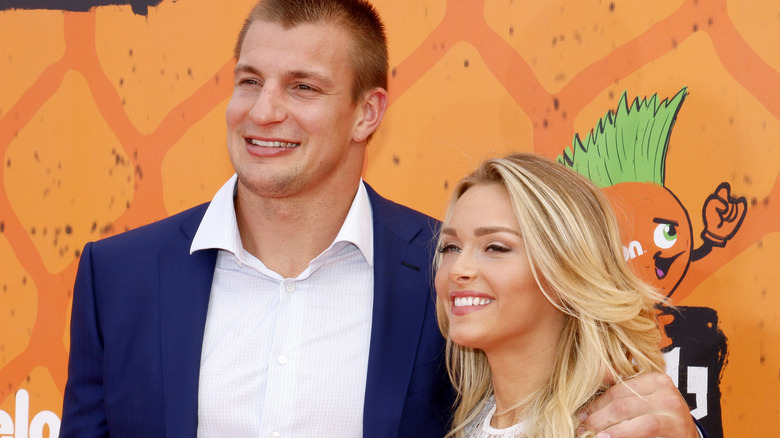 Tinseltown/Shutterstock
Rob Gronkowski and Camille Kostek have certainly come a long way from the early days of their romance. And there was one pivotal time in their lives that solidified their relationship and officially made them boyfriend and girlfriend. In her interview on the "Under the Swimfluence" podcast, Kostek recalls bonding with Gronkowski when he suffered what was reported as a "career-ending injury" when he played for New England. Kostek watched from the sidelines as Gronk went down, only wishing she could have rushed to his side. 
It was later reported that Gronkowski tore his ACL and it was Kostek that was there to help him during his recovery. "I learned within a few weeks of just getting to know Rob, what it was going to take to pursue a relationship with someone in the NFL," she said on the podcast. "I was helping him take his clothes off, helping him bathe, doing things that allowed us to really get close and become very serious very quickly," she added. 
The two have been each other's biggest fans ever since. After being together nearly a decade, the two have blended their lives; they travel together, they support one another, and they are even human parents to their French bulldog named Ralphie — and, yes, the pup has his very own Instagram account.