How Did Rob Gronkowski And Camille Kostek Meet?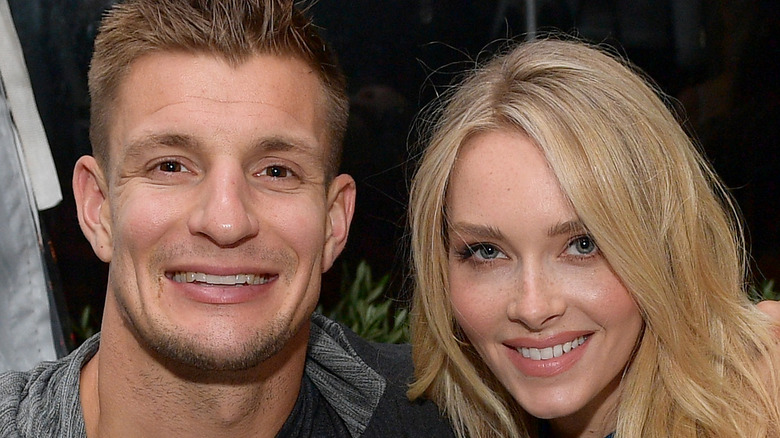 Matt Winkelmeyer/Getty Images
Rob Gronkowski has kept football fans guessing about the future of his time on the field by going in and out a retirement, Tom Brady style. After initially calling it quits in 2019, Gronk returned to play for the Tampa Bay Buccaneers in 2020, per TMZ. He then helped the team win Super Bowl LV in 2021, after which he retired again in June 2022. "I'm done with football," he proclaimed that July, according to ESPN. Still, fans can't help but wonder what it would take for Gronkowski to make another NFL return.
While the 33-year-old's football future is uncertain, one constant that raises no questions in his life is his years-long relationship with former New England Patriots cheerleader Camille Kostek. One look at their respective social media pages shows just how much they love and support each other. Case in point: While celebrating Valentine's Day in 2021, Gronkowski gushed about his partner on Instagram, calling her, "One of the hardest workers I know, always cheering me on, always caring and always there for anything that I need!" Whether an engagement is in their future (Kostek told Us Weekly in 2022 she's ready for marriage), it's clear they share a special bond that's beyond sweet. 
So, how did it all start? Here's the full story of how Rob Gronkowski and Camille Kostek first met and got together.
Rob Gronkowski and Camille Kostek's meet cute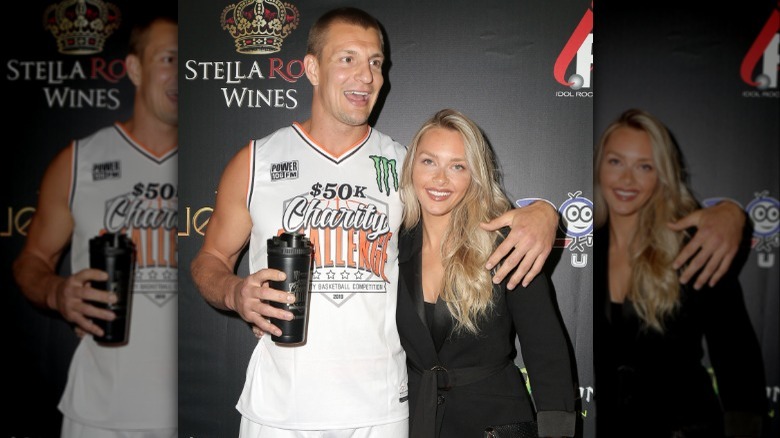 Kathy Hutchins/Shutterstock
Rob Gronkowski and Camille Kostek were both working for the New England Patriots (she was a cheerleader; he was a tight end) when they crossed paths off the field in 2013. They were at a Goodwill charity event in Boston helping make Thanksgiving food baskets for families in need, and Gronkowski decided to shoot his shot. Kostek shared all the details on SiriusXM's "This Is Happening With Mark Zito and Ryan Sampson," and said the rules didn't allow players and cheerleaders to fraternize, so Gronk had to get creative. He apparently wrote his phone number on the back of his "Hi, My name is Rob Gronkowski" sticker along with some simple instructions: "Shhhh." He then enlisted Jermaine Wiggins' help. Wiggins pretended he wanted Kostek to sign a poster for a friend, so he could approach her and slip her Gronkowski's number. "I was a rookie and I was so scared," she recalled. "I was like, 'Oh no, no, no, I can't take this.'" In the end, she kept the paper in her pocket and FaceTimed him a few days later.
The pair initially kept their romance under wraps before going public in 2015. That September, Kostek posted a photo of them to Instagram captioned "Friday night date night." A source told People at the time, "They both have a great sense of humor and feed off each other really well." In July 2016, they made their red carpet debut at the Nickelodeon Kids' Choice Sports Awards, per JustJared.
Inside Rob Gronkowski and Camille Kostek's sweet romance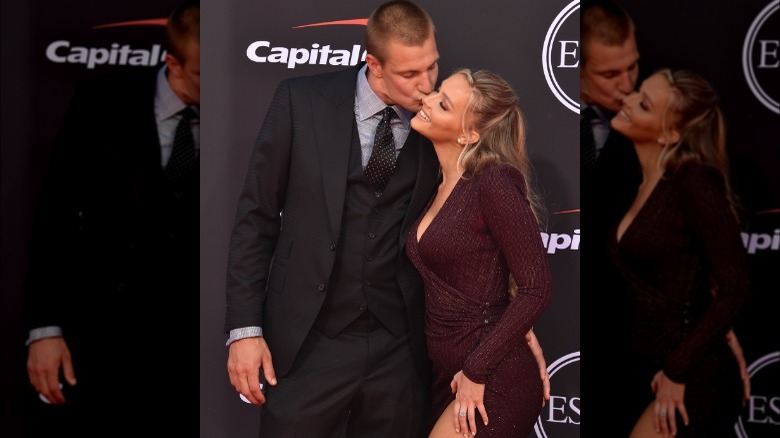 Featureflash Photo Agency/Shutterstock
2023 marks a decade in Rob Gronkowski and Camille Kostek's love story. Through the years, they've shown that the key to their success is unconditional support. When Gronkowski first retired in 2019, Kostek told People she'd love to see a comeback, but noted, "I am respecting him taking this time for himself, healing up his body, and enjoying the time off." Then, when he decided to unretire, she supported him all the same. Following his 2021 Super Bowl win, Kostek shared a cheeky Instagram post of them kissing, which she captioned, "Tastes like a champion." Continuing the celebrations, they grew their family by adopting a French bulldog named Ralphie. Likewise, Gronk has always celebrated Kostek's career achievements, like when she landed the Sports Illustrated cover in 2019 and he carried her around the official bash on his back.
And while quarantine put a real strain on some couples, Kostek told Us Weekly it made them stronger. "It has definitely brought us closer and we've learned a lot about each other and it's been pretty cool," she shared. It helps that their personalities are so similar. "We're always living that 'never not dancing' life,'" she told Fox News. "We just turn up the music wherever we are — whether it's the kitchen or backyard — and just dance it out." Celebrating nine years together in 2022, Kostek wrote on Instagram, "Yes I broke the @patriotscheerleaders rules at the time and called him up ... but it was worth it."