Rob Gronkowski Makes A Major Announcement About His Future In The NFL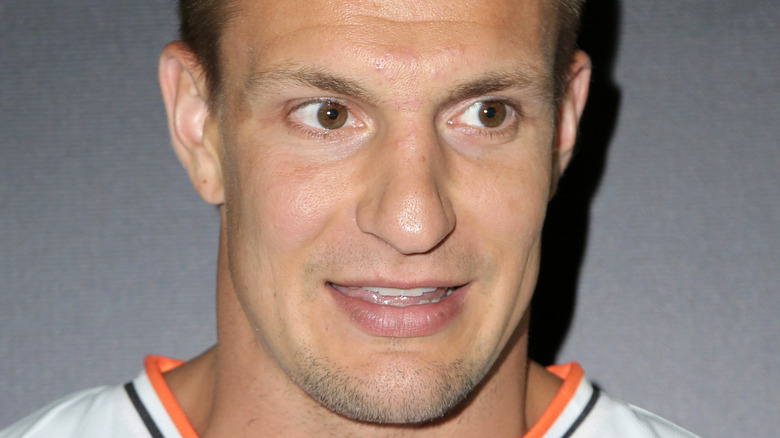 Kathy Hutchins/Shutterstock
There's no doubt that Rob Gronkowski has had an incredible career in the NFL as a tight end. In 2010, the New England Patriots drafted Gronk in the second round after his college career at the University of Arizona. There, he teamed up with quarterback Tom Brady, and the two made magic. The star took home three Super Bowl rings during his time with the Patriots, per Bola VIP. In his nine seasons with the organization, Gronk had an impressive stats sheet with 92 touchdowns and over 9,200 yards, per Stat Muse.
In 2019, Gronkowski took to social media to make a huge announcement. "I will be retiring from the game of football today," he wrote on Instagram. "I am so grateful for the opportunity that Mr. Kraft and Coach Belichick gave to me when drafting my silliness in 2010." He also thanked the organization, his teammates, and fans as he added that he was "uncertain of whats next."
However, Gronk's retirement didn't last long. The star came out of retirement in 2020 to join his beloved quarterback, Tom Brady, in Tampa Bay, though he insists he made the choice for other reasons. "The main reason I came down to Tampa was because my mother lives two hours away. She can get to all eight of my home games," he said on "The Ellen DeGeneres Show." After a 2021 Super Bowl win with the team, it's time for Gronk to take another step back.
Rob Gronkowski is retiring ... again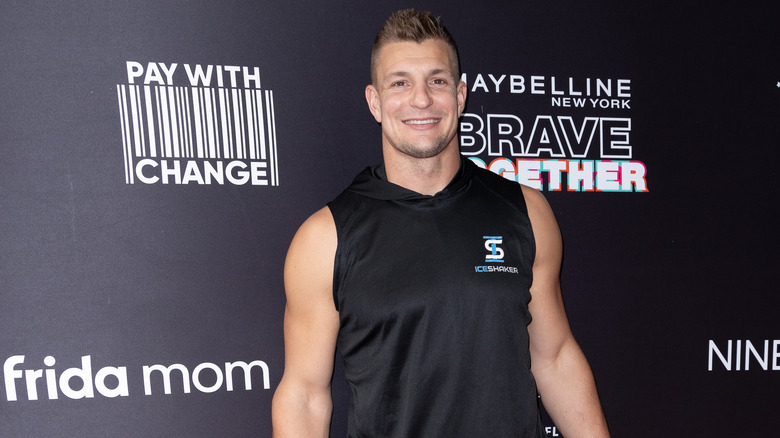 John Parra/Getty Images
Rob Gronkowski is hanging up his cleats for the second time. The NFL star took to Instagram on June 21 to announce some sad news to Tampa Bay fans. His post included two images where he rocked a Tampa Bay Buccaneers jersey. He accompanied the post with a lengthy caption. To begin, Gronkowski explained to fans how it had always been his dream to play professional football, and he wrote those dreams down in a school assignment. "I wrote that I wanted to play in Tampa for the Tampa Bay Buccaneers, for many reasons, the sunny weather being #1," he explained. "I completely forgot about writing this report until 2 years ago when I had the opportunity to join the Tampa Bay Buccaneers."
Gronkowski added that his time playing football in Florida "has blown away what I originally wrote about in college." Of course, Gronk also thanked the organization for all they did for him, as he said he "gave it everything" he had when he played there. "The friendships and relationships I have made will last forever," he continued. Gronk also said he doesn't know what's next but gave a nod to his former team, saying he may sail "the seas, Arghhhhhh!!"
Several fans and loved ones took to the post to comment, including Gronk's girlfriend, model Camille Kostek. "I'm always proud of you," she wrote. "Some of the best years of my life have been cheering on and off the field for you!" How adorbs.
Fans react to Rob Gronkowski's retirement news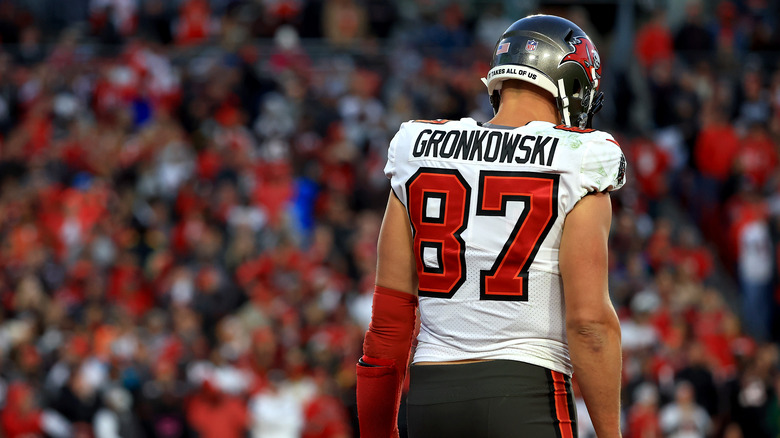 Mike Ehrmann/Getty Images
There are a lot of people who are sad to hear about Rob Gronkowski's retirement news — especially his fans. Several Gronk and Tampa Bay Buccaneers faithful took to Twitter to express their feelings about the football star moving away from the NFL yet again. It felt all too familiar for some fans after his retirement from the Patriots.
"Rob Gronkowski should go down as the greatest TE of all time. Sad to see him retire, pure joy watching him play," one fan tweeted. "Sad to see you go, excited for your next adventure. Thanks for an amazing 11 years," another fan wrote. One more Twitter user wrote, "I am so sad to never see you play again but so happy for you to end it healthy... love you to the best tight end ever... muah big kiss." As of this writing, Gronk's longtime friend and quarterback, Tom Brady, has not posted on his Instagram feed about Gronk, but he did share a photo of the star on his Instagram Stories and included two red hearts. 
According to CBS Sports, Gronk has made a name for himself as one of the best tight ends of all time. The website ranks him as number two, with only Tony Gonzalez ahead of him. Other names on the list include greats like Mike Ditka, Travis Kelce, and Antonio Gates. Maybe, just maybe, Gronk will surprise fans and come out of retirement in a month like Brady ... but we won't hold our breath.