Tom Brokaw Addresses Sexual Misconduct Allegations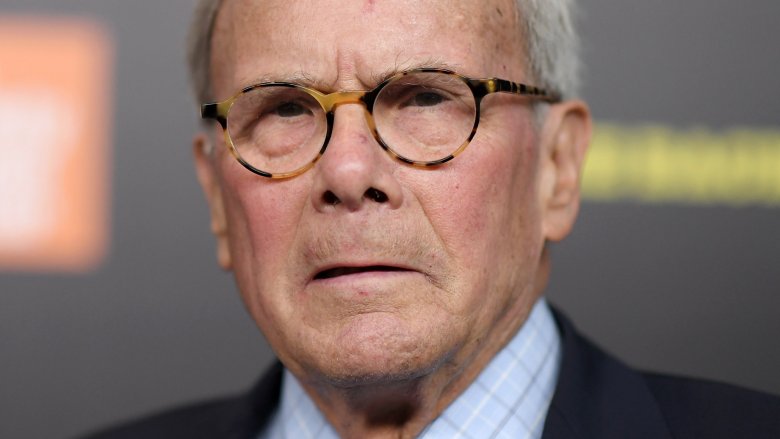 Getty Images
UPDATED APRIL 27, 2018 AT 2:55 P.M. ET
Tom Brokaw reportedly sent out a lengthy email to his NBC News colleagues following allegations of sexual misconduct made against him. In the email, which was obtained by The Hollywood Reporter, Brokaw writes that he was "ambushed and then perp walked" by The Washington Post and Variety, the publications that published reports of his alleged behavior on Thursday, April 26, 2018.
"I am angry, hurt and unmoored from what I thought would be the final passage of my life and career..." he penned, comparing the allegations to being "taken to the guillotine." Regarding accuser Linda Vester's claims, Brokaw said that she "often sought [him] out for informal meetings."  
He wrote, "She was coy, not frightened, filled with office gossip, including a recent rumor of an affair." He also claimed that he'd helped her get a job at Fox News after she failed to have her contract renewed at NBC News.
"I am not a perfect person. I've made mistakes, personally and professionally. But as I write this at dawn on the morning after a drive by [sic] shooting by Vester, the Washington Post and Variety, I am stunned by the free ride given a woman with a grudge against NBC News, no distinctive credentials or issue passions while at FOX," he wrote. "I deeply resent the pain and anger she inflicted on my wife, daughters and granddaughters — all women of considerable success and passion about women's rights which they personify in their daily lives and professions. We'll go on as a family that pursues social justice in medical emergency rooms, corporate offices, social therapy, African women's empowerment and journalism. And no one woman's assault can take that away."
Brokaw concluded, "I am proud of who I am as a husband, father, grandfather, journalist and citizen. Vester, the Washington Post and Variety cannot diminish that. But in this one woman piece of sensational claims they are trying."
ORIGINAL REPORT:
Tom Brokaw is speaking out amid claims that he engaged in sexually inappropriate behavior with two female colleagues in the 1990s.
As reported by Variety and The Washington Post on Thursday, April 26, 2018, Brokaw has been accused of sexually harassing former NBC News anchor Linda Vester and an anonymous woman who worked as a production assistant. Vester alleged that Brokaw tried to forcibly kiss her on two separate occasions, groped her in a conference room, and once arrived at her hotel room uninvited. The other woman claimed that Brokaw had once pulled her close, placed her hands on his chest underneath his jacket, and asked her, "How is your job search going?" He then allegedly asked her to join him in his office, but she declined (via Us Weekly).
In a statement sent to both Variety and The Washington Post, Brokaw addressed the allegations. The 78-year-old NBC News vet, who has been married since 1962, said, "I met with Linda Vester on two occasions, both at her request, 23 years ago because she wanted advice with respect to her career at NBC," noting that the meetings had been "brief, cordial and appropriate." Brokaw also asserted that he "made no romantic overtures towards her at that time or any other."
Unfortunately, this is not the first sexual misconduct scandal that NBC News has faced in recent months. As Nicki Swift previously reported, Matt Lauer was accused of sexual misconduct in  late November 2017, resulting in his termination from NBC News.
In response to the allegations, Lauer had stated, in part, "There are no words to express my sorrow and regret for the pain I have caused others by words and actions. To the people I have hurt, I am truly sorry." He added, "As I am writing this I realize the depth of the damage and disappoint I have left behind at home and at NBC. Some of what is being said about me is untrue or mischaracterized, but there is enough truth in these stories to make me feel embarrassed and ashamed."