Shania Twain And Taylor Swift's Friendship Goes Way Back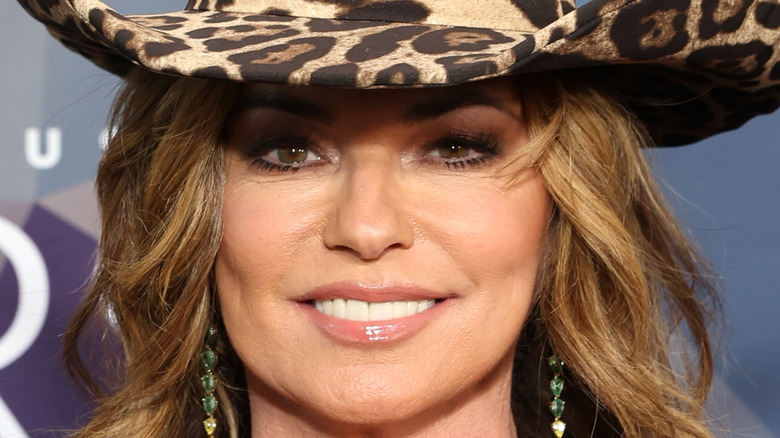 Jason Kempin/Getty Images
Shania Twain is one of country music's pioneering female forces. And while she's predominantly known for her punchy, empowering female anthems, such as "Man! I Feel Like A Woman," "Don't Be Stupid (You Know I Love You)," and "Party For Two," Twain has also been lauded for bringing a country flavor into the pop music sphere. Throughout Twain's three-decade career, which kicked off in 1993, she's won five Grammys and broken the Guinness World Record for having the best-selling female album in history. 
Naturally, Twain's otherworldly success has placed her in the perfect position to mentor the younger generations of musicians, and she's done just that! Over the years, Twain has played mentor to everyone from Avril Lavigne to Harry Styles — a position she enjoys. "Artists will ask for advice or will share stories and I feel a little bit like an aunt in a way," shared Twain with InStyle. "It sort of makes me feel auntie-ish, which I like. I enjoy it. I'm a nurturing person and I like to share my experiences. I've gone through them, so what good are they if I can't pass them on or share them? It's like dying with a good recipe. It's a shame. Nobody wants to keep that for themselves. I enjoy passing any of it on." 
 Of course, we can't talk about Shania Twain's impact on younger artists without mentioning her long-lasting friendship with Taylor Swift.
Shania Twain inspired Taylor Swift to go the pop route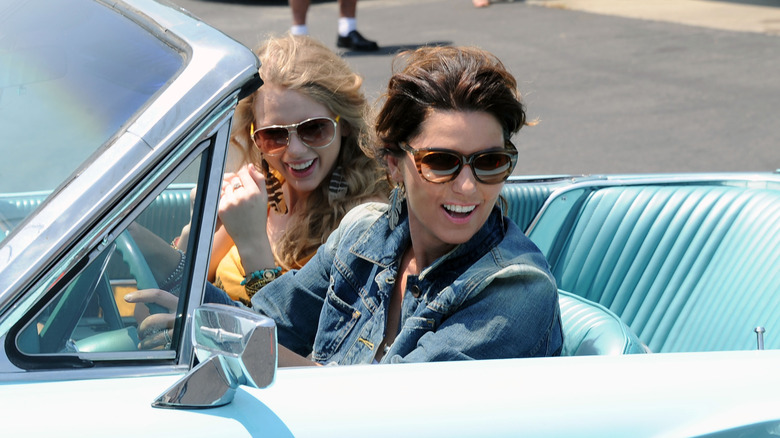 Rick Diamond/Getty Images
For millennials and beyond, Taylor Swift is probably the most recent example of a country star who's become a pop powerhouse. Even if you aren't a fan, there's absolutely no denying that Swift has effortlessly conquered the world of country and pop music over the years. However, Shania Twain definitely did it first — a fact Swift herself acknowledged. In 2021, Swift took to TikTok to pay homage to Twain's influence on her career trajectory. In the video captioned, "Learned from the best," Swift posted a photo montage of herself and Twain over the years, overlayed with the words: "Country girls can't go pop." 
Ever the gracious legend, Twain took to her Instagram to repost Swift's video with the caption: "Thank you @taylorswift I appreciate you! Paying this one forward to another trailblazer – @dollyparton #mamasaid #letsgogirls." Fortunately for Swift, she got to enjoy Twain's proximity quite early in her career. In 2011, Swift and Twain teamed up to participate in a "Thelma & Louise" sketch for the CMT Music Awards. According to Entertainment Tonight, Swift and Twain took a ride in a baby blue convertible, which was similar to the car used in the original film. During the skit, Twain came to Swift's rescue after she and her boyfriend got into a fight, thus instigating their rebellious joyride.
Shania Twain celebrated Taylor Swift breaking her record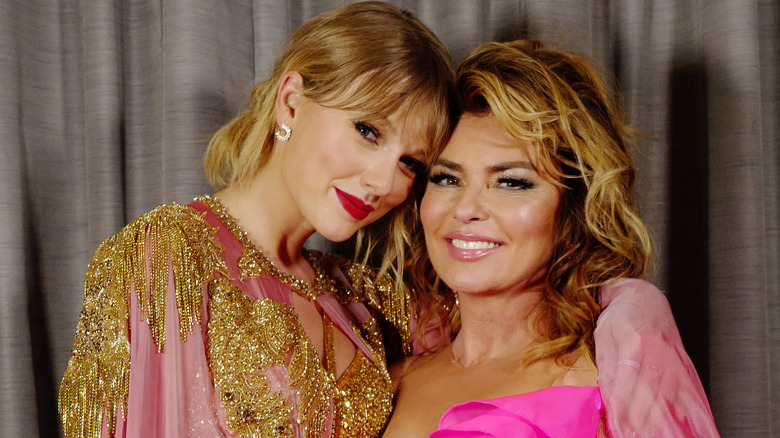 John Shearer/ama2019/Getty Images
Taylor Swift has achieved many milestones in her career. However, one of the most exciting occurred in January 2022 when she surpassed Shania Twain's record as the female artist who'd spent the most consecutive weeks at the No. 1 spot, according to Billboard. Swift reached the record-breaking 99 weeks at No.1, barely eclipsing Twain's 97-week run. 
Further proving herself to be a class act, Twain wasn't at all salty about Swift breaking her record. Immediately, Twain took to Twitter to congratulate Swift on her accomplishment and offer their fans an inspiring new perspective. "Let's Go Girls!!!! Proud of you @taylorswift13 . Historical records are meant to be made and then broken. The baton is meant to be passed on to new generations. Unstoppable young female country artists are [fire emoji] inspite of the hurdles #trailblazers," Twain tweeted.  
Of course, this isn't the first time that Twain has supported Swift in public. Two years earlier, Twain spoke out in support of Swift amid her battle with her previous record label to obtain her masters. "I don't know a lot about the details of that, but I'm a big supporter of Taylor," shared Twain with USA Today. "I think she's just incredibly brilliant. I haven't had a chance to talk to her about it and I don't really know where everybody is coming from, but I'll always support the artist and their access to their own music."