The A$AP Rocky Lyric Everyone Thinks Is A Diss To Chris Brown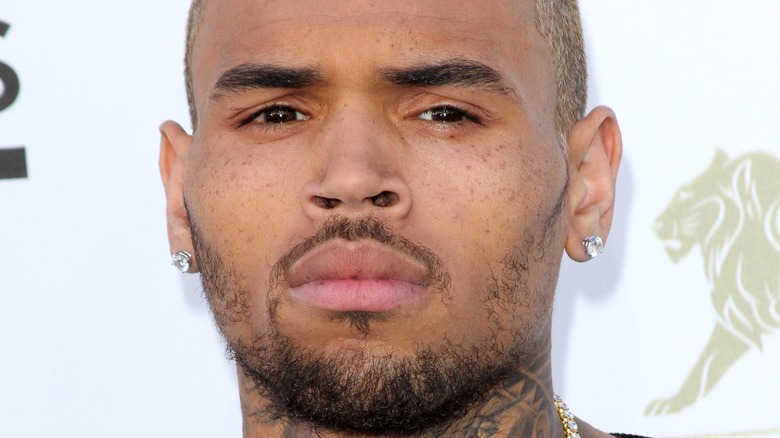 s_bukley/Shutterstock
This article contains mention of domestic abuse.
There have been some legendary rap world fall-outs, and they've not always ended well — RIP Biggie Smalls and Tupac Shakur. Many hip-hop fans will remember Jay-Z and Nas' long-standing beef throughout the '90s before making up in the aughts. And of course, 50 Cent's public feuds with other celebrities are seemingly endless.
Drake runs a close second to the hip-hop mogul, though. He's traded Twitter barbs and diss tracks with Pusha-T, Meek Mill, Common, and Tyga, to name a few. Meanwhile, his feuds with Kanye "Ye" West, and Chris Brown are legendary. It looks like it'll never be over with Ye, but Drake and Chris Brown finally ended their beef (apparently over Rihanna) in 2018. The two ironed things out by sending each other jackets from their respective clothing lines. Proving, fashion is a universal language.
Meanwhile, Brown's moved on, and it's now A$AP Rocky wishing the rapper would be over Rihanna. Still, he lingers on in her life — holding a candle even though she's so clearly moved on. As fans can recall, in 2020, Rihanna and A$AP went public with their relationship. In January 2022, they announced they were expecting their first child together. She gave birth four months later, to whcih Brown then posted a cryptic congratulatory message, despite fans thinking A$AP had previously shaded him in a song. 
So, what is the A$AP Rocky lyric everyone thinks is a diss to Chris Brown?
A$AP Rocky seemingly shades Chris Brown over his treatment of Rihanna
So, did A$AP Rocky diss Chris Brown in his lyrics? It most definitely seems that way. In his track, "D.M.B." (which stands for "DAT$ MAH B!*$H"), A$AP seemingly shades Brown over his 2009 physical assault involving Rihanna. "I don't beat my b**ch. I need my b**ch," he raps. "She clean my crib; she beat my friends." So gangsta, yet so strangely romantic, as is the song's accompanying video. It features the genetically-blessed couple, clad in neon-colored faux fur attire, enjoying an alfresco dinner for two on a New York building fire escape — in addition to a lot of hot and sweaty twerking.
The song was released in May 2022, two months before Rihanna and A$AP's son entered the world. And even though the new parents haven't officially tied the knot yet, it appears to totally be on the table. In the video, a close-up of A$AP smiling shows "marry me" studded in diamonds on his teeth. Rihanna smiles back, and her own toothy reply — "I do."
Meanwhile, the intrepid Brown isn't deterred. He kind of reached out via the social media ether again, this time following Rihanna's Super Bowl halftime show. "Go girl," he posted on his Insta story. Brown may be a man of few words, but he's heavy on the emojis, posting a heart and praying hands with his ambiguous missive.
If you or someone you know is dealing with domestic abuse, you can call the National Domestic Violence Hotline at 1−800−799−7233. You can also find more information, resources, and support at their website.
A$AP Rocky and Rihanna have love on the brain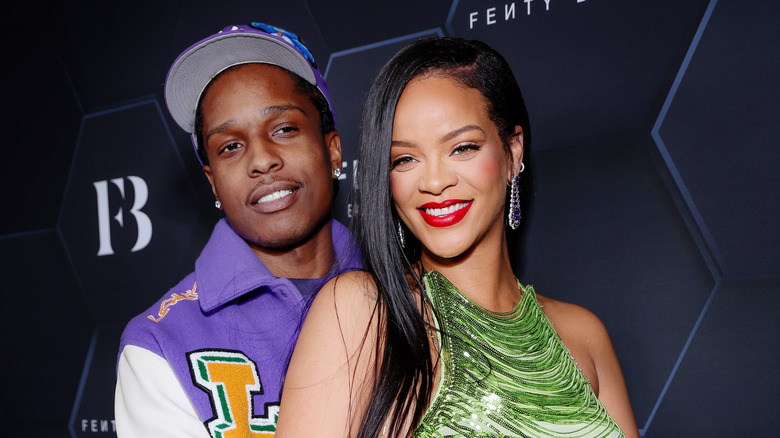 Rich Fury/Getty Images
As far as Rihanna's concerned, it's "Chris Brown who?" She and A$AP Rocky were friends for a long time before dating, but once they did, it's been a fairytale for the lovers. A$AP declared Rihanna "the love of my life" in a 2020 interview with GQ. He said she leaves all his past relationships in the shade, even the famous ones. 
"So much better when you got 'the one.' She amounts to probably, like, a million of the other ones." A$AP admitted. "I think when you know, you know. She's 'the one.'" He also shared, at the time, that he was ready to have kids. "I think I'd be an incredible, remarkably, overall amazing dad," he said. "I would have a very fly child. Very." Given his and Rihanna's genes, that's highly likely. He elaborated further on fatherhood to Dazed and Confused, saying, "I will always remind my children to never lose their imagination, even as adults, no matter what. I hope to raise open-minded children. Not people who discriminate. And I'm not trying to describe a saint, but realistically, I just want a cool child with cool parents."
Meanwhile, Rihanna opened up about what she loves the most about their relationship. "Transparency with everything: how we're feeling, what our goals are, what our fears and insecurities are," she told Vogue. "The vulnerability to be able to say what you feel about each other."