How Drake And Chris Brown Ended Their Beef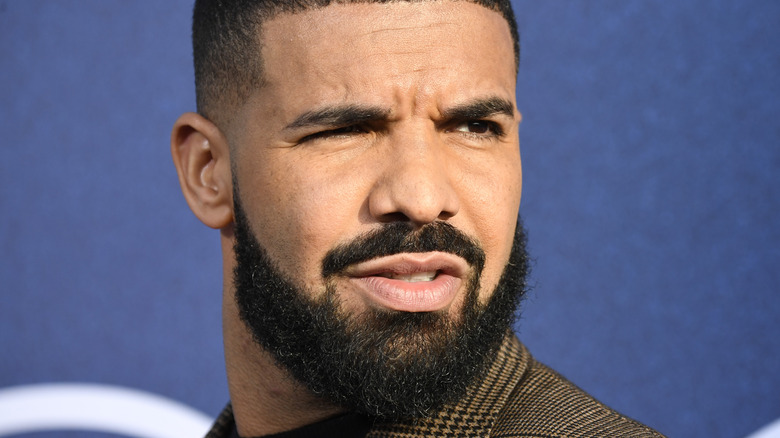 Frazer Harrison/Getty Images
We can say for sure that Drake isn't one to shy away from feuds. The Canadian rapper has embroiled himself time and time again in heated arguments, particularly with other musicians. How can we forget his beef with Ye, formerly Kanye West? They had such a long-running fight that we need a history book to chart its run. Ye was invested in the feud too, though. He once sent Drake a major warning after Drake dropped a diss track. Many hoped that their feud would end, but it doesn't seem likely.
But Ye isn't the only person who's had issues with Drake. In fact, Drake's offended so many people that there's a long list of folks to whom he could issue apologies. Whether he does it or not is yet to be seen, but it goes to show that Drake isn't shy about making waves. This also goes for his relationship with Chris Brown, with whom he's had a long-standing feud. However, they seem to have mended things and are in good standing now.
Drake and Chris Brown fought over Rihanna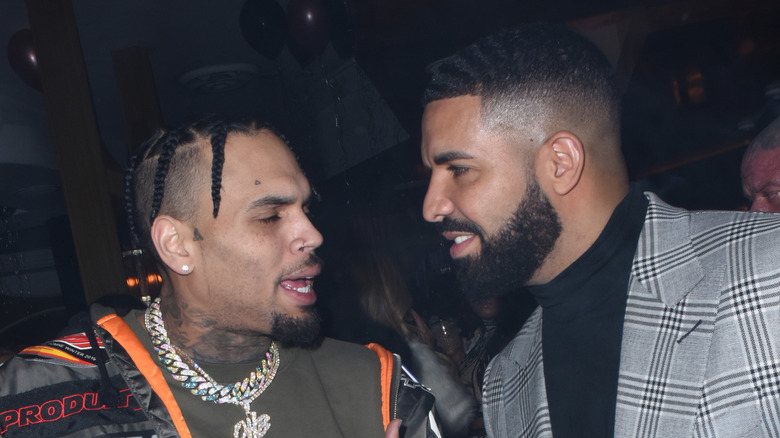 Vivien Killilea/Getty Images
Much of Drake and Chris Brown's feud occurred because of Rihanna. For a little context, Rihanna and Brown starting dating back in 2007, per Page Six, and the relationship ended badly in 2009 after the pair's domestic abuse scandal. Meanwhile, because of their connection in the music world, Rihanna and Drake were in each other's orbits. In May 2009, they were seen kissing in New York, per a later publication by Page Six. Though neither Rihanna nor Drake openly confirmed a relationship, they were very close and collaborated frequently over the years.
This seemed to be a major source of contention between Drake and Brown. In 2012, the two men got into an altercation at a nightclub in New York City, per the New York Post, allegedly over Rihanna. Years later, when Brown sat down with DRINK CHAMPS in June 2022, he opened up about the incident. "I'm not saying I will come with all the smoke, but I really don't have no problem with all the smoke," Brown said. "I ain't even tryin' to be tough, none of that."
Despite the brawl, Brown said that now things are good between them. "It was just a misunderstanding on both ends," he added. "I ain't going into too many details. It's funny now, but as far as that, blood, he good. He straight."
The two men came together through clothing gifts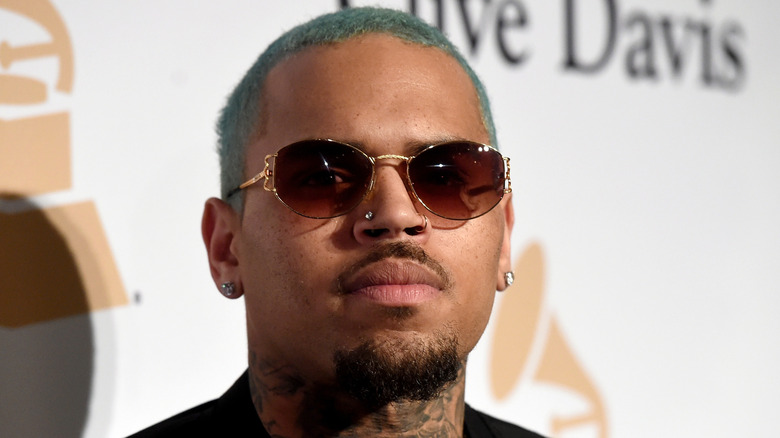 Jason Merritt/Getty Images
While things are good now between Drake and Chris Brown, that doesn't mean that they didn't have a bumpy road before they reconciled. When Drake sat down on "Keep It Thoro" in 2013, he was asked about Brown and got upset. "Don't ask me s*** about that man when I come up there and leave that man alone. Stop preying on his insecurities," Drake replied (via MTV). "His insecurities are the fact that I make better music than him, that I'm more popping than him, and that at one point in life the woman that he loves fell into my lap."
Romance-related tension seemed to happen again. In 2014, Brown broke up with girlfriend Karrueche Tran after she allegedly went on a date with Drake. In a since-deleted Instagram post, Brown said, "I was locked up for damn near 4 months and only got 1 visit from you while u was hosting parties and taking secret trips to Toronto, going on dates with Drake!" (via The Daily Beast).
Eventually though, things ironed themselves out. In November 2018, Drake gifted Brown with a jacket from his OVO line and Brown responded with an offer of clothing from his Black Pyramid line. Nothing like a little brand swap to set the record straight.