Are Kanye West And Drake Ending Their Beef?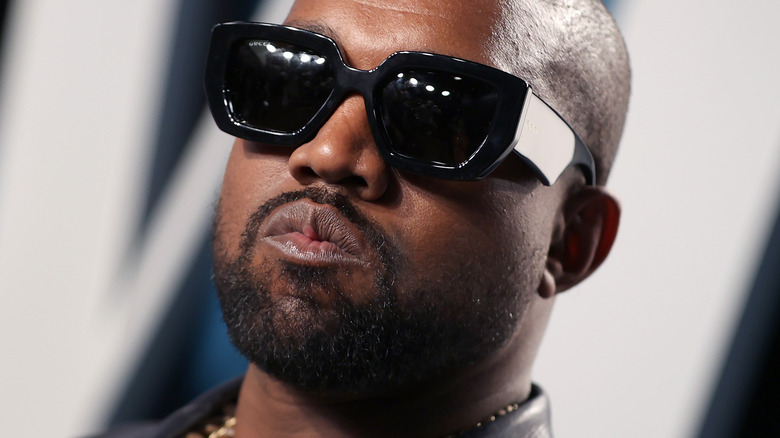 Rich Fury/vf20/Getty Images
Over the years, Kanye West and Drake have gone together like oil and water; they just don't mix. In 2018, Drake accused West of leaking private information about his son, Adonis, to his other rap nemesis Pusha T, per NME. This year, Drake further ignited the rumors that he and West's ex-wife, Kim Kardashian, might've had more than just friendly relations on his song, "Pipe Down." "Why does your ex think we beefin', is that man alright? / That ***** can't even look at me, he fell off twice," Drake raps, per Genius.
This year, West decided to take the beef further by leaking Drake's $100 million Toronto home address on Instagram on August 23, per The Sun. Drake responded to that attack on September 4 by leaking an unreleased song by West and André 3000 called "Life of the Party" from West's "DONDA" album on SiriusXM's Sound 42, per INSIDER. Even though Andre 3000 was a casualty in the war between these two rappers, he shared that he still loves and respects both artists. "It's unfortunate that it was released in this way and two artists that I love are going back and forth. I wanted to be on 'Certified Lover Boy' too. I just want to work with people that inspire me," Andre 3000 said (via Variety).
Now there are rumors floating around that this more-than-a-decade-long feud between West and Drake is finally coming to a close.
Ye said it's time to put the beef 'to rest' in an interesting Instagram speech
On November 8, Kanye West met up with music executive and Drake's mentor, J. Prince, at The Rothko Chapel in Houston, Texas. The meeting must've gone well because J. Prince uploaded an Instagram video of West publicly giving a statement asking to end the beef between him and Drake. "I am making this video to address the ongoing back and forth between myself and Drake. Both me and Drake have taken shots at each other and it is time to put it to rest," West said.
West also asked if Drake would join him on stage on Dec. 7 in Los Angeles, California to "share the two biggest albums of the year" and to help him to get convicted felon Larry Hoover released from prison. "I believe this event will not only bring awareness to our cause," West added, "but prove to people everywhere how much more we can accomplish when we lay our pride to the side and come together."
This is not the first time this week West has spoken about Drake. On November 4, West was on Revolt TV's "Drink Champs" podcast praising Drake's impact on music. "Man, I love Drake, I love all artists, period, but not even to mention, I love Drake. I love all this," West said. No word yet from Drake on what he thinks about these revelations from West.