What We Know About Nikki Haley's 2 Kids, Rena And Nalin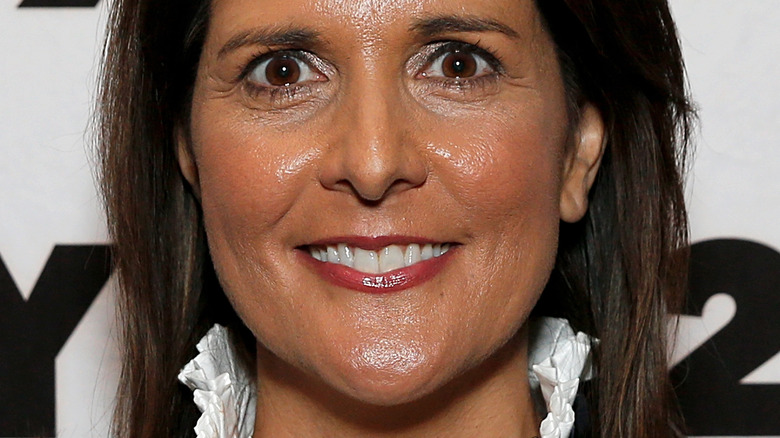 Dominik Bindl/Getty Images
The 2024 presidential race is heating up, and it looks like Donald Trump may have some competition. Former South Carolina Republican Gov. Nikki Haley officially announced her presidential bid in a video posted to social media.
Haley is the daughter of Indian immigrants and detailed her ethnic background in the video as she explained how she was "different." The latest political candidate criticized the current government and explained how she would be a better fit for the highest office. She said, "The Washington establishment has failed us over and over and over again. It's time for a new generation of leadership to rediscover fiscal responsibility, secure our border, and strengthen our country, our pride, and our purpose." According to CNN, Haley is believed to give a formal speech and launch her campaign on Wednesday. Most likely, the presidential candidate will be surrounded by her campaign team and family.
If her family does end up going to support her, this will be one of the many events they will have to be a part of. Family plays a critical part in one's presidential race and can make or break a candidate. With Haley's presidential bid, people are sure to be curious about her family. Now her husband and two kids are sure to be under a constant spotlight. So who exactly are Haley's two children, Rena and Nalin Haley? Well, we are here to give you all the details.
Rena followed in Nikki Haley's footsteps
Like mother, like daughter. Nikki Haley's daughter, Rena Haley, followed in her mother's footsteps. Rena is Nikki and Michael Haley's first child. Rena is 24 years old and has her mind set on what she wants to do.
Now, Rena's not looking to be the next president, but she did go to the same school her mother did. According to Insider, both mother and daughter ended up attending Clemson University in South Carolina. It makes sense the two ended up going to school there because they grew up in South Carolina. So, they chose not to stray too far from home. The difference between Rena and Nikki is that Rena ended up majoring in nursing with a minor in psychology, whereas her mother ended up majoring in accounting. Nikki was a proud mama when her daughter graduated from the university in 2021.
Nikki shared a sweet post on Twitter for her daughter upon her graduation from the university. She said, "We now have a nurse in our family. Congratulations to sweet Rena for passing the nursing boards. Your faith and discipline have made us so proud. Next stop...the pediatric floor of the hospital." Nikki was right, because Rena ended up landing herself a job as a pediatric nurse in South Carolina, per LinkedIn. Nikki is sure to be proud of her daughter as Rena takes the next chapter in her professional career.
Nalin and Nikki Haley are supportive of one another
Family will support you no matter what, and it looks like Nikki Haley and her son, Nalin Haley, are always there for one another. Nalin is the youngest of the Haley family at 21 years old, and it seems that he and his mom have an unbreakable bond.
Nalin is a junior at Villanova University in Pennsylvania. Making the move from South Carolina to Pennsylvania could not have been easy for Nalin, but luckily his mom was there with him every step of the way. In 2021, Nikki shared a post on Twitter that she helped her son move into his dorm. She said, "Nalin is settled in for his sophomore year....So proud of him but miss him already. Have a great year Nalin. We love you." Clearly, it was tough for Nikki to see her son grow up, but no matter what, Nalin is always there for his mother.
In 2018, Nalin posted a photo to Instagram showing he accompanied his mother as they met with former President Donald Trump. Under Trump, Nikki worked as the US ambassador to the United Nations. Leading up to Nikki's 2024 presidential bid, Nalin was once again at his mother's side encouraging people to sign up for the big announcement via Twitter. It's obvious that Nalin will always be in his mother's corner, especially during this upcoming presidential race.