What's The Real Meaning Of Penthouse By Kelsea Ballerini? Here's What We Think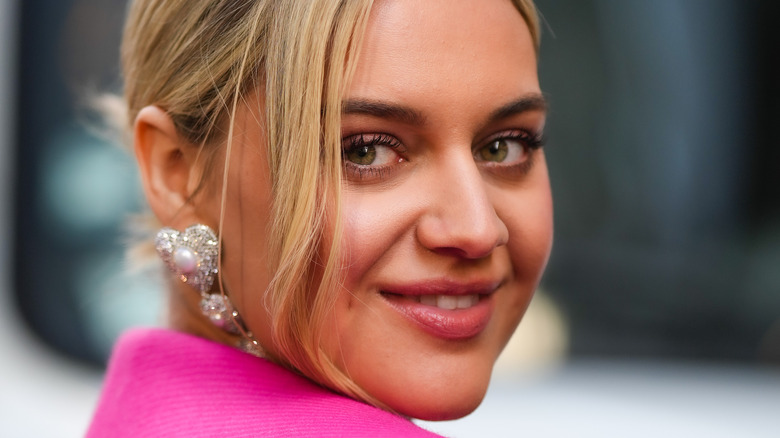 Edward Berthelot/Getty Images
Country music is known as a genre full of artists bearing their hearts and souls while singing about breakups, failed marriages, and the ones that got away. And for country star Kelsea Ballerini, her latest EP, "Rolling Up the Welcome Mat," was a project that detailed her recent divorce from Australian country singer Morgan Evans. On February 13, Ballerini shared on her Instagram that the EP was coming in the form of a short film. "Six songs. one short film. all rolling up at midnight, valentine's day," she wrote. And in another Instagram post promoting the EP, she shared an image taken in a gloomy high-rise that had the title and tracklist on top, which most likely represents the third track on the EP, "Penthouse." But what is the real meaning behind the song? Taking Ballerini's divorce and the info she's shared about it, it's easy to figure out what the country singer is singing about.
People reported that Ballerini's divorce from Evans was finalized in November 2022, right after she got her Grammy nominations. While it might have come as a surprise to fans, Ballerini told "CBS Mornings" in October that it wasn't a sudden change and nothing big caused their divorce. "It's not chaotic, it's not volatile, it just didn't work," she said. But again, if fans want to get an inside look at Ballerini's feelings around the split, "Penthouse" is a good place to start.
Kelsea Ballerini's song Penthouse details how her marriage fell apart
Kelsea Ballerini described her "Rolling Up the Welcome Mat" EP as a continuation of her 2022 album "SUBJECT TO CHANGE," which are both projects that helped her through her darker moments. She wrote in a statement, via People, that this is something she's done since she was a child and going through her own parents' divorce. "These are six songs I wish I had last year. It's about the complexities of the feelings you go through during a massive shift at a young age," she said, sharing that it was how she "got my feelings out."
With Ballerini's third track on the EP, "Penthouse," the singer details a penthouse apartment that was exciting and always had things to look at outside. However, they "played the part five nights but ... were never there on the weekends," and she always wondered if her ex "hated" her whenever she had to leave for work. Basically, their relationship seemed fine within the confines of their apartment. The penthouse Ballerini is singing about might be a description of the actual Nashville apartment she lived in with her ex-husband, but it's also a metaphor for their perfect-on-the-outside marriage that's actually only being held together because of their familiar apartment. "I guess wrong can look alright / When you're playing home in a penthouse, baby," she sings in the chorus.
Kelsea Ballerini wanted different things than her ex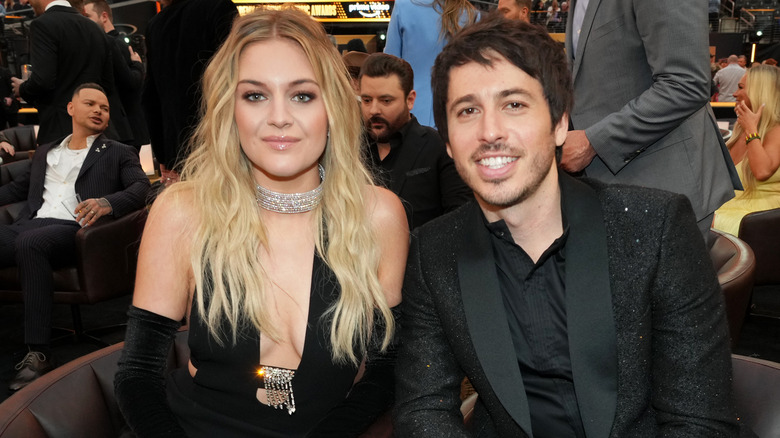 Kevin Mazur/Getty Images
In the second verse of Kelsea Ballerini's song, "Penthouse," she talks about moving to a big house to raise kids in eventually. However, it exposed the root of her and Morgan Evans' issues, which was that they just wanted different things and weren't compatible. This happened in real life, as HollywoodLife reported Ballerini and Evans moved from their Nashville apartment to a house in the suburbs back in 2020. "And I thought that would make it all better, and maybe forever wouldn't feel like the walls closing in," she sings. The change of scenery wasn't going to save her marriage.
In the bridge, Ballerini sings about packing up to move out post-split, and how "it stings rolling up the welcome mat / Knowing you got half." This touches on their real-life prenup, which allegedly declared they each get half of their assets if they divorced, HollywoodLife reported. Despite thinking her ex hates her now, the closing verse of the song highlights the fact that this was ultimately a good move for her. "I just bought the house that we saw / You said it was wrong / I wanted it all along." Back in November 2022, when her divorce was being finalized, she shared with her audience at the Grand Ole Opry that she was "getting the keys to my dream home." Maybe things do work out how they're meant to in the long run.