Matchmaker Undresses Eric André & Emily Ratajkowsi's NSFW Couple Debut On Instagram - Exclusive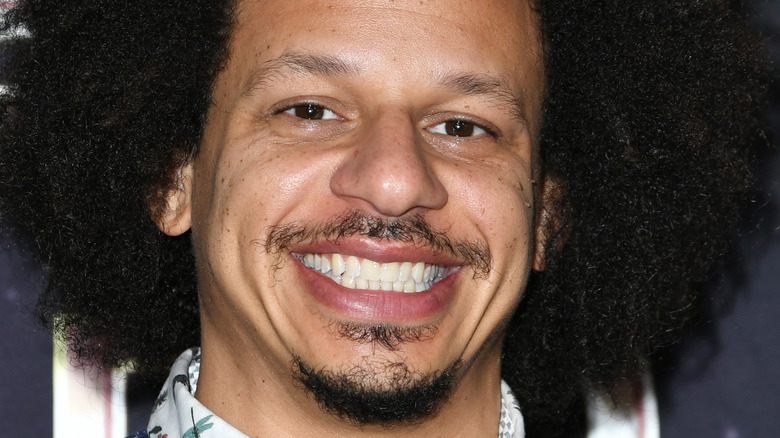 Jc Olivera/Getty Images
Well, that's one way to make your couple debut on Instagram. For Valentine's Day 2023, comedian Eric André posted a series of photos of him and reported paramour Emily Ratajkowski — with both wearing a grand total of nothing in the shots. Posing prone on a couch and in the buff, André clearly had fun as he made various coquettish gestures with his hand. "Happy Valentine's Day," the comic wished followers with his caption, using the heart-with-an-arrow emoji to cover his delicates. As for Ratajkowski, she cheekily turned her naked form sideways as she snapped the pic, utilizing the mirror behind André. Somehow making this tableau more entertaining, a sock and André's shirt and pants lay strewn on the rug before them. 
After switching to "just friends" status with Pete Davidson following a brief fling, Ratajkowski has been spotted getting cozy all over New York City with André in 2023. Reportedly first seen dining together in January, André and Ratajkowski upped the ante at February 13's Knicks game, swapping a steamy kiss publicly. The model and comic even indulged in a PDA-packed getaway to the Cayman Islands in late January. As a source close to the situation told Page Six, the pair "were kissing and flirting" the whole time, with André "cracking jokes and making everybody laugh."
Giving fans a couple's selfie that Instagram (and history) won't soon forget, we asked millionaire matchmaker Susan Trombetti if André and Ratajkowski's NSFW Instagram debut is a good or bad sign for their budding relationship.
Eric André and Emily Ratajkowski's NSFW pics indicate chemistry
Emily Ratajkowski and Eric André's shocking (and hysterical) Instagram debut is no cause for concern, according to Susan Trombetti, matchmaker and CEO of Exclusive Matchmaking. As Trombetti told Nicki Swift, "Some innocent, fun, flirting between the two using their platform" is par for the course for two public figures, as well as indicative of "chemistry." "It definitely shows a flirtiness as well, which is all there should be at this early stage of a relationship," Trombetti observed.
Trombetti also added that there is nothing inherently harmful about taking one's relationship public. In fact, she sees it as "always a good thing." The real key, she noted, was getting past the "'make it or break it' 3-month time frame every relationship deals with." After all, as Trombetti emphasized, Ratajkowski has made it no secret that she was deliberately trying to play the field, being "recently out of a serious relationship."
Followers should just be glad André restrained himself this time. After all, the comedian famously went viral in 2016 for posting two (obviously since-deleted) Instagram photos featuring him fully nude — front and center... no emoji covering his bits and pieces. Like, at all. Let's just say, maybe he did it for... love?