What's The Real Meaning Of Interlude By Kelsea Ballerini? Here's What We Think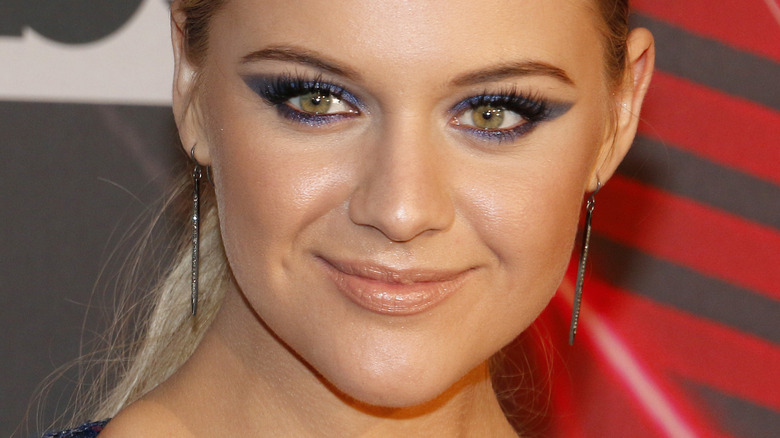 Tinseltown/Shutterstock
After four smash hit albums that laid bare her innermost thoughts and emotions, you'd be forgiven for thinking that there are no details left that you didn't know about Kelsea Ballerini. However, you'd be proved wrong. Her surprise EP and short film, "Rolling Up the Welcome Mat," provides more insight into the country singer's life. Ballerini shocked fans when she announced the upcoming release on Monday. "Six songs. one short film. all rolling up at midnight, valentine's day," she posted on Instagram. 
She followed up with a download link to the EP. "Rolling up the welcome mat. the six-song story. tonight at midnight. link in bio to pre-save/add," she wrote. It's ironic she chose Valentine's day for its release, given that the EP is about Ballerini's divorce from her husband of five years, Morgan Evans.
"Rolling Up the Matt" takes a deep dive into the break-up, detailing the before, during, and aftermath. Not surprisingly, it's raw and emotional, but then, Ballerini's known for that. "She's fluent in the language of therapy. As one of a growing number of celebrities addressing mental health, the multiplatinum country pop singer-songwriter is disarmingly honest about her personal struggles and insecurities," The New York Post writes. The EP is divided into six chapters, each covering the different stages of the relationship's demise. "Interlude" is the 4th installment of "Rolling Up the Matt." So, what's the real meaning of the song? Here's what we think.
Interlude by Kelsea Ballerini reveals her insecurities and frustrations
We think the real meaning of "Interlude" by Kelsea Ballerini is quite clear: It's the singer unveiling her insecurities regarding how the outside world views her, Nashville's historical tendency to paint women in a bad light, and her frustration at being unable to speak out and defend herself against gossip. Ballerini has a strong connection with her fans and genuinely cares what they think of her. Following the announcement of her divorce, the rumors started flying, which upset her more than people realized. 
Ballerini had tried to debunk major assumptions about her divorce during an interview with "CBS Mornings." She said, "It's not chaotic, it's not volatile, it just didn't work," explaining that the break-up had been on the books for a long time. However, she had been gagged from elaborating further on the subject at the time.
"The rumors going 'round, but the truth is kinda nuanced. I wanna set it straight, but my lawyer says I shouldn't," she sings. "And ain't it like this town to only criticize a woman," Ballerini notes. She shares that all the gossip and speculation affected her family as much as her. "Now my momma's asking if I'm okay," Ballerini sings. "And the internet says I'm losing weight." She insists that her feelings for Morgan Evans were genuine and deep, but their marriage just wasn't to be. "There's a thin line between love and hate. And it was love, but it wasn't fate."
Kelsea Ballerini's new EP answers Morgan Evans' breakup questions
Kevin Mazur/Getty Images
Despite the cause of breakups rarely being one-sided, Morgan Evans wasn't ready to end things with Kelsea Ballerini. "I am very sad to confirm that after almost 5 years of marriage, Kelsea and I are parting ways," He wrote on his Instagram Story after she filed for divorce. "I wish it were otherwise, but sadly it is not."
In "Rolling Up the Welcome Mat," Ballerini responds to the many questions Evans asked in his breakup track, "Over For You," which was released in November 2022. "How long have you been waiting? To take our pictures down? How long have you been breaking? Why am I just finding out?" He asks. "How many times did you tell me you loved me if it wasn't true? I'm just wondering, how long has it been over for you?" Evans croons on the song. "What do you tell your parents? What do you tell yourself? Was it something I was missing? Or is there someone else?" 
Evans spoke openly about his divorce from Ballerini with Access Hollywood on the CMAs red carpet. "One of the hardest parts is how lonely it feels," he explained. "It's strangely comforting to realize that so many other people have been through it," He admitted he'd found writing "Over For You" very therapeutic. "It's been a rough few months in my life," Evans shared. "Writing this song just really helped me sort through a lot of that."