Serena Williams And Kim Kardashian Have Been Friends For Longer Than You Think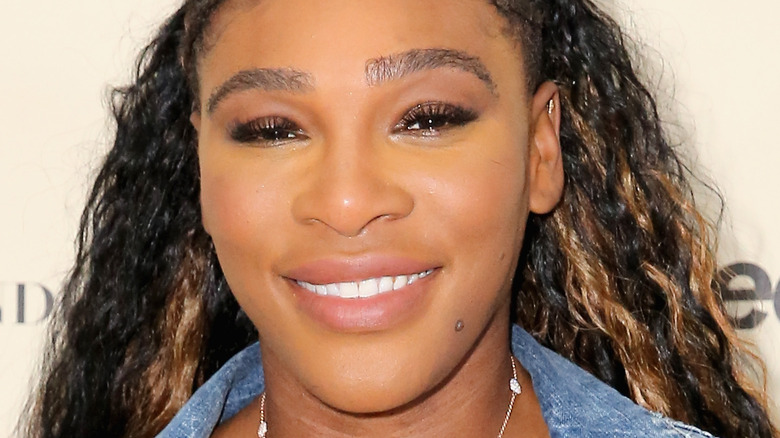 Rachel Murray/Getty Images
Serena Williams and Kim Kardashian are supportive celebrity besties. In 2017, Kardashian chatted with Vogue about Williams' union with her husband, Alexis Ohanian. "I've known Serena for so long and am so happy she's found her prince," Kardashian said before adding, "He makes her so happy, and that just makes her friends happy."
The reality TV star previously spoke to the fashion magazine that same year about her friendship with Williams. "I wish people could see her silly side," Kardashian said of Williams. Kardashian shared that Williams "is obsessed with karaoke," then said the legendary athlete "gives herself those moments — it's how she recharges." In addition, Kardashian called her longtime pal "the girl you can call and say anything to" who will "never judge you," is "never too busy for you," and "can keep any secret." The celebs have been spotted out and about together in the past, such as when TMZ took a video of them leaving a dinner in 2015, as well as when they were seen shopping in Paris in 2014, per StormShadowCrew. Williams and Kardashian's closeness began through a business Kardashian previously led.
Serena Williams and Kim Kardashian met before Kardashian's TV fame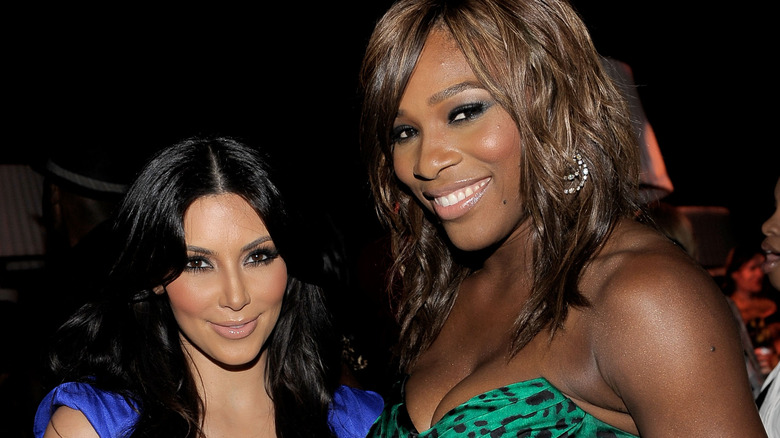 Charley Gallay/Getty Images
Serena Williams and Kim Kardashian share a long-lasting companionship. In 2006, Kardashian spoke to Player magazine about her closet-organizing business, which she ran in the early days of her career. The TV personality proved to be so efficient that celebrities like Rob Lowe and his wife, Sheryl Berkoff, Cindy Crawford, Nicole Richie, Paris Hilton, and Williams all went to her to clean out their wardrobes. This is how Kardashian and Williams became acquainted, and their friendship formed from there.
In Vogue's August 2017 interview with Kardashian, the magazine detailed that she and Williams had been pals for 15 years. The two have publicly shown their friendliness with each other on social media on occasion. When Williams shared with her Twitter followers in 2013, "I simply cannot get out of bed," Kardashian tweeted in response, "U better! We have dinner tonight!" In addition, in August 2022 Williams announced her retirement from tennis through a cover story with Vogue. Williams shared the photo of her magazine cover on Instagram, and Kardashian commented a goat and flower emoji to recognize Williams as the greatest of all time in her sport. To this day, Williams and Kardashian still take the time to catch up with one another.
Serena Williams and Kim Kardashian have maintained their enduring friendship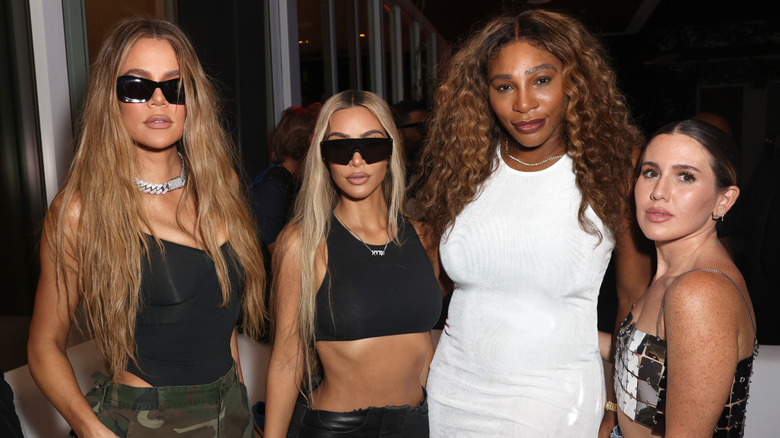 Alexander Tamargo/Getty Images
After over 20 years, Serena Williams and Kim Kardashian's companionship is still going strong. During the Vanity Fair Oscar after-party in March 2022, Kim and her sister Kendall Jenner were seen chatting and laughing with Williams before posing for photos together, per the Daily Mail. Later that year, in December 2022, Williams and Kim again met up while they were both spending time in Miami and attending a party for art fair Art Basel. Williams posted a series of photos via social media from the occasion with the caption, "Blurry Miami reunions." This included pictures of her posing and smiling with Kim, which the SKIMS co-founder likewise shared on her Instagram page.
Williams also posted a photo of herself standing with Kim, Khloe Kardashian, and Amber Ridinger Mclaughlin at the outing on Instagram. Aside from hanging out for fun, the duo will also soon be collaborating professionally, as Variety reported in January 2023 that Williams and Kim are both set to voice roles in the upcoming film "PAW Patrol: The Mighty Movie."