How Conor McGregor Really Met His Fiancee Dee Devlin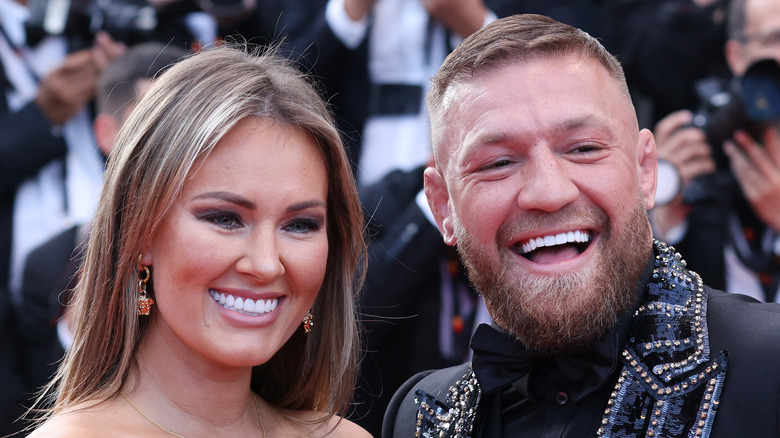 Vittorio Zunino Celotto/Getty Images
Not long after announcing his retirement from the UFC in 2020, Conor McGregor announced an exciting life update: he and his longtime girlfriend Dee Devlin were finally engaged. "The Notorious One" shared the happy news through a social media post in time for Devlin's 33rd birthday, posting a photo of the pair with Devlin's massive engagement ring on display. "What a birthday, my future wife," he captioned the since-viral post.
The UFC superstar and Devlin have been together for over a decade and have welcomed three children: sons Conor Jack Jr. and Rian, and daughter Croia. McGregor has credited Devlin for being his number one supporter and for believing in him since day one. He told VIP in 2013, "Every day, since I started out in this game, she's supported me. She'd drive me to the gym, and she'd listen to all my dreams. Dee is a lifesaver for me. I wouldn't be doing this if it wasn't for her." 
Despite being so open about his love for Devlin, not everyone may know about their history and how he and his non-showbiz fiancee actually met. On RTÉ One's "The Late Late Show" with Ryan Tubridy in 2017, McGregor said it happened in the most "usual" way... 
Conor McGregor and Dee Devlin met at a nightclub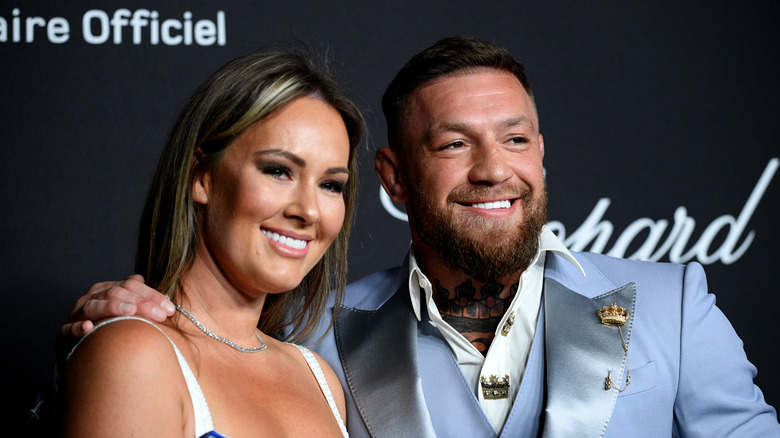 Pascal Le Segretain/Getty Images
Conor McGregor met his fiancee Dee Devlin early on in his career as a mixed martial artist. It was 2008, and the Irish fighter had just quit his job as an apprentice plumber to follow his dreams of fighting in the UFC. He recalled to VIP the first time he and Devlin crossed paths. "I knew her a bit beforehand, but I think the first time I spoke to her properly was when I saw her in a nightclub," McGregor said. "I asked her to come over and we just started chatting."
For her part, Devlin confessed that she felt an instant attraction to McGregor as well. "He's very funny — he always keeps me entertained and makes me laugh," she said. "He was already training when I met him, so I really admired his dedication to that, too." They later added each other on the social networking website Bebo and the rest was history.
In the years since, Devlin and McGregor have built a solid foundation for a relationship, and have stuck by each other's side as McGregor fought his way to the top and became one of the biggest names in the history of the UFC. Stressing how important Devlin is for him, McGregor said his success wouldn't at all be possible without the support of his longtime partner. "If it wasn't for her, I probably wouldn't be where I am today," he said.
Conor McGregor can't wait to marry Dee Devlin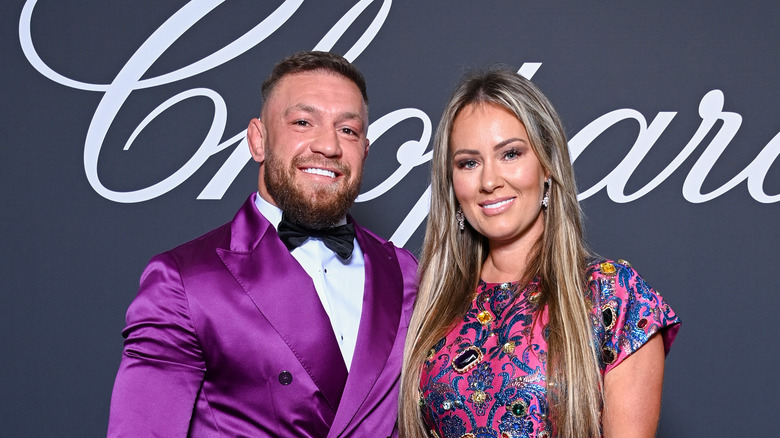 Pascal Le Segretain/Getty Images
Conor McGregor has always envisioned a bright future for him and his longtime love Dee Devlin. In 2015, the MMA champ talked about sharing a life with his fiancee as he explained to VIP his reasons for being in the UFC. "I'm doing this to secure my family's future and Dee's future," he said. "One day, I want myself and Dee to be able to chill on a beach and not have any worry in the world. That's why I'm doing this." For her part, Devlin said she's never doubted McGregor nor his plans for their future. "We believe in the 'Law of Attraction' and we've always believed that he would make it to the UFC one day. Now that he has, he's proved me right," she said. "I've always supported him, so I'm glad that it's come to fruition for him, and for us, really."  
Following news of their engagement, McGregor said he is looking forward to marrying Devlin and spending the rest of his life with her and their children. In a touching social media post to celebrate Devlin's 35th birthday, the UFC superstar said that he can't wait for that special moment to finally happen. "The kids love you, the world loves you baby, Dee D soon to be McG," he wrote on Instagram in August 2022. "I can't wait to marry you baby girl, keep on shining, you are our shining light, my sunshine! The love of my life." Aww!