Tom Brady's Brother-In-Law Is A Professional Athlete In A Different Sport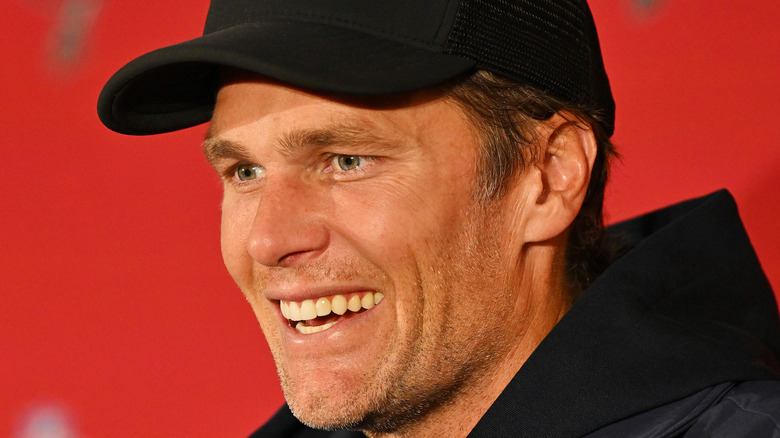 Sebastian Widmann/Getty Images
Throughout all his years of success, one constant in Tom Brady's life has been the support of his family. The former New England Patriots quarterback has relied on his family since day one. "One thing I always noticed is after every game you'd see the entire family, all his sisters, parents and even some aunts and uncles," John Kirby, a former high school teammate of Brady recalled to The Eagle-Tribune in 2016. The future Hall of Famer comes from an athletic family, with all three of his sisters excelling in their respective sports, including his sister, Julie Brady, who was a walk-on at the St. Mary's soccer program.
Tom and Julie are as thick as thieves, especially as the two are twins. In honor of their birthday in August 2018, the NFL star gave Julie a special birthday shoutout on Instagram. "My mom and dad once told us Jules wasn't so happy having a little brother spoil her 3 year old birthday in 1977," he wrote alongside a snap of him kissing Julie on the cheek.
The seven-time Super Bowl champion turned to his mother and sisters for guidance after his divorce from Gisele Bündchen. In fact, the sisters were said to have serious sway in his dating life. "One wrong step with any of them, and a potential girlfriend will be vetoed," a source told The U.S. Sun on February 12. The tables had turned, as Tom previously had input on Julie's relationship with her future husband. 
Tom Brady's brother-in-law is Boston Red Sox slugger Kevin Youkilis
Tom Brady's sister, Julie Brady, is akin to Boston sports royalty as she is not only the sister of the New England Patriots great but also married to former Boston Red Sox slugger Kevin Youkilis. The pair married in 2012 in a low-key ceremony where only family and close friends were invited — and of course, Tom and Gisele Bündchen made the guestlist. "It was definitely the greatest off day of my life. It was a lot of fun, good times," Youkilis told The Boston Herald of tying the knot with Julie.
The couple met at a fundraiser organized by Julies' sister, Nancy Brady, in 2010. Kevin said he first saw his future wife years earlier — although he wasn't daring enough to approach her at the time. "Kevin reminded me about the first time we met. And how he was intimidated to ask for my phone number because he didn't want to step on any toes with Tommy," Julie told the New York Post in 2013.
Originally, "Tommy" was not so keen on the idea of his sister dating the Red Sox player, as he didn't react favorably when Julie said she was going on a trip to visit Youkilis. "If I were you, I'd move as slow as molasses," Jullie recalled of Tom warning her in 2013. Over time, Tom warmed up to his brother-in-law.
The benefits of being Tom Brady's brother-in-law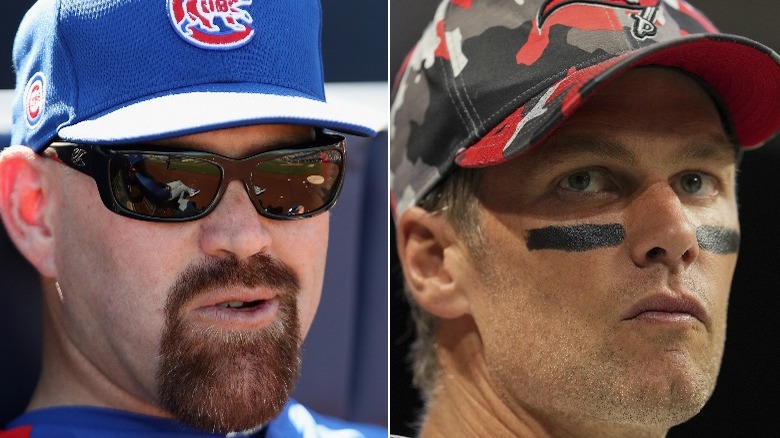 Cooper Neill & Christian Petersen/Getty & undefined
Kevin Youkilis has become a full-fledged member of the Brady family clan since marrying Julie Brady. In 2018, the retired baseball pro came to the defense of Tom Brady's daughter after a radio broadcaster referred to her as "an annoying pissant." Youkilis blasted the commentator in a since-deleted tweet. "We will continually take the high road while others feel it necessary to take a swipe at our family. #Karma #Family," he wrote.
While speaking about his brother-in-law to the public, Youkilis has not shied away from taking light jabs at the retired quarterback. In May 2022, Tom shared a video where he's hitting some baseballs and jokes about potentially signing with an MLB team. "We got some work to do!" Youkilis quipped in the comments with a cry-laughing emoji.
Being the brother-in-law of the former Tampa Bay Buccaneers quarterback has brought several advantages to Youkilis, including relative anonymity. In 2022, the retired slugger recalled attending his niece's high school graduation, which featured Wayne Gretzky's nephew. "It was Wayne Gretzky, and then, Tom Brady behind him. And then I was behind them. And nobody cared that I was there, and it was great, it was so good," Youkilis said on a podcast with Audacy.