Body Language Expert: Ryan Seacrest's Friendship With Kelly Ripa Is Anything But Fake - Exclusive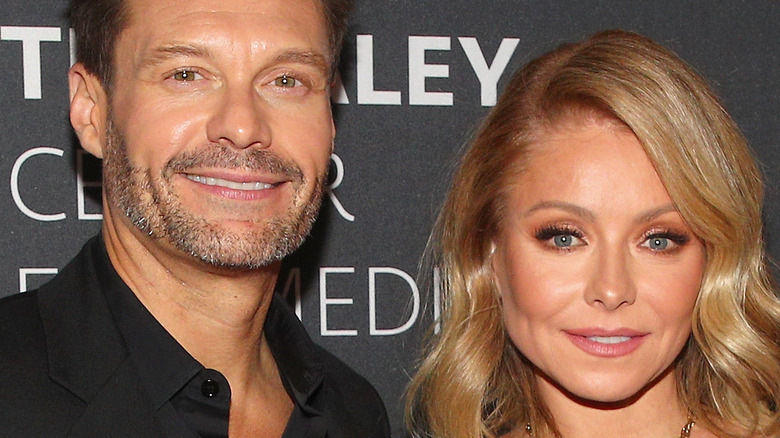 Astrid Stawiarz/Getty Images
Some talk shows are very personality-based, like "The Ellen DeGeneres Show" or "The Oprah Winfrey Show." But others, like "The Today Show," can run for years and decades and change up hosts to keep the series going. That's the case with "Live with Kelly and Ryan," which is currently hosted by Kelly Ripa and Ryan Seacrest (obviously). But before that, it was Ripa and Michael Strahan for "Live with Kelly and Michael." And even before that, it was Ripa's solo run that came after the iconic "Live with Regis and Kelly," with Regis Philbin and Ripa. Basically, it has been a long ride from the original "The Morning Show" starring Philbin and Cyndy Garvey in the early 1980s to now. And the show is going through another change as Seacrest just announced his departure. 
On February 16, Ryan Seacrest revealed that this would be his last season with "Live with Kelly and Ryan." In a touching announcement segment, Seacrest said that was something that he and Ripa "have been talking about for a long time" which was a bittersweet decision for both of them. Seacrest explained that he's going to leave to host the 21st season of "American Idol" in the spring and come back to guest host with Ripa when he can. However, he's stepping down as the official second half of the popular show. But is there a genuine connection between Ripa and Seacrest off-screen? A body language expert weighs in with Nicki Swift to break it all down.
Ryan Seacrest's announcement showed just how close he and Kelly Ripa are
During Ryan Seacrest's announcement that he is leaving "Live with Kelly and Ryan" after this season, Kelly Ripa also announced that Mark Consuelos, "Riverdale" actor and her husband, is coming in to replace him, to keep it in the family, so to speak. It will be, as Ripa said, "the nation's weirdest social experiment."
There were a lot of emotions between Ripa and Seacrest, with the words "gem," "family," "best friend," and "good man" used by Ripa to describe Seacrest. It definitely seems genuine on screen. However, body language expert and communication coach, Jess Ponce III, can expertly say that their friendship is anything but fake. Ponce, author of "A.W.E.S.O.M.E.: 7 Keys to Unlock the Speaker Within," pointed out that the announcement started off very formal and "classic PR style." However, the body language expert noted that Seacrest kind of shed his "prepared statement" mode by taking a deep breath and turning to face Ripa. "It was [as] if he visually stated, 'Now that my comment is done, let's get more real,'" Ponce shared.
Ponce also noted that Ripa was "emotional from the get-go," pointing out that she was looking to and away from him, had "watery, emotional eyes," and physically reached out to him. But it wasn't all sad. The sweet part of this bittersweet moment was seen in how Seacrest "seemed giddy at times," according to Ponce, potentially pointing to even more exciting plans ahead, despite the sadness that comes with leaving a friend and a long-running position.
Body language expert says Ryan Seacrest and Kelly Ripa are 'indeed friends'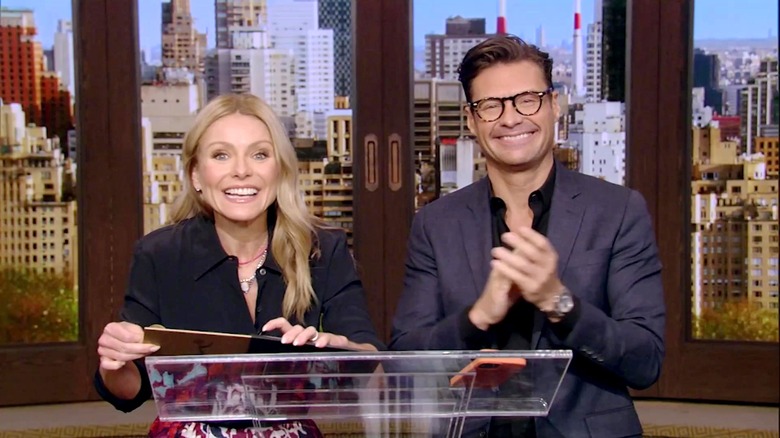 Daytime Emmy Awards 2021/Getty Images
Between Ryan Seacrest announcing his upcoming reprisal as the famed host of "American Idol" and Kelly Ripa's husband, Mark Consuelos, replacing him, Jess Ponce III did point out Seacrest popped in and out of PR mode. The communication coach says you can tell the difference between Seacrest's "formal PR mode" when looking at the audience and his authenticity when looking at Ripa. Ponce notes that these two are more than just run-of-the-mill co-workers. "By all indications, they are indeed friends and truly like one another," he said. "He also had sincere moments with the audience once he got through his announcements." Basically, Seacrest "seemed real and authentic." 
Again, that's definitely what Seacrest and Ripa were trying to convey on-screen, but the proof is in the (body language) pudding. "He intermixed a formal statement with more casual, honest impromptu moments," Ponce said. "He had the more difficult job of delivering news and, even though she also had an announcement, she's been a staple on the show longer, and, in many ways, this is her show, much like it was Regis [Philbin]'s once Kathie Lee [Gifford] left." 
For Ponce, the upcoming hosting change to Ripa and Consuelos is going to be an intriguing move to study next. "This will be challenging not in the 'hosting' duties, but in the opening impromptu dialogue the show is known for," Ponce says. "Living together and sharing similar experiences day in and day out may be a challenge."