Bruce Willis' Daughters Get Candid About Their Feelings After Dad's New Diagnosis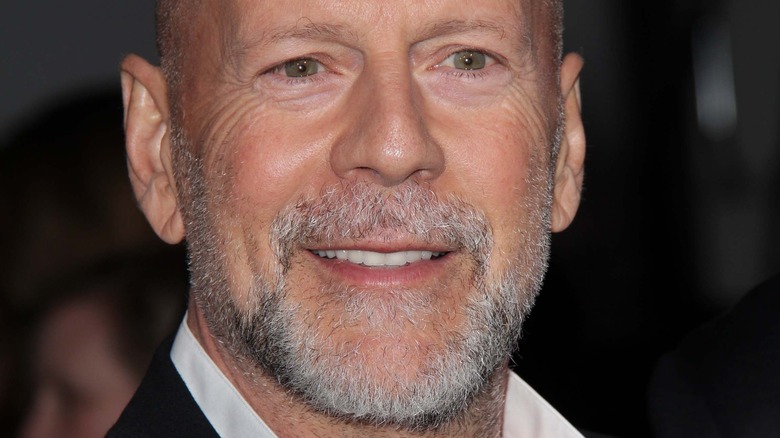 s_bukley/Shutterstock
In 2022, Bruce Willis' family announced that the "Die Hard" actor would be stepping away from acting because he had been diagnosed with aphasia, a condition that affects a person's ability to communicate. "This is a really challenging time for our family and we are so appreciative of your continued love, compassion and support," read an Instagram caption shared by Willis' daughter Rumer Willis and some of his other family members. Less than a year later, Rumer shared another update on her father's health. The family has learned that Willis is suffering from frontotemporal dementia (FTD). "Unfortunately, challenges with communication are just one symptom of the disease Bruce faces. While this is painful, it is a relief to finally have a clear diagnosis," the caption of the Instagram post reads. The same post was shared by Bruce's wife Emma Heming Willis, and his ex-wife, Demi Moore.
As the family navigates Willis' new diagnosis and the challenges that come along with it, they are all feeling the outpouring of love and support from his friends, colleagues, and from his fans all over the globe. Shortly after the news was made public, all three of Willis' adult daughters shared posts on their respective Instagram Stories expressing their feelings after learning about their dad's latest health development — as well as how they are feeling about all of the feedback they've been receiving.
The 3 oldest Willis sisters speak out about the support they've received
After Rumer Willis shared the update on her dad's health, her sister Scout Willis shared a photo of herself on her Instagram Stories with the caption, "Feeling emotionally tired and a bit overwhelmed. Yet also very in awe of the love so many people have for my papa." Tallulah Willis shared Scout's post to her own Instagram Stories, adding, "Second this Scouter feeling the abundant love for our guy and our family." Rumer also shared the same posts uploaded by her sisters and said "I third this Scouter and Buusk feeling so deeply grateful and in awe of the love for us and our sweet Daddio."
Things will undoubtedly become more challenging for Bruce Willis as time passes, as there is no cure and no treatment for frontotemporal dementia. NPR reports that the symptoms of the condition can vary from person to person and can affect a patient's ability to talk, write, and comprehend things. In addition, someone suffering from frontotemporal dementia can also experience a decline in motor function and movement. The life expectancy for someone diagnosed with FTD is six to eight years, according to the Alzheimer's Society.