The One Unique Detail Jennifer Lopez And Marc Anthony Included In Their Divorce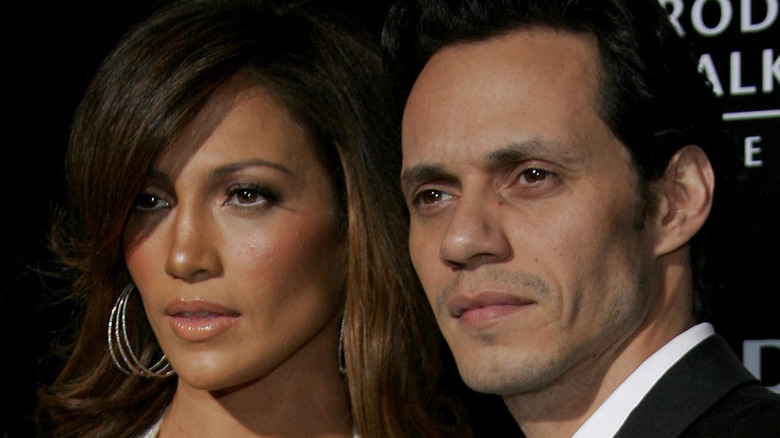 Tinseltown/Shutterstock
Before Jennifer Lopez and Ben Affleck got their big reconciliation and way before Marc Anthony and his wife Nadia Ferreira started a family together, it was Lopez and Anthony who were all loved up.
The two met in 1998 at a Broadway show, and according to the "On the Floor" singer's recounting of their meet-cute in her memoir "True Love," Anthony's first words to her were, "One day you're going to be my wife." But the former couple went on to marry other people first. Anthony got hitched to former Miss Universe Dayanara Torres, while Lopez tied the knot with her second husband, Chris Judd, and briefly dated — and got engaged to — Affleck. It wasn't until 2004 that they officially struck up a romance. Apparently, they decided to marry after only six months of dating. "When you find that person who doesn't run when things get hard — I think that's where Marc proved to me that he was more of a man than anything I had experienced," Lopez told People.
The sad news? Seven years and two kids later, they chose to part ways, with Anthony confirming that it was a mutual decision. "I'll tell you that it wasn't something sensationalistic happening," he shared with ABC News. "It was a realization on both our parts. So, you know, it wasn't shocking. These things happen." And unlike most celebrity divorces, theirs was mostly free of controversy. They went the extra mile to make sure that it was a seamless separation in an effort to protect their children.
Jennifer Lopez and Marc Anthony protected their kids from the media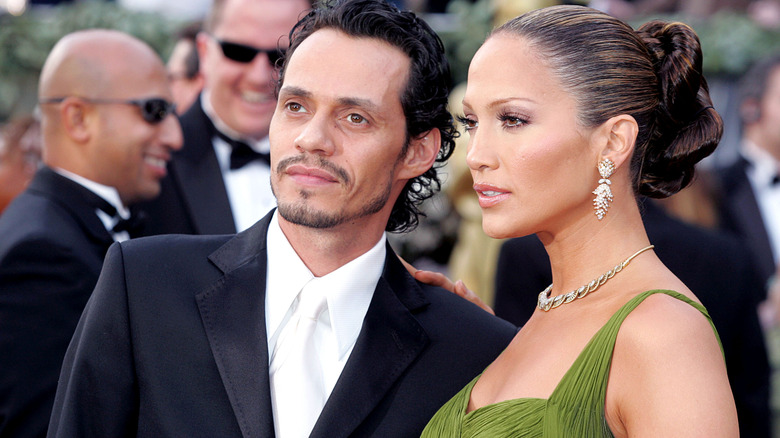 Everett Collection/Shutterstock
As celebrities who are constantly in the spotlight, Jennifer Lopez and Marc Anthony knew the perils of having their names splashed across tabloids. And so, during their divorce, they made sure that their children would never experience getting hounded by "aggressive news organizations and photographers." The final settlement stipulated that both of them would do everything in their power to help their children dodge the paparazzi. Per the judgment, Lopez and Anthony were in a collective agreement that "exposing the children to public spectacle and failing to shield the children from aggressive news organizations, photographers, etc. is not the children's best interest." What's more, they also agreed to joint custody, with Lopez tending to the kids the majority of the time.
While the romance between them faltered, Lopez and Anthony still continued to be colleagues. They collaborated years after their divorce, which Lopez said helped rekindle their friendship. "It's been awesome. Honestly, I think it's even helped our relationship," the singer shared in a "Live with Kelly" interview. "We're just in a really great place, and the kids get to spend time with the two of us more together and see us working together. It's just good for the whole family."
Jennifer Lopez and Marc Anthony remain good friends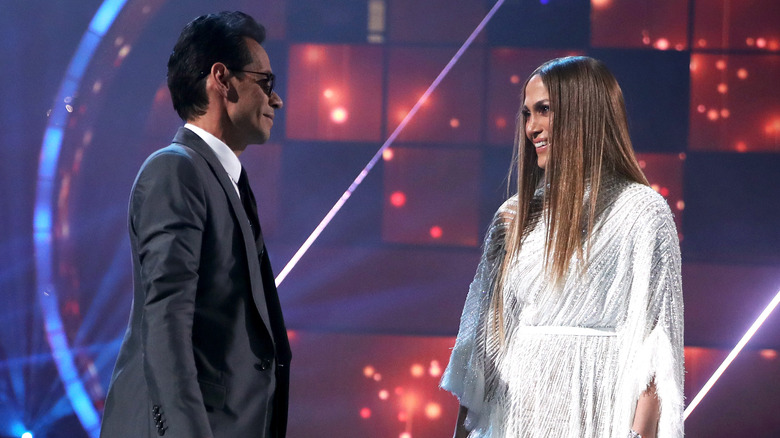 Christopher Polk/Getty Images
Jennifer Lopez admitted that when she split from Marc Anthony, she found it difficult to be on good terms with him again. She even revealed to W Magazine that she knew "very quickly" that they weren't a good fit, but she "hung in there" anyway. "When my marriage ended, it was not easy to find forgiveness. It wasn't the dream that I had hoped for, and it would have been easier to fan the flames of resentment, disappointment, and anger," she explained. "But Marc is the father of my children, and that's never going away. So, I have to work to make things right. And that is, by far, the hardest work I do."
Luckily, they eventually managed to be good friends, with Anthony calling his ex-wife "my goombah — that's my girl — for life." Lopez also shared on "Live with Kelly" that "we're always gonna be great friends. I'm always gonna be there for him; he's always gonna be there for me." Anthony even cheered her on when she got back together with Ben Affleck. "Marc just wants Jen to be happy and fulfilled. His main concern is the well-being of J.Lo and their kids," a source close to the star told Entertainment Tonight. "As long as Ben keeps her and their kids happy, he has Marc's stamp of approval."