Kevin Bacon's Son Travis Looks A Lot Different Than His Famous Father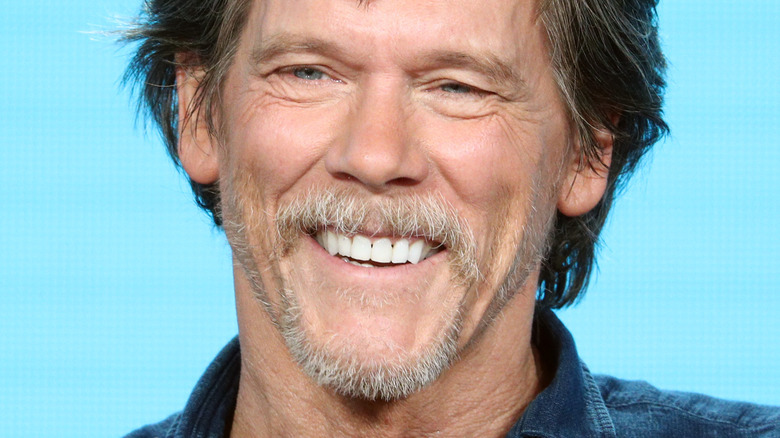 Frederick M. Brown/Getty Images
There's been a lot of talk of nepotism babies lately. After a scathing expose about nepotism in the entertainment industry, Hailey Bieber (the daughter of Stephen Baldwin) was photographed wearing a "Nepo Baby" t-shirt. She was heavily criticized for the move. However, it doesn't change the fact that the best way to get to the A-list in Hollywood is to have a famous parent reside in the upper echelon.
Lily Rose-Depp has been particularly outspoken about the rise of nepo-babies. "The internet seems to care a lot about that kind of stuff," she said in an interview with Elle. "People are going to have preconceived ideas about you or how you got there. I can definitely say that nothing is going to get you the part except for being right for the part." Maybe, but fans were also quick to point out that Depp's first few acting credits happened to be in films in which her father, Johnny Depp, also starred.
For all the criticism children of well-regarded actors and models receive, there are still plenty of kids who benefit from their parents' connections but don't get the same flack as Hailey Bieber. One of them is Kevin Bacon's son. Below, we dig into the rarely-seen Travis Bacon, who chose a very different path than his father.
Despite sharing his mom's looks, Travis Bacon is carving his own path
Travis Bacon is the son of Kevin Bacon and Kyra Sedgwick (and is practically the print of his mother!). Unlike his parents, he apparently has no interest in being an actor — but he's not exactly spotlight adverse. Travis chose a different path and, as a young adult, has been pursuing a career as a musician— although he likely got some of that talent from his dad, who has been in a band with his brother for years. Sedgwick posted a rare photo of one of Travis' performances in November 2021. "My insanely talented kid rocked the house yesterday, and I was lucky enough to be there!!," she wrote. Kevin chimed in the comments, writing, "Wish I was too."
What was most surprising about the picture was how different Travis looked from either of his famous parents. Travis has long black hair and, while on stage, was wearing thick black eye makeup to complete his rocker look. Even without the stage makeup, Travis still wouldn't be immediately recognizable as Kevin's son. Despite his intimidating look in a 2022 post by Sedgwick, this one for Travis' birthday, Sedgwick showed off her son's soft side with this sweet caption. "I stand in awe of your courage, your talent, and your beautiful heart. Happy Birthday."
It's clear that, given his career path, Travis marches to the beat of his own drum. The musician has also been transparent about his struggles with mental health.
Travis has struggled with his mental health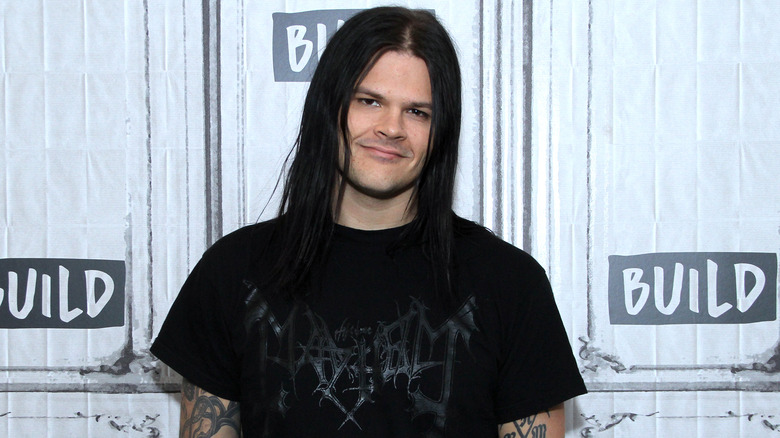 Donna Ward/Getty Images
These days, Travis Bacon has a successful career as a guitarist in Black Anvil and has even dipped his toe in composing having worked behind the scenes for television and film. Things haven't always been easy for him though. While he's generally averse to the spotlight, in 2022 Travis took to TikTok to share his journey with Bipolar disorder.
"Here is a friendly reminder that living with bipolar disorder often means people may resent [you] for your mental health when it interferes with their life plans." He wrote over a video of himself practicing Muay Thai. "Finding healthy ways to channel your rage and mania is conducive to your survival and manifesting positivity on this wretched Earth," he continued. Travis shared the video to his Instagram and explained in the caption that he was feeling anxious, as he was waiting to hear back from a couple of jobs he was hoping to land. Travis' post was flooded with supportive comments from fans, including one from his mother Kyra Sedgwick. "I've got so much faith in you. You're not alone!" she wrote.
Travis has clearly worked hard to get his career off the ground, and while he's chosen a different path than his parents, they still help out where they can. In 2022, he was credited as a composer on their film "Space Oddity." It's something he and his dad, Kevin Bacon, can bond over. "We've collaborated on amazing stuff because I'm a musician too," Kevin told Hello! in 2022.