Tom Brady And Antonio Brown's Beef Fully Explained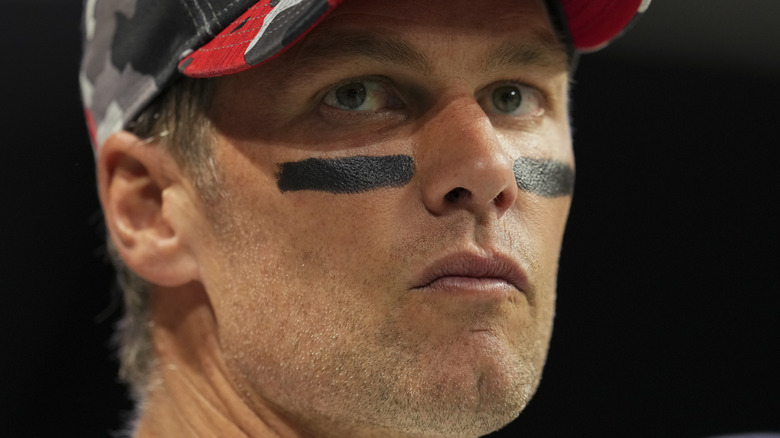 Cooper Neill/Getty Images
On February 1, Tom Brady's second retirement announcement signaled the end of an era. "You only get one super emotional retirement essay, and I used mine up last year. So, really thank you guys so much to every single one of you for supporting me," the GOAT said in an Instagram post. Well, it looks like seven Super Bowl wins are going to be the new record from here on out.
Even those who don't watch football can tell you that Brady is possibly the greatest to ever throw a pigskin. He holds a number of impressive records, including the most touchdown passes (649) and passing yards (89,214) in NFL history. TB12 has also made a staggering 10 Super Bowl appearances, which blows everyone else out of the water. Though he won his last Super Bowl in 2021 with the Tampa Bay Buccaneers, Brady will likely be best remembered for his 20 seasons at Foxborough with the New England Patriots.
In his final season with the Bucs, the star quarterback was plagued by a number of issues, including his personal relationship drama with ex-wife Gisele Bündchen, as well as his on-field tantrums, which included spiking a tablet and yelling at his offensive line. Brady's frustration with his teammates also followed in the wake of some serious beef with Antonio Brown, the Bucs' former wide receiver.
Tom Brady was Antonio Brown's friend... until he wasn't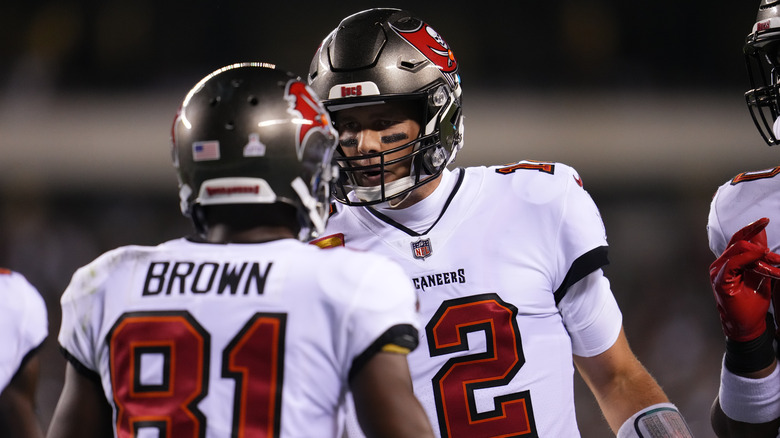 Cooper Neill/Getty Images
Let's take a step back to explore Tom Brady and Antonio Brown's history first. The two knew each other from their time with the New England Patriots, who released Brown in 2019 after he was hit with sexual misconduct allegations. At Brady's request, the wide receiver was picked up by the Tampa Bay Buccaneers halfway through the 2020 season, according to Buccaneers.com. "Tom Brady lobbied me back in, gosh, June, July, August," former Bucs coach Bruce Arians told NBC Sports of Brady's involvement in getting Brown to Tampa. Brown even lived with Brady as he acclimated to Florida. "It's a big transition for [Antonio] moving across the state not knowing anyone. I'm just trying to be a good teammate and help somebody out," Brady said at the time.
So what went wrong? When Brown dragged his feet on signing a new one-year deal with the Bucs as of 2021, Brady called his teammate out. "You are demonstrating very poor decisions and poor communication to so many people who have gone above and beyond to help you," Brady allegedly wrote in a text, which Brown later posted to Snapchat, according to CBS Sports. Things imploded in January 2022, when Brown had a meltdown, stripped off his pads, and stormed off the field in the middle of a game. The Bucs subsequently terminated his contract, and Brady called the whole fiasco "a difficult situation." After the fact, Brown was bitter toward Arians, but he also took aim at Brady.
Antonio Brown attacked Tom Brady on social media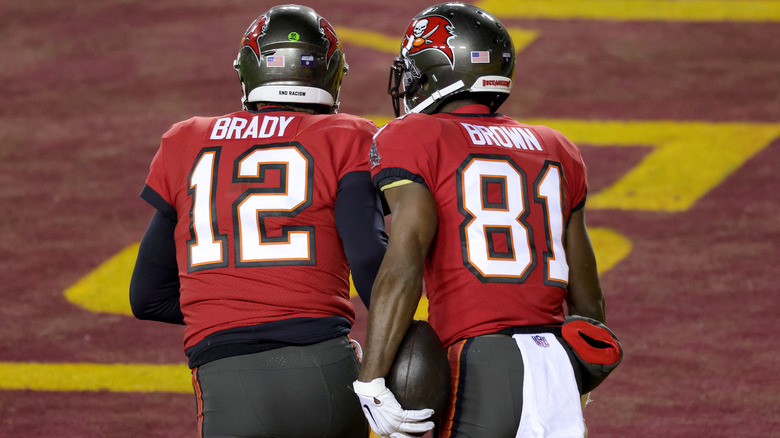 Rob Carr/Getty Images
After quitting the Buccaneers, Antonio Brown began shading his former teammate. Speaking on the "Full Send" podcast in 2022, Brown implied that Tom Brady was never really his friend, explaining, "Not everybody in sports is going to be your friend. Tom Brady's my friend. Why? Because I'm a good player. He needs me to play football."
Brown continued to throw shade throughout the year. "Tom brady manipulate[s] the game gets 14 days go home get his mind rt lol," he tweeted, when the quarterback briefly left training camp in August, according to TMZ Sports. Two months later, when TB12 was speculated to be going through his divorce, Brown tweeted a doctored image of Brady's head on the cover of the children's book, "Daddy Doesn't Live Here Anymore: A Book About Divorce." The former All-Pro even went so far as to create a T-shirt featuring a photoshopped image of Brown hugging Gisele Bündchen, which he tweeted to his followers.
The whole thing was messy and immature, which seems to be Brown's MO. After all, this is the same man who exposed himself to guests at a swanky hotel in Dubai. His behavior has been so erratic that fans speculated he may have sustained brain damage. "I never had a mental health diagnosis. ... I don't take pills. I just got a high IQ," Brown told "CBS Mornings." Hopefully, Brady and Brown can patch things up (but Brady might just have too much on his plate at the moment).