Here's Why Erin Andrews Really Left Her Job At ESPN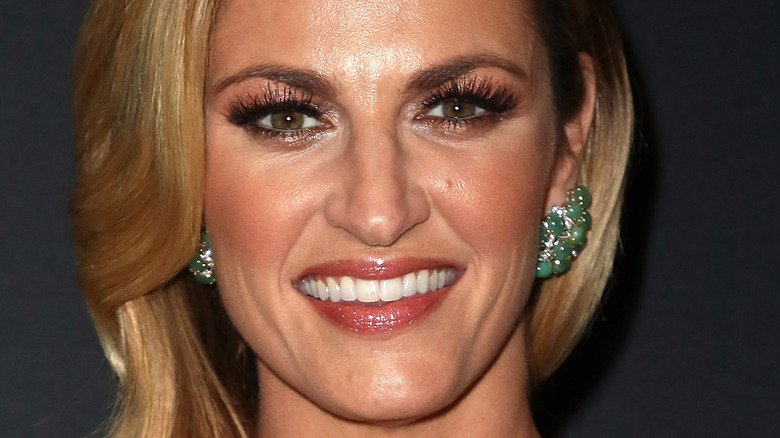 David Livingston/Getty Images
For someone who works in broadcasting, Erin Andrews has often been in the news outside of her on-screen reporting duties. In addition to her sports specialty, Andrews was the co-host of "Dancing With the Stars" alongside Tom Bergeron starting in 2014 after she first competed on the show years early. In 2020, ABC surprisingly cut the two hosts, but Andrews said it was great timing, given her entrepreneurial lifestyle. "My schedule has been so crazy with [football commentating], the clothing line, the podcasts ... trying to have a baby, that I think it was the best thing for me," she told Us Weekly. Prior to her many business ventures, the sports correspondent started in the south for Fox, followed by reporting on the Tampa Bay Lightning NHL team. She covered Georgia teams including the Braves and the Hawks before landing her most significant role. 
Andrews quickly rose in popularity after joining ESPN in 2004, hosting "College GameDay" for all things college football. During her time at the network, Andrews was part of a disturbing incident where a stalker filmed her through a peephole while she was staying at a hotel in Nashville, Tennessee. She won her lawsuit against the perpetrator but was traumatized by the experience. In her professional life, Andrews then made a surprise announcement in 2012 that after eight years with ESPN, she would move to Fox Sports to report on NFL games. Years later, she finally revealed the real reason for her big move.
From one network to another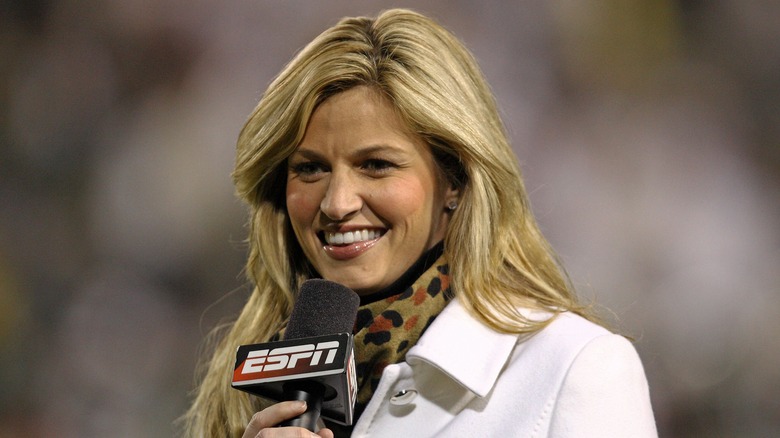 Mike Zarrilli/Getty Images
Not only did Erin Andrews have to deal with the peephole incident during her time with ESPN, she was also tied into another scandal with the network. During one of her business flights, Andrews allegedly caught a senior vice president at ESPN, Keith Clinkscales, masterbating in the seat next to her, Deadline reported. Another ESPN employee suggested Andrews report the incident to HR but the sportscaster allegedly wanted to avoid the situation altogether. Clinkscales then filed a defamation lawsuit against Joan Lynch, claiming she told Deadline about the alleged plane incident.
In 2012 an ESPN publicist named Mike Humes announced a major shake up to its reporter lineup. "Erin Andrews leaving ESPN," he tweeted. Humes also suggested that Andrews left by her own decision and that the sports network tried its best to stop her from moving. "She did great work for us & we made aggressive offer to keep her," Humes said. As Andrews later explained, she felt less opportunity to grow at ESPN. "It's a different way to expand my role. I'm not tired yet. I don't want to hang it up," she told Sports Illustrated. "I just need to get better and these were different opportunities that I would not be able to find anywhere but at Fox Sports," she added. Her move certainly opened up multiple opportunities, as she went on to host a college football show with the network, in addition to reporting on MLB, the NFL, and even NASCAR.
A focus on football for Erin Andrews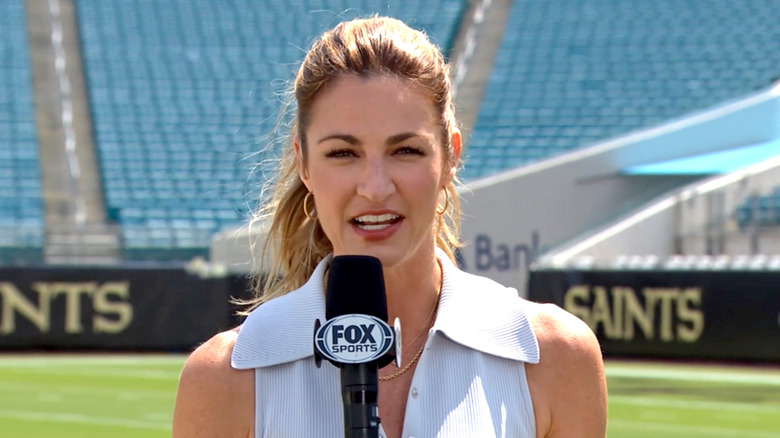 Alliance For Women In Media Foundation/Getty Images
While she got her start specializing in college football, Erin Andrews started NFL reporting after her move to Fox Sports. "The NFL was a huge thing; it's always been a dream," Andrews told Sports Illustrated. "I always wanted to work in the NFL and they are offering me a role in it," she added. This turned into both sideline reporting and taped feature segments for the NFL on Fox Sports. In fact, this was one of the main reasons that Andrews left ESPN. "I knew I was never going to get 'Monday Night Football.' That role was just never offered to me," Andrews revealed on The Marchand and Ourand Sports Media Podcast about ESPN's weekly NFL game. While she admitted the decision was difficult, she received encouragement from some big sports figures like NFL and college football coach Chip Kelly and long-time Duke basketball coach Mike Krzyzewski. Towards the end of her time at ESPN, Andrews explained, "I remember Coach K saying to me, 'How many Alabama-LSU games are you going to do? When is it time for you to move on?'"
In a twist of fate, two of Andrews' most prominent colleagues at Fox Sports, announcers Troy Aikman and Joe Buck, left to work at ESPN. When Aikman called Andrews to tell her the news, she was admittedly stunned by the move. "I tried to talk, but I started to cry. I just couldn't believe that was happening," she told Sports Illustrated.