Which Jersey Shore Cast Members Are Actually Italian?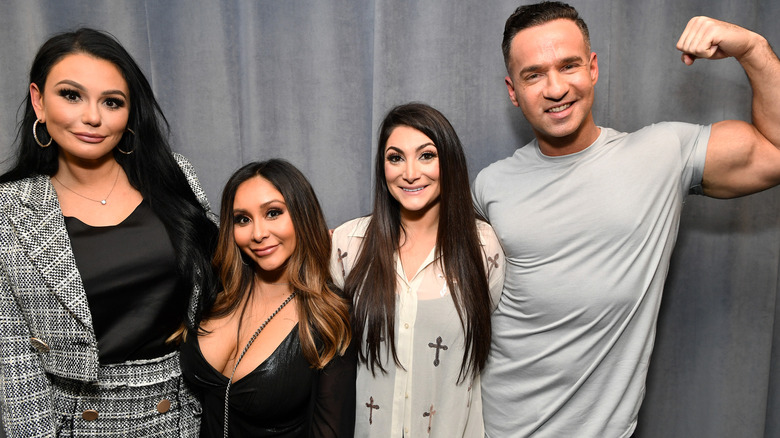 Slaven Vlasic/Getty Images
When "Jersey Shore" made its debut in 2009, it was unlike anything reality TV fans had seen before. The cast of the MTV reality show featured a group of roommates, who were all presumed to be young Italians, living it up in a beach house in Seaside Heights, New Jersey. Over its six seasons, the show featured Jenni "JWoww" Farley, Nicole "Snooki" Polizzi, Mike "The Situation" Sorrentino, Paul "Pauly D" DelVecchio, Sammi "Sweetheart" Giancola, and the nickname-free Ronnie Ortiz Magro, Vinny Guadagnino, Angela Pivarnick, and Deena Cortese. 
Early on, the show created buzz for its outlandish, hard-partying, Italian-American cast and their fist-pumping, hair-gelling, and extreme tanning. "I saw an audition posting on Facebook for a show called 'Guidos and Guidettes.' I went there drunk, because it was at a bar, and the rest is history," Polizzi told Vulture in an oral history of the show.
The strangers, who were known for their catchphrases such as "GTL" ("Gym, Tan Laundry) and "T-shirt time," soon became friends. And even when there was drama in the house (which was often), they all settled down for a weekly Sunday dinner, which usually featured an Italian-American-style meal such as chicken parmesan. "Mike would throw down on a Sunday. His sausage and peppers was really good." DelVecchio told Show Biz CheatSheet in 2021.
Only four Jersey Shore stars are actually Italian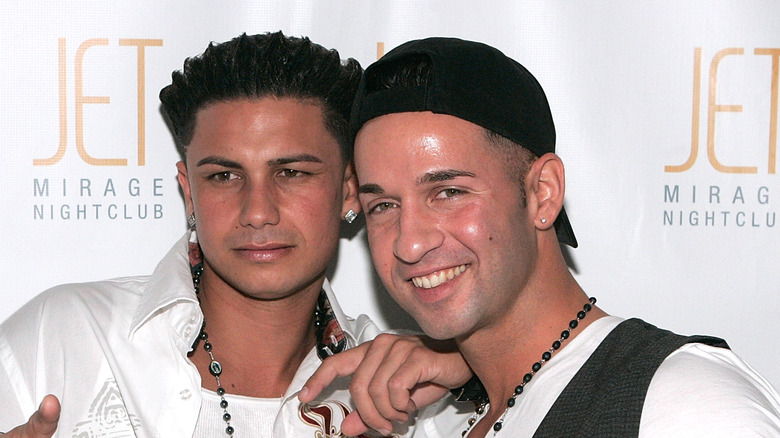 Sam Morris/Getty Images
Not all of the "Jersey Shore" castmates were actually Italian-Americans. In fact, only half of them were. In 2011, Vinny Guadagnino revealed that he was the real deal. "My family was all born in Sicily and I'm Italian American," he told Parade at the time. "They're the real thing. They're authentic Italians ... my family is right off the boat." The other "real" Italians include Pauly D, Mike "The Situation" Sorrentino, and Deena Cortese.
Fans on Reddit did a deep heritage dive to determine that while most of the  "Jersey Shore" cast members had Italian blood in them, some had none at all. One thread claimed that Sammi Giancola is "Italian/Greek American" and Angelina Pivarnick is "Italian/Polish American. "Deena [Cortese] is the only roommate who can say they're Italian in background out of those girls," one Redditor wrote.
In 2010, Jenni Farley told Fox News (via the New York Post) that she wasn't even Italian at all and is actually Spanish and Irish. "Nicole isn't and Ron's not full Italian either," she added. "[Snooki] is Chilean... Ronnie is half Spanish and half Italian." Farley also noted that the "guido" and "guidette" theme portrayed on the show was about the type of lifestyle and not about ethnicity.
Jersey Shore was criticized for using stereotypes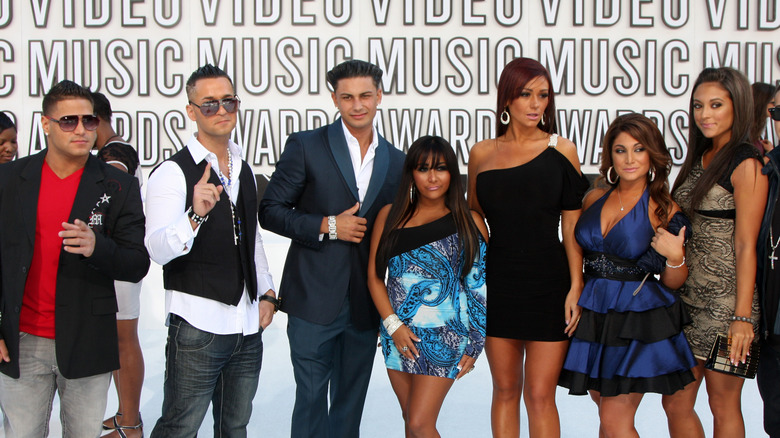 Kathy Hutchins/Shutterstock
Nicole "Snooki" Polizzi told NJ.com that she felt the cast of "Jersey Shore" was appropriately representing Italian-American culture, but this didn't prevent backlash towards the series. According to Us Weekly, Italian-American groups blasted the MTV show for portraying "negative" Italian stereotypes and for allowing the cast derogatory language. Speaking to the Hollywood Reporter, MTV programming president Tony DiSanto claimed he didn't consider the word "guido" to refer to all Italian Americans, saying, "Not all these kids are fully Italian American. It's more about a specific character type."
Deena Cortese told Vulture she thought the controversy was "silly." "Back in the day, a 'guido' was an Italian guy that usually has spiky hair, tan, and muscles. You could spot a 'guidette' from miles away. We were young kids and that's what we called ourselves, so I don't know why they're getting offended." she said.
And Vinny Guadagnino was even more annoyed — mostly because he was the only first-generation Italian in the "Jersey Shore" house and he just didn't get the problem.  After noting that his family Sicilian family members were not offended by the show, he added, "If we went to Italy right now, real Italian people wouldn't be like, "Oh, they're giving Italians a bad name.' They'd be like, "Look at these stupid Americans."