Penn Badgley: 15 Things To Know About The You Actor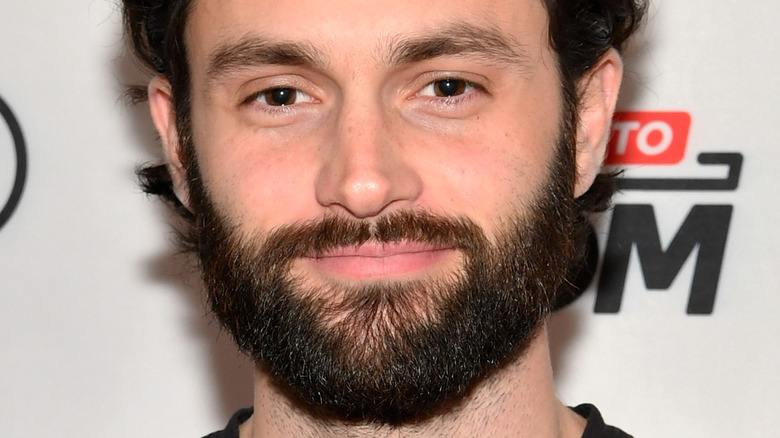 Slaven Vlasic/Getty Images
Penn Badgley is well-known for his roles in teen dramas. Appearing as Brittany Snow's friend in the 2006 film "John Tucker Must Die," the actor had the biggest moment of his career as Dan Humphrey on the original "Gossip Girl" series. His awkward-yet-charming appeal continued in the 2010 film "Easy A" alongside Emma Stone. 
Then, Badgley landed his next big hit with "You" — and in 2023, the actor entered his fourth season in the Netflix series. His disturbing performance as a disarmingly attractive yet wicked serial killer led to adoring fans all over the world — including other celebrities. On Twitter in 2021, rapper Cardi B reposted a video of Badgley talking about how he admired her social media presence with the caption, "He knows me!" She was so excited that he dropped her name that she added, "Yoooo like I'm famous." The surprised actor replied with a tweet that simply said, "I -." 
By that point, Badgley had an idea of what it was like to be famous, having started acting from a young age. "My adolescence, and growing up in Hollywood, is a running joke," he explained to The Guardian. Yet, his success is no joke at all as the actor's career has been filled with plenty of wins and juicy stories. From health issues to failed relationships, Badgley has had to overcome several obstacles in his career on his way to becoming a star. These are 15 things every fan has to know about the "You" actor.
Penn was born with severe health issues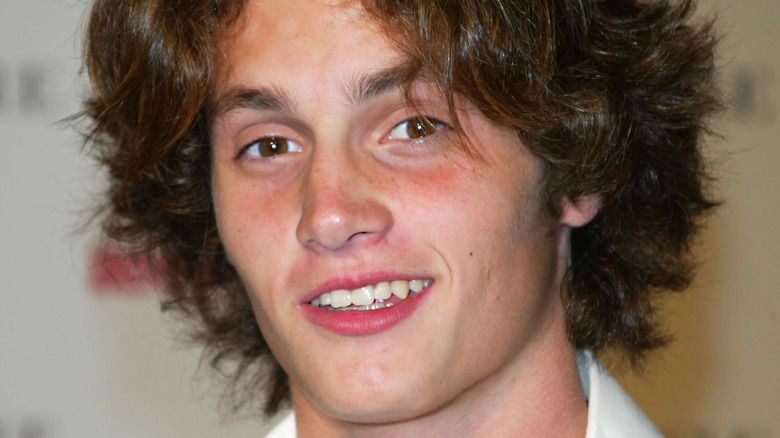 DFree/Shutterstock
Penn Badgley was born in Baltimore, Maryland on November 1, 1986. He grew up near Richmond, Virginia with his mom and dad, who was a carpenter. "You know, as an only child, you're kind of in a bubble, and there are all sorts of things about my childhood that I still can't really place," he told Vulture. Badgley then moved out to Washington state and he landed the role of Winthrop in the Seattle Children's Theatre production of "The Music Man" when he was 8 years old. 
This was all after an impressive health rebound following his birth. Badgley was born two months premature and as a result, he spent his first weeks of life in a neonatal intensive care unit. "My heart and lungs would stop repeatedly throughout the day, so I was on a heart monitor," he revealed on the "HypochondriActor⁠" podcast. "So my mom had to learn how to resuscitate me." Upon leaving the hospital, she had to subsequently administer continual attempts to revive her son for the first year of his life. 
Badgley's parents divorced when he was 12 years old. But, even after becoming a famous actor, he stayed well-connected with his mom Lynne. The mother and son were spotted together at a launch event for Lynne's jewelry line Badgley-Sneed Designs. "Anything that I can support her in, I will," the actor told People about his mom. According to Lynne, she and Badgley had remained close and would often talk on the phone together.
He got his GED at 13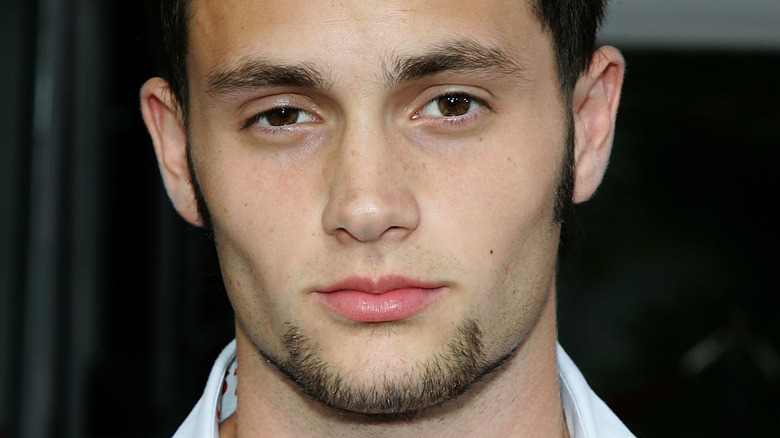 Frazer Harrison/Getty Images
Before even becoming a teenager, Penn Badgley wanted to become a star. He asked his mom if they could move from Seattle to Los Angeles to pursue a career in acting, and so he moved to Hollywood at the age of 11. Two years later, the actor had the equivalent of a high school degree after passing the GED test. According to Badgley, part of the reason for graduating at such a young age was so he didn't have to study on set. Additionally, having the degree legally entitled him to work more hours on set. "It makes you more attractive on your résumé," he told Variety. 
Looking back, Badgley said part of his early graduation was as a product of being a child actor. "You're thrown into this machine of managers and people who are doing all the pushing, who tell you what to do," he told The Guardian. Instead of a big high school graduation ceremony, Badgley's last moment of his early academic career involved him sitting in a room with some elder immigrants who were looking for work. "It happens," he mused.
The actor later returned to school and studied at Santa Monica College. Badgley was then accepted into the University of Southern California but turned down the opportunity. "I was working as well and I realized at that point I didn't want to go to film school, I just really wanted to work and do what I was doing," he told the Mirror.
He ascended into his awkward archetype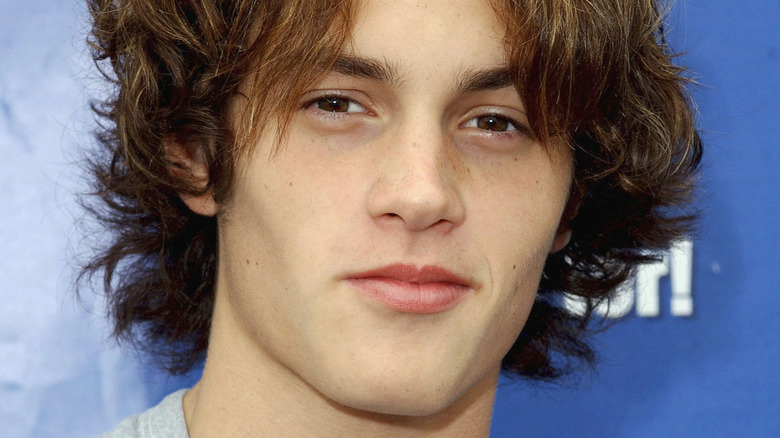 Amanda Edwards/Getty Images
Long before becoming a teen heartthrob, Penn Badgley began his career as a child actor. Alluding to his future success with his distinctive voice, the actor's first role in entertainment was on a children's radio show in Seattle when he was around 9 or 10 years old. The show was called "Kid Star," and according to Badgley, it involved storytelling and roles like playing a fake newscaster. "It was more like a training grounds," Badgley explained about the program on "Jimmy Kimmel Live." 
A few years later, starting at age 12, he began to land jobs in Los Angeles. "The roles I was playing weren't the cool guy. I'm known for playing awkward people — that's my bread and butter, playing the awkward nice guy," Badgley told The Guardian. Admittedly, that made auditions even scarier. "The kind of insecurity I experienced was heightened," he noted.
In 2001, Badgley landed his first film role in the movie "The Fluffer." The film follows a male pornstar and as Badgley remembers, he quickly learned adult terminology as a kid. "When I read the script, neither my agents, my mom, nor I knew what a fluffer was — and I was the first one to find out because I read the script first," he recalled to Variety. While maybe not entirely suitable for a kid, the job helped put Badgley on his acting path, starting with TV shows like the soap opera "The Young and the Restless" and the WB series "The Mountain."
What Penn Badgley really thinks about Gossip Girl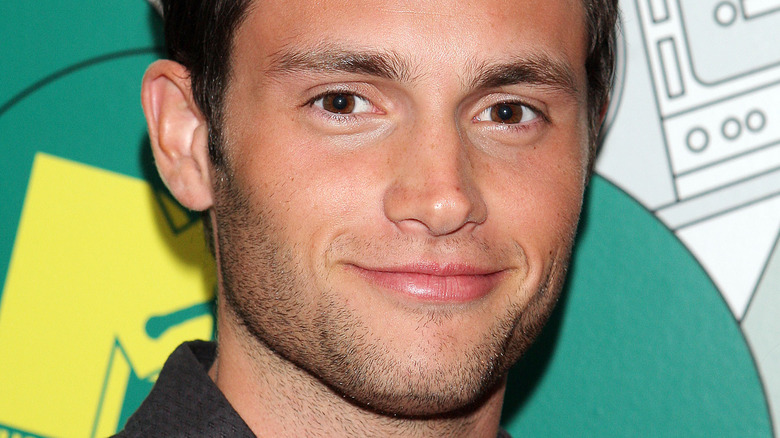 Scott Gries/Getty Images
Following the success of "The O.C." the show's creators, Josh Schwartz and Stephanie Savage were smitten with the idea of adapting a book series by Cecily von Ziegesar called "Gossip Girl." In 2007, the TV adaptation then debuted on The CW network. The show became a cultural phenomenon and turned lead actor Penn Badgley into a massive star. Admittedly, the overnight shift in fame was unexpected for the actor. "In 'Gossip Girl,' I was far too judgmental of everything that was happening because I was young," Badgley told GQ. He also occasionally got caught up in his growing celebrity. "I've had some fun nights. But I learned early on ... that stuff is never satisfying in the end," he admitted to Elle.
Initially, Badgley didn't love the character of Dan Humphrey. So much so, he wanted to pass on what would become his breakout role. "I didn't want to be in television," Badgley revealed to Variety. He also admitted, "I was not invested. And I'm not saying it's a good thing!" The show was popular enough to earn a reboot on HBO Max. However, this next-generation series only lasted two seasons before being canceled. Looking back at the original series, Badgley had a mix of emotions. On the one hand, he loved its fun and ferocity. On the other, he told Variety, "[It was a] dark undercurrent that would bottom out in my later 20s." 
Penn Badgley and Blake Lively's real-life romance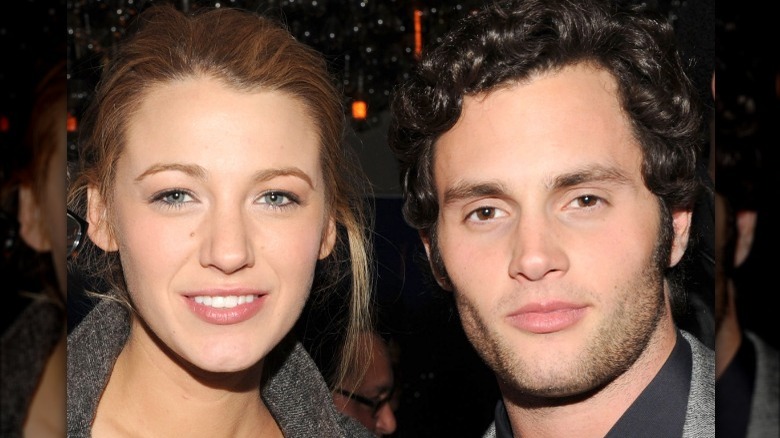 Bryan Bedder/Getty Images
A central arc of "Gossip Girl" was the relationship between Dan Humphrey and Serena van der Woodsen, played respectively by Penn Badgley and Blake Lively. The on-screen chemistry was clearly not just acting, as the two dated in real life. "Having a relationship with someone you work with might not always be the smartest move," he told Men's Health about linking up with his co-star. "But it's wonderful to be in a relationship where we can both identify with what the other is experiencing."
Awkwardly, the two broke up while the show was still filming but the exes were good at separating their professional and personal lives. Joshua Safran, an executive producer for the show, told Vanity Fair, "The shocking thing was, I found out on the set of the Season 2 finale that Blake and Penn had broken up months before." A source confirmed to Us Weekly that the split appeared to be amicable between the two actors and that both remained friends.
Looking back on the relationship, Badgley admits it was a wild experience to have such a public relationship, especially in its connection to the hit teen show. "It was intense, but it served to make everything feel pretty strange ... We all fell in and out of love a lot at that time," he told The Guardian. He also suggested to Variety that his relationship with Lively may have kept him from taking a dangerous, hedonistic path to deal with his newfound fame. 
The actor once dated Zoë Kravitz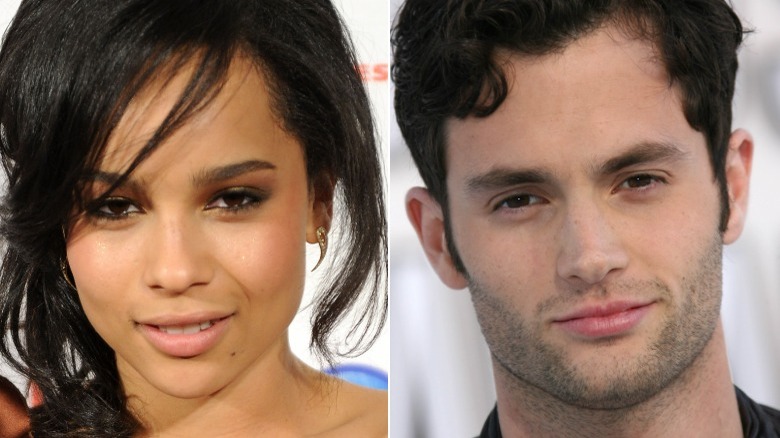 s_bukley/Shutterstock, Stephen Lovekin/Getty
In 2010, less than a year after splitting from Blake Lively, Penn Badgley then found himself linked up with another actor, Zoë Kravitz. She was also fresh out of a relationship with Michael Fassbender, her co-star in the film "X-Men: First Class." The couple finally became official after paparazzi spotted the pair together multiple times in New York City. Though the relationship was public knowledge, intimate details of their love life were often kept private. When asked about his relationship with the daughter of Lenny Kravitz and Lisa Bonet, he told The Guardian in 2013, "That's very personal."
The romance wasn't a love-at-first-sight situation but instead developed during Badgley's "Gossip Girl" era. "We'd known each other for years, but not well," he told Vulture about Zoë. In fact, it was the dramatic TV series that helped bring together the couple in the first place. "It gave me the opportunity to live in New York," he told Movieline. "It also put me in New York City so I could meet Zoe." 
At that time, this romance also helped to inform his performance as musician Jeff Buckley in the 2012 film "Greetings From Tim Buckley." The film depicted the '90s star grappling with his father's musical legacy while also experiencing a burgeoning love affair. "I was falling madly in love in a way that was changing me and opening me up," he explained. "And it was an integral part of playing Jeff."
How he became You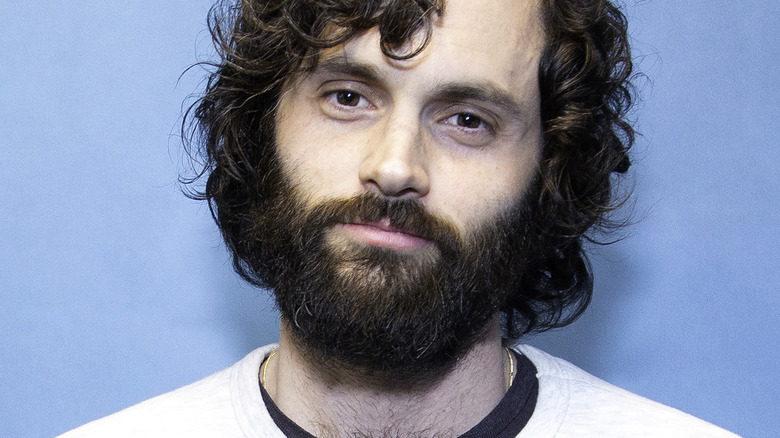 Santiago Felipe/Getty Images
The TV series "You," based on the 2014 novel of the same name by Caroline Kepnes, originally premiered on Lifetime in 2018. The network picked up the show for a second season but it was also dealing with low ratings. Yet, for international viewers, "You" had always been on Netflix. The show was ultimately passed from Lifetime to Netflix, which launched the second season. 
Thanks to the central performance by Penn Badgley, the show became a massive hit for the streaming platform. The format of the show relies heavily on the hypnotic internal monologues by Badgley's character. In fact, the actor revealed that about 80% of his lines on the show are narration. "Most days I go to work and I actually don't have any lines often. I'm just looking," he told "Jimmy Kimmel Live." 
When first learning about "You," Badgley explained how it felt somewhat familiar with a focus on social media to his roles in "Gossip Girl" and "Easy A." "I definitely saw the similarities," he told InStyle. "I think I was really caught between being able to appreciate how that's an interesting progression of things for me, but also how it's not." The show was a hit but Badgley also admitted it's a bit odd becoming a famous serial killer on screen. To play the part, he approached it from a less villainous point of view. "I personally am not remotely fascinated with murder or serial killers," he told Interview. "I'm interested in why, collectively, there's a fascination with them."
Penn Badgley's long-held musical ambitions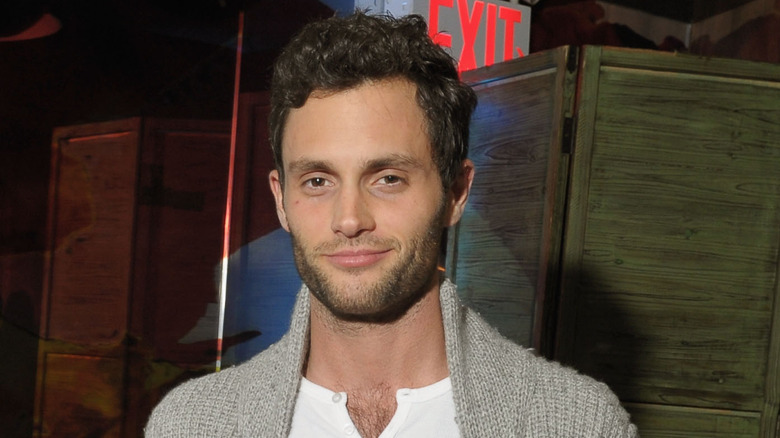 Michael Loccisano/Getty Images
Clearly a talented actor, Penn Badgley is also a gifted musician. This combination made him the perfect choice to portray the singer Jeff Buckley in the 2012 biopic "Greetings From Tim Buckley," a reference to Jeff's father, who was also a musician. Impressively, Badgley did all of his own singing for the part. To land the role, the actor submitted an audition of him singing acapella to the rock band Led Zeppelin. 
As a result of the movie, Badgley became more interested in becoming a musician and even began to perform in New York City. "In fact, almost all my friends in Brooklyn are musicians and they've been inviting me to play little opening sets for them – just unannounced little gigs. And I definitely am going to pursue it," he told Movieline. "I've always been quietly writing and playing in private, and it's like everything that I was experiencing before and during the shoot allowed me to finally realize some of my own music."
Part of this songwriting that the actor alluded to was a pop song that he created in the late '90s. When Badgley was a child actor in Los Angeles, he recorded a self-described "terrible" song about spending a magical night with a special someone. He was 12. "I didn't know what the hell it was about," he told The Guardian. "It was ... misguided." He got his second chance when Badgley later became the frontman for a group called MOTHXR.
The religious side of Penn Badgley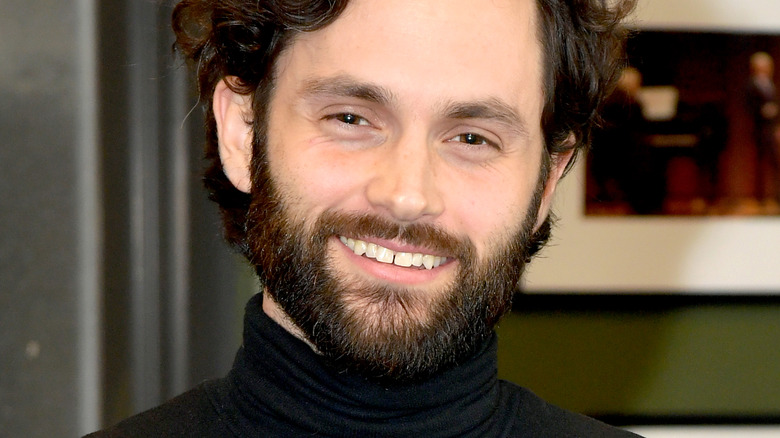 Michael Loccisano/Getty Images
While many celebrities in Hollywood like Tom Cruise have joined the Scientology faith, Penn Badgley is part of an even less well-known religion. He is a part of the Bahá'í Faith, which began in the Middle East. Badgley first discovered the religion towards the end of his run on "Gossip Girl," when he admittedly felt lost spiritually. Travels took the actor to Colombia where he met another guy from New York City, and the two remained unexpectedly connected with a common interest in spiritual teachings. Later, this man recommended that Badgley read poetry by the founder of Bahá'í Faith — they profoundly resonated with the actor.
A few years later, with the Black Lives Matter protests as a catalyst, he found his way back to the religion. "I was thinking a lot about social change, social action, social transformation — but also my own transformation, my own change," he told Variety. By 2015, Badgley officially became a member of the Bahá'í Faith — which focuses on abolishing intolerance and divides related to class, race, and religion. "[I discovered] a deepening in my understanding of the oneness of humankind and the inherent nobility of the human being," he told Page Six. As an active member, Badgley also used his celebrity to bring awareness to others in the faith that he felt were being discriminated against, including people from Iran, one of the birthplaces of Bahá'í.
He was grateful to get out of Los Angeles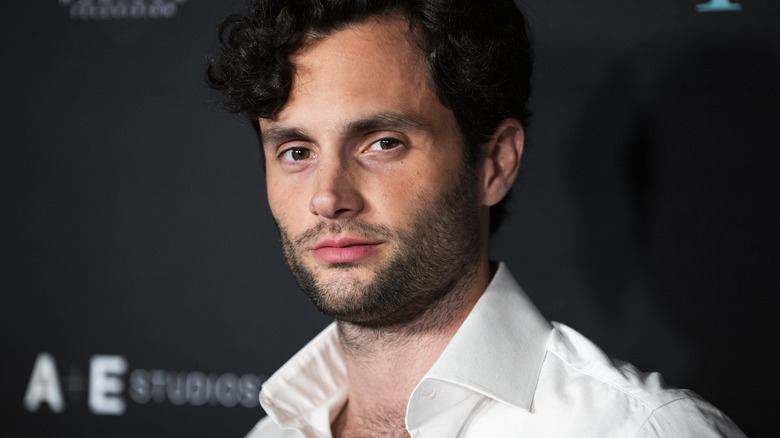 Matthew Eisman/Getty Images
Even though he grew up in Los Angeles, Penn Badgley looked like a natural playing his "Gossip Girl" character in New York City. After the show ended, he stayed in New York and ended up living near Brooklyn with his wife, son, stepson, and dogs. According to the actor, he often liked the people in New York better than in California. "The hardest thing about Hollywood as an actor is that everyone is trying to do the same thing — it's pretty homogenous," he explained to InStyle. 
Even though he grew up in Hollywood, Badgley explained it became too much to live so close to potential workplaces as an actor. "Over time we all become very cynical and depressed, having to audition endlessly in LA," he told The Guardian. Badgley also explained how he liked that many of his friends in New York weren't actors like him. Plus, for his role in "You," Badgley had a chance to return to Los Angeles to film the second season. "It's a place that I can visit, it's just not a place that I want to live," he told InStyle. 
Not that his east coast life came without headaches. In 2023, someone stole the actor's car that was parked on the street in Brooklyn. Still, he was grateful for "Gossip Girl" to not only help launch his career, but for also introducing him to the place he now calls home.
Penn Badgley is a family man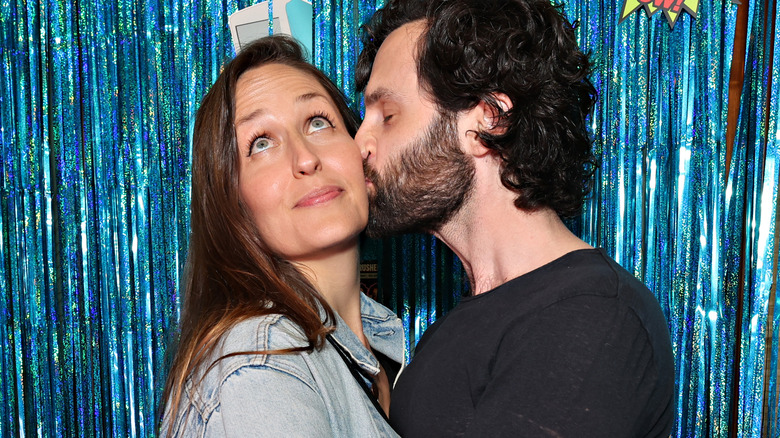 Cindy Ord/Getty Images
Following his run on "Gossip Girl," Penn Badgley was basically couch surfing around — traveling and staying at various places. One day, at a meatball shop, he met a woman named Domino Kirke who offered a room rental at her place. Admittedly, she had never watched "Gossip Girl" and had no idea about Badgley's fame. At the time, she was also raising a child but confessed to thinking it would be nice to have a cute roommate. While Badgley didn't move in, the two exchanged numbers and continued to talk. On an episode of his podcast, "Podcrushed," she quipped, "[At one point], I sort of lost interest." Regardless, there was clearly a special connection between the two.
In 2017, Badgley and Kirke were married in a courthouse in Brooklyn, followed by a reception in upstate New York later in the year. The couple began working on growing their family and after two heartbreaking miscarriages, Badgley and his wife welcomed their son James in 2020 in the midst of COVID-19 lockdowns and restrictions. "I don't know what it's like to be at least a biological father outside of the pandemic," Badgley told InStyle. "It's just been us, my wife and I, taking care of him." While he was happy to have all this alone time with his newborn, Badgley also admitted it was hard work being a father. Fortunately, he and Kirke-Badgley have still made time to enjoy date nights together.
How Penn Badgley got his unique name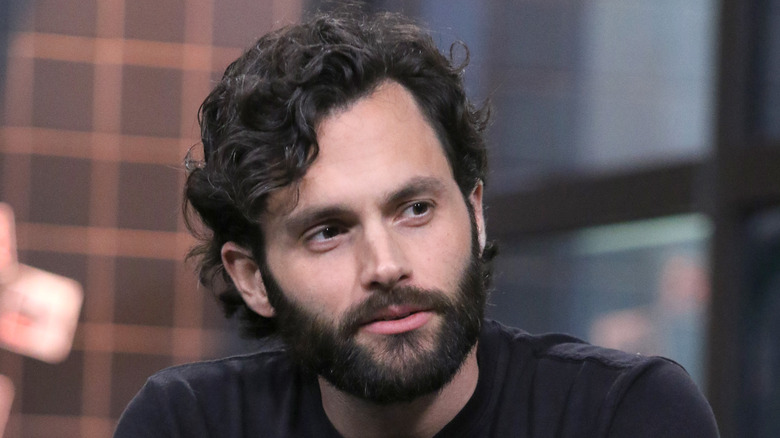 Jim Spellman/Getty Images
Penn isn't a very common first name in Hollywood let alone the rest of the world, with one notable exception of the famous magician and comedian, Penn Jillette. Yet, on the set of the original "Gossip Girl," Penn Badgley was one of many with uncommon given names, working with future fishy superhero Chace Crawford and the two lead women in the series, Blake Lively and Leighton Meester. "We definitely noted that. In the pilot shooting we were like, 'Yeah, our names are crazier than the actual characters,'" Badgley told The Guardian. "'Gossip Girl' was like a bizarre college experience." 
As for how his parents decided on the name Penn, the actor explained it derived from the popular sports brand, Penn. "It really comes from a tennis ball," he explained on "Jimmy Kimmel Live" about the naming inspiration. "I was, I think, about the size of a tennis ball. That's what my mom said to my father bouncing a tennis ball and that was how it happened."
It would seem like destiny, then, that Badgley became somehow involved in tennis. As a kid, he lent his voice to the N64 video games "Mario Golf" and "Mario Tennis." "I had to do all the noises, all that s***," Badgley told The Guardian. Even with his involvement in the games, the star admitted he never saw the end product or played either of them.
Why he's scaling back on sex scenes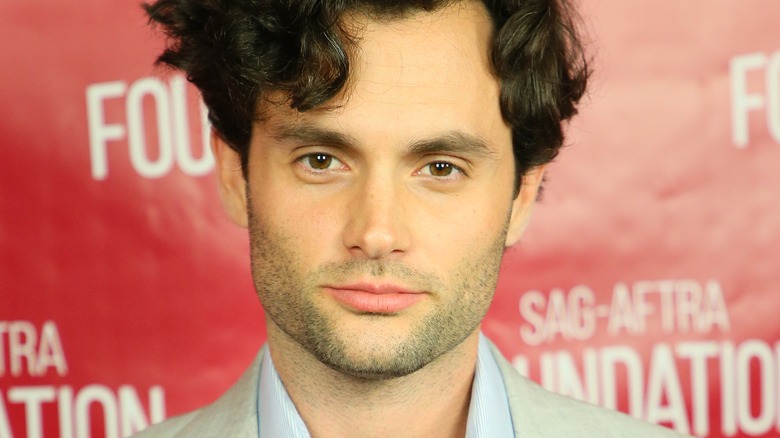 Jb Lacroix/Getty Images
Part of the strange appeal for Penn Badgley's character, Joe Goldberg, in "You" is that despite his murderous tendencies, there is still something to love about the fictional serial killer. The characters on the show are likewise often entranced by Goldberg, leading to scenes of intimacy. These on-screen relationships are nothing new to the actor, who of course was regularly part of romantic drama during his time on "Gossip Girl." Yet, when it comes to filming sex scenes, Badgley would ideally avoid them altogether. "That aspect of Hollywood has always been very disturbing to me. And that aspect of the job, that mercurial boundary has always been something that I actually don't want to play with at all,' he revealed to Variety. 
According to Badgley, one of the biggest reasons he feels uncomfortable being intimate with other women on screen is because of his marriage to Domino Kirke-Badgley. "My fidelity in my relationship. It's important to me. And actually, it was one of the reasons that I initially wanted to turn the role down," he explained. In the end, it was Kirke-Badgley who convinced her husband to join "You." While the early seasons featured several steamy sex scenes, by the time the fourth season premiered in 2023, he was fully clothed in any intimate moment. As Badgley explained on "Podcrushed," this was because the actor asked series creator Sera Gamble if they could remove most intimate scenes from the show and she happily obliged.
He's the co-host of a successful podcast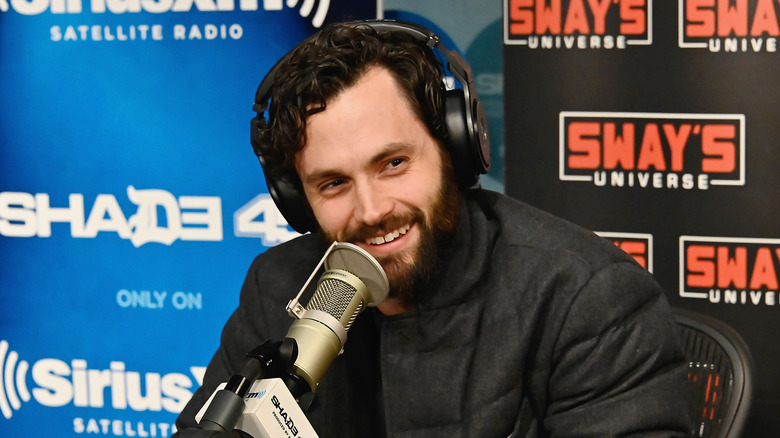 Astrid Stawiarz/Getty Images
When he's not voicing the creepy Joe Goldberg on "You," Penn Badgley can often be found as one of the voices on the "Podcrushed" podcast. Alongside co-hosts and co-creators Sophie Ansari and Nava Kavelin, Badgley discusses all things adolescence and the awkward stories that go along with those formative ages. "We met when Penn was friends with my roommate, and I'd just have to act like it was normal that Penn Badgley was sitting in my kitchen," Kavelin told The Guardian about first meeting the actor. 
The creators told Badgley about the project and he agreed to join the podcast as a co-host. "I just became really enchanted with the stories," Badgley told the Associated Press. "... I do find myself reflecting on that time a lot, the sense of self that I developed since then because of the things I experienced and witnessed." Guests on the show have ranged from actors like Jenna Ortega and Badgley's "You" co-star Victoria Pedretti to Conan O'Brien and Meghan Trainor. The common theme among all these celebrities is an awkward middle school moment. "Ask anybody what was going on when they were 12 and you get a response," the actor added. 
The trio also created a successful TikTok account for the podcast, with almost 400 thousand followers in early 2023 thanks to entertaining, behind-the-scenes videos. The podcast is only one part of Badgley's production company Ninth Mode Media, which is expanding to feature films.
Penn Badgley is an activist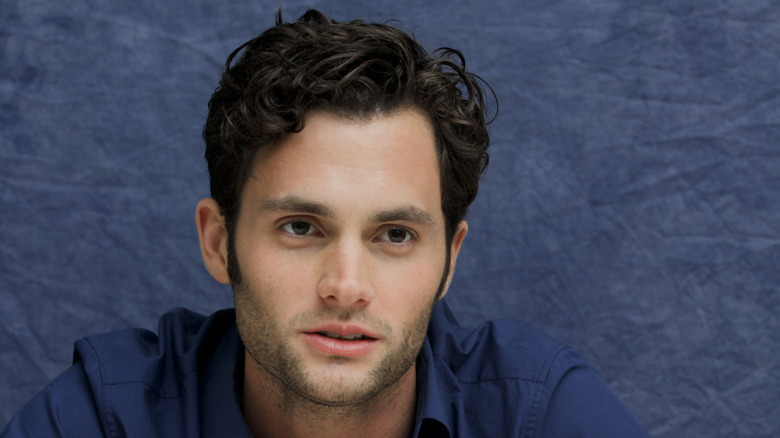 Fotos International/Getty Images
Penn Badgley has spent considerable time supporting organizations and social movements in his career. For example, in 2011, he joined protestors on the streets of New York as part of the Occupy Wall Street movement, to help raise awareness of economic inequality in America. "I mean, listen, it's cheesy, but I want to do whatever I can. Let's be honest: I'm on f***ing 'Gossip Girl,'" he told Capital. "... It's absurd that celebrity power is what it is, but, like, use any tool you have, you know?" 
In fact, Badgley has long been open about his privilege in terms of celebrity, gender, and race when it comes to getting cast. Speaking to The Pink News about the casting process for marginalized characters and those from underrepresented groups, he proclaimed, "Let's make damn sure that they're being represented by the people who have lived this experience."
More than just sticking up for other actors, Badgley also happens to be an advocate for the National Center for Human and Civil Rights. He also works with the Tahirih Justice Center, an organization that helps immigrants and focuses on ending gender-based violence. As well as being friends with the center's founder, he told Teen Vogue, "The seed of this is ... the shared ideals that we hold sacred, including equality among women and men." According to Badgley, he felt especially moved to help the organizations due to his fictional but violent character in the series, "You."