How Many Kids Does Marc Anthony Have? (& With How Many Different Women?)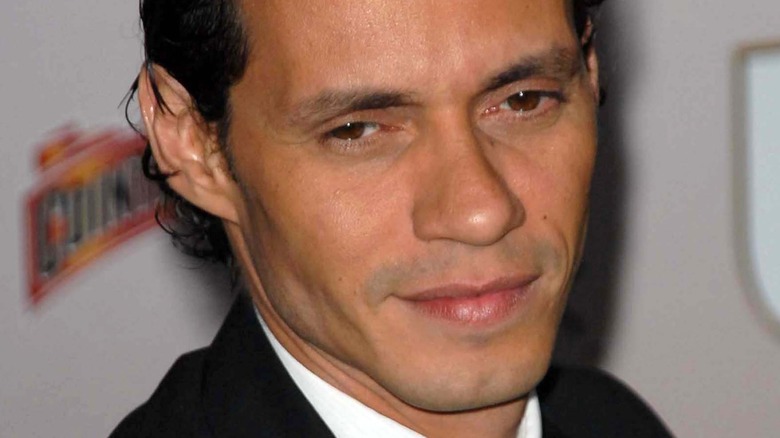 s_bukley/Shutterstock
Marc Anthony is one cool dad, that's for sure. He's got plenty of hits, he's got plenty of swagger — and he's got plenty of kids! The Latin superstar's growing brood hit the headlines in February when he and his fourth wife, Nadia Ferreira, announced that they are expecting their first child together. The happy couple (who tied the knot in January, and have raised a few eyebrows with their more than 30-year age gap ever since they began dating) confirmed the news with a joint Instagram post on Valentine's Day, which showed Ferreira place her perfectly manicured hand over Anthony's tattooed hand as he touched her growing belly.
But this is hardly the first time the "Vivir Mi Vida" hitmaker has been excited about having a baby on the way. In fact, this always-special moment has happened quite a few times before. But how many children does this superstar actually have, and how many ladies can call themselves the mothers of his children?
Marc Anthony will be a dad of seven
When Marc Anthony and Nadia Ferreira welcome their baby, that will make the singer a dad of seven children! So, let's take a look at his growing brood.
Anthony first became a dad back in 1994 when he welcomed a daughter, Ariana, with his then-girlfriend, Debbie Rosado. The couple then went on to adopt a son named Chase the following year, but went their separate ways in 1995. Then came the star's first marriage, as he wed Dayanara Torres in 2000 and the twosome became parents to sons Cristian in 2001 and  Ryan in 2003 during their marriage. They split in 2002, though, and, two years later, the star had what was probably his most famous relationship to date with Jennifer Lopez. The two married in 2004 and became parents to their fraternal twins, Max and Emme, in 2008, which made Anthony a dad to six kids with three partners, though he and Lopez officially divorced in 2014. 
That means the star has welcomed two children with all of his baby's mothers — so far! Of course, that brings us to his baby on the way with Ferreira, with Harper's Bazaar Arabia speculating she's likely due to give birth in late spring or early summer.
Marc Anthony has fatherhood regrets
Despite having so much experience when it comes to fatherhood, like many parents, Marc Anthony has a few regrets. It's safe to say that with so many kids and such a busy work schedule, Anthony probably wasn't there to witness every single big moment in each of his children's lives — and that's something he has admitted he wishes he could have done differently. "The one regret would be that what I chose to do took so much of my time. What I would have done to have been a stay-at-home dad, and, you know, witnessed every second of everything," he explained on "CBS Sunday Morning" in 2016. "I would have loved that. Didn't work out that way. So it's the one thing that just tugs at me ... that's the biggest sacrifice. And you sort of start to wonder, was it all worth it? Was it worth it?"
But it sounds like his children have no qualms about his skills as a father. His and Jennifer Lopez's child Emme (who Lopez has introduced using gender-neutral pronouns), has publicly gushed about their dad, sweetly describing him as a "loving father" during a 2020 interview with Entertainment Tonight. "He's very funny. He cares about all of us a lot, and he's just a good person," they shared.