Luke Bryan And Blake Shelton: Are They Still Friends Or Is Their 'Feud' Real?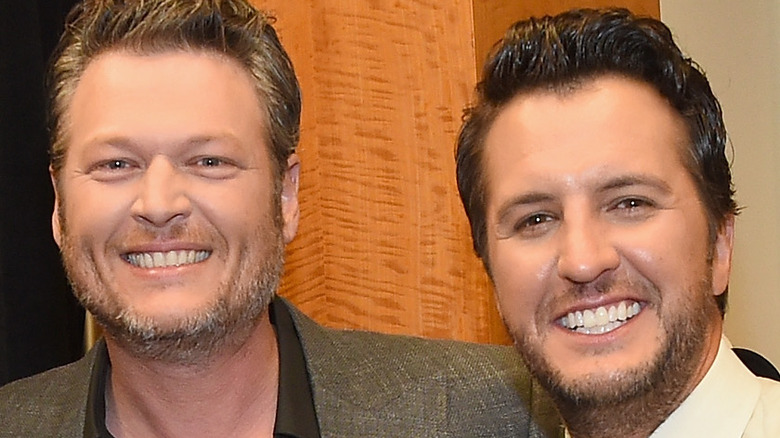 Rick Diamond/Getty Images
Luke Bryan and Blake Shelton are two of the most popular names in country music and share many similarities. They both got their start in Nashville, Tennessee around the same time and paid their dues singing and playing in bars until they became discovered. In 1997, Shelton landed a deal with Giant Records and four years later, he had his first hit song, "Austin" playing on country radio stations. After Giant Records closed down, Shelton signed with Warner Brothers and together, they released his self-titled first album, which rose to number three on the country charts.
Like Shelton, Bryan started singing and playing the guitar when he was in high school. However, it took him a little longer for him to start his career. He attended Georgia Southern University and then worked at his family business until his father pushed him to go to Nashville. Bryan moved to Music City in 2001 and was soon signed by Capitol Records. His first album with them was "I'll Stay Me," but it was 2009's "Doin' My Thing" that put him on the top country charts.
Bryan and Shelton's songs are not only catchy, but the two men are easy on the eyes as well. With similar statures and the same toothy grin, Bryan and Shelton can undeniably be mistaken for brothers. In fact, sometimes they squabble like siblings. The two have publicly traded barbs over the years, leading fans to wonder if they're friends or foes.
Luke Bryan and Blake Shelton love ribbing each other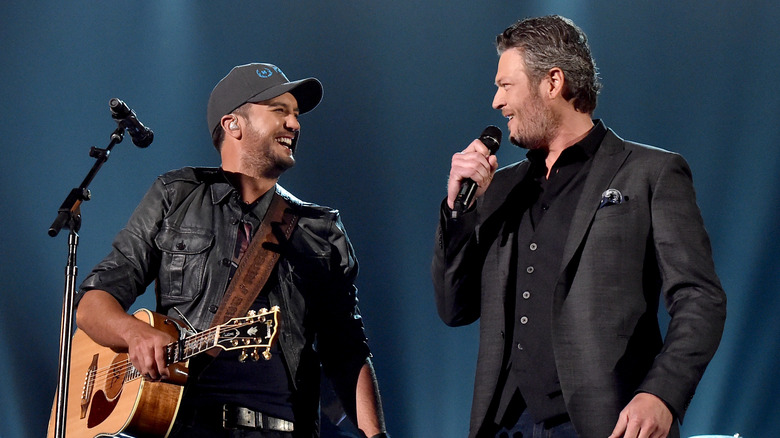 Kevin Winter/acm2016/Getty Images
Although Luke Bryan and Blake Shelton love to constantly tease each other, it's all in good fun. The two have been friends for over ten years and have developed a good-natured rivalry. In 2018, Shelton revealed the nominees for the CMT Music Awards video of the year category at his Nashville bar, Ole Red. With an uptick in celebrities opening watering holes in the famous town, it was mentioned that Bryan didn't have one of his own. "What a loser that guy is," Shelton laughed. However, Bryan was the one to have the last laugh, as his bar Luke's 32 Bridge Food + Drink opened up a couple of months later.
When Bryan got a chance to get Shelton back, he took his shot. During his residency in Las Vegas, he took to the piano to sing Shelton's song "Home,", which was originally recorded by Michael Bublé. Bryan joked that Shelton "stole" the song from the crooner. As he sang, he got the lyrics wrong and told the audience, "I don't know two Blake Shelton songs ... What's a good Blake Shelton song? There isn't one." Despite their competitive nature, it seems the two have a strong friendship and have supported each other's careers throughout the years.
Blake Shelton encouraged Luke Bryan to join American Idol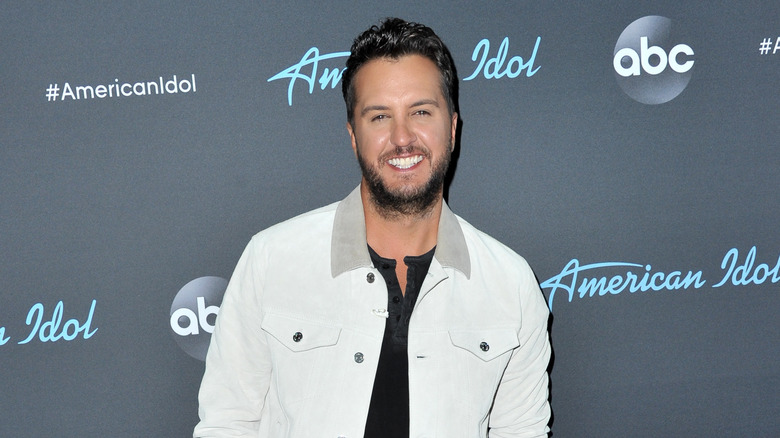 Allen Berezovsky/Getty Images
Blake Shelton has been synonymous with "The Voice" since it debuted in 2011 and the longstanding coach has been the only one to appear in every season thus far. Naturally, when Luke Bryan got invited to join "American Idol" in 2018, he turned to his friend for advice. During an episode of his podcast "Party Barn Radio with Luke Bryan," he recalled that Shelton was the one who gave him the push to be a judge in the singing competition. "You said, 'Do it,' I said, 'Heck yeah, I'm going to do it.' Man, it was like you told me. It certainly opens your eyes, opens your world up to stuff you can never imagine. Thank you for that," Bryan told Shelton.
The touching moment was short-lived and the two friends returned to trolling each other online. Bryan took Shelton's 2017 "Sexiest Man Alive" People cover story and photoshopped his face onto the "God's Country" singer. "Don't doubt me @katyperry, the @people love me and I'm the favorite country judge! Don't be jealous @blakeshelton #AmericanIdol," Bryan tweeted. Shelton's response was, "My god buddy I hope that works out better for you!!!!!" In this case, Shelton has one up on Bryan, but hopefully, People will give the "Country Girl" singer the title soon and even out the score between the two frenemies.