The Heartbreaking Story Of Gloria Estefan's Childhood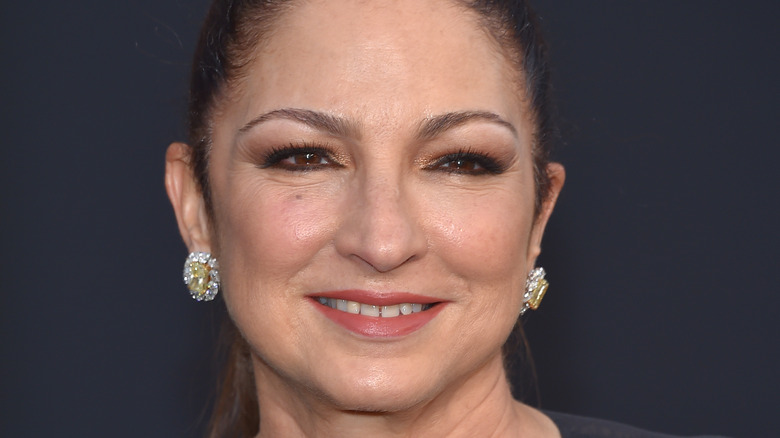 DFree/Shutterstock
Singer Gloria Estefan has achieved great success in the entertainment world, first finding fame in Spanish-speaking countries alongside her husband Emilio in their group, Miami Sound Machine. By the mid-'80s, the band had gained an international fanbase, and songs like "Conga," "Words Get in the Way," and "Rhythm is Gonna Get You" became some of their biggest hits. Estefan additionally began releasing music as a solo artist beginning in the late '80s. As her website bio states, over the course of her career Estefan has released a total of 38 tracks that have gone to the top of Billboard charts.
Estefan had a feeling that she and her bandmates would have a strong impact on the industry prior to these accomplishments. The artist said to Classic Pop in 2022 that she once told Emilio, "I think we're gonna be famous, and I think we're gonna be famous all over the world." Estefan then added, "I believed in the music, and I didn't know how it was going to happen, but I just knew something was gonna happen." While this prediction came true, Estefan first had to navigate setbacks in her early years.
Gloria Estefan had to care for her her father and sister as a child
Gloria Estefan's childhood was one that included difficult circumstances. Estefan was born in Havana, Cuba in the late 1950s, per AllMusic. In a 2017 "CBS This Morning" interview, she opened up about her upbringing. Following Fidel Castro taking power in Cuba, Estefan's father was removed from his position as a police officer and put in jail for three months. Estefan and her family eventually relocated to the U.S. Her father then worked with the U.S. military and served in the Vietnam War. Upon his return home, Estefan's father was ill from Agent Orange exposure. 
Of her father's condition, Estefan said, "It was the center of our lives. My mama had to work because she realized that my dad was only gonna get more ill. And then I cared for my dad and my younger sister ... Like, from the age of 12 to 18, 19, it was him." In 2013, Estefan said that her father had developed multiple sclerosis, and music was an outlet as she took care of him. "It was a difficult thing to handle but it made me stronger, and music was my escape," Estefan told The Guardian. "I would play music for my dad and lock myself up in my room when I wasn't watching him and just emote through my singing." Her father sadly died in 1980, as Estefan was in the earlier stages of her music career.
Gloria Estefan turned her circumstances into triumph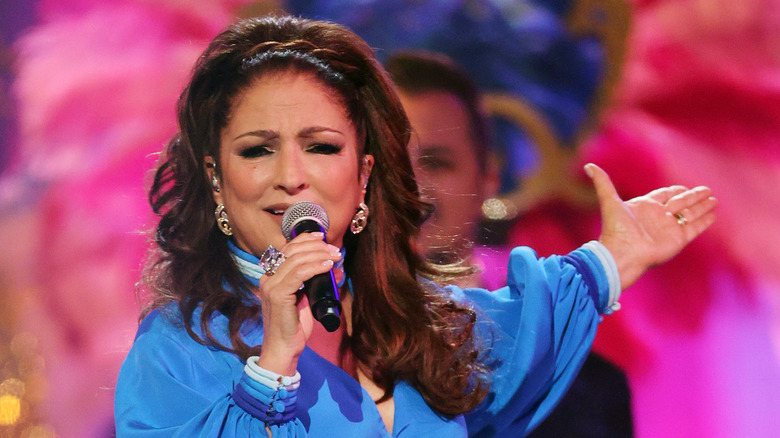 Kevin Winter/Getty Images
Gloria Estefan experienced tough conditions as she grew up, but developed her talent for performing to become a music superstar. In a 2020 USA Today chat, Estefan discussed the time when her father was being held as a political prisoner in Cuba. As her family coped, Estefan witnessed the women around her taking on powerful roles. "[My mom] and my grandmother were my absolute heroes and idols," Estefan said. "There was nothing that they didn't do. So I never grew up thinking that there was something that a woman couldn't do because quite honestly, the women in my family were doing it all." 
This environment foreshadowed Estefan's empowered position in music. Since meeting her now-husband, Emilio, performing with him in the Miami Sound Machine and later on her own, and reaching global fame, Estefan has stayed a force in her professional field. As of 2022, she has earned 12 Grammy nominations and has additionally won 3 Grammys, per the Recording Academy's site. Globally, Estefan has sold more than 100 million records, according to the Universal Music Publishing Group. Furthermore, in 2017 she was given the Kennedys Center Honor award, making her the first Cuban-American person to gain this honor, per NBC News. Estefan continues to release music and remains devoted to family, as she and her daughter Emily and niece Lili host "Red Table Talk: The Estefans" together.