What Really Happened Between Madonna And Mark McGrath?
Ga Fullner/Shutterstock
Madonna's dating life has long been tabloid fodder. With so many decades in the spotlight, it's only human nature that fans want to know all about the special person in the star's life, right? And it's safe to say we know plenty about Madonna's various partners. Madonna has been married twice, first tying the knot with Sean Penn in 1985 and then walking down the aisle again with Guy Ritchie in 2000. Sadly, neither marriage worked out for the star, but they're far from the only names the "4 Minutes" hitmaker has been linked to over the years. A few of her other high profile romances she's thought to have had? The superstar has also been linked to the likes of Ahlamalik Williams, Brahim Zaibat, and even Jennifer Lopez's ex, Alex Rodriguez.
But do you remember when Madonna was linked to none other than Sugar Ray band member turned TV personality Mark McGrath? Yep, there was a period in time when these two had the gossip columns totally heating up with rumors they were more than just friends... But what really happened here?
Mark McGrath was pretty happy about the Madonna dating rumors
First linked all the way back in 1999, Madonna and Mark McGrath seriously got tongues wagging when they attended the same event. They were spotted at an Oscars party and McGrath was even photographed with his arm around the pop superstar as she grinned from ear to ear. That sparked the romance rumor mill, and McGrath was more than happy to let the wheel spin. In fact, he even added fuel to the fire by walking on stage during a concert shortly after their appearance together and getting everyone's attention by crudely shouting, "Who wants to smell Madonna?" as he put his fingers in the air.
But, while McGrath may have been happy to go along with all the speculation, he's since admitted the rumors were all nonsense. He copped to never actually dating Madonna on "The Howard Stern Show" in 1999, confessing that there was no relationship and never had been. As for what actually happened? They hung out at the party for about 20 minutes before he gave her a peck when walking her to her car, which, as you can see above, was all captured by the paps. McGrath also made it clear they were never together while speaking to SPIN in 2001, admitting he played up the Madonna rumors for the sake of his career. "It was working for me; it made me look cool," he confessed of why he fanned the flames.
Mark McGrath has repeatedly denied dating Madonna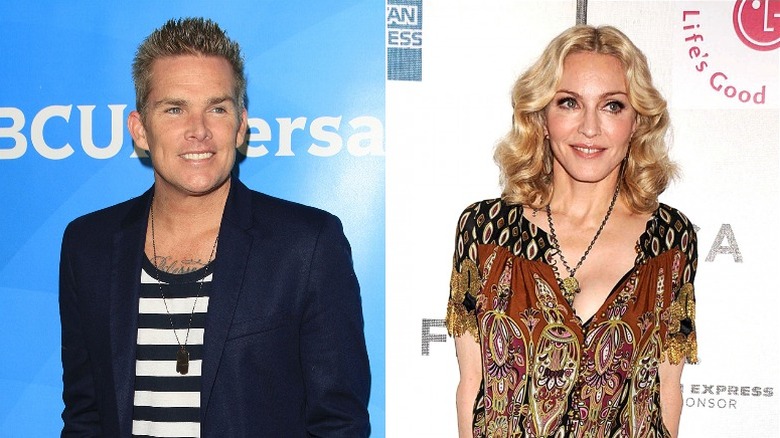 Joe Seer & Everett Collection/Shutterstock
Don't think the Mark McGrath and Madonna dating rumors were left in the late 1990s and early 2000s, though. Oh no. McGrath has continued to be asked what really went down with between him and the Queen of Pop pretty much ever since, including during a 2017 interview with Entertainment Tonight in which he once again denied they dated and explained why he falsely suggested at the time they did. "Madonna wasn't a hook-up. I let that thing breathe for a while because it was great for me," McGrath admitted, joking he still doesn't like having to admit that nothing ever really happened between them. "I wasn't going to be the one to say, 'No! I'm not with Madonna' ... We still let that one breathe. I mean, we're talking about it now."
Of course, we know these two never rode off into the sunset after finding true love together, but it seems like both are pretty happy with their romantic lives these days. Madonna was linked to model Andrew Darnell in September 2022, while McGrath found love with his wife, Carin Kingsland, who he married in 2012. All's well that ends well, right?