Who Was Madonna Just Spotted Getting Close With?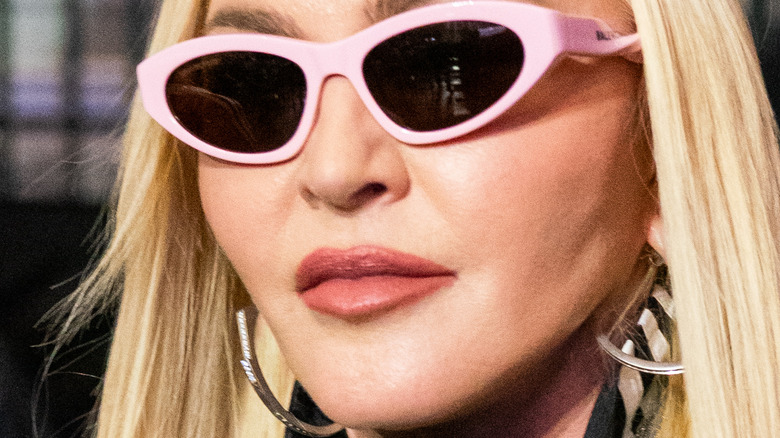 Cassy Athena/Getty Images
During her nearly 40 years as an international pop icon, Madonna has had some notable high-profile romances. There was her first marriage to Oscar-winning actor and director Sean Penn, and then her second marriage to famed British director Guy Ritchie, per Entertainment Tonight. There is also her documented love affair with Warren Beatty, as seen in her 1991 documentary "Truth Or Dare," per People. Then there was her romance with Tupac Shakur, and his private letters  to her recently went up for auction. Her romance with basketball all-star Dennis Rodman turned acrimonious when he wrote a tell-all memoir, as noted in Marie Claire. There was even a dalliance with Vanilla Ice, reported by InStyle. Needless to say, the real-life material girl does not have a problem getting dates.
More recently, she was reportedly dating her backup dancer Ahlamalik Williams, but that ended back in April, although no statements from Madonna's camp were given for the split.  Now, it seems she is enjoying the company of another young man, and their respective Instagram feeds are awash with kissing, canoodling, and uh, shall we say, much more racy poses.
Madge is reportedly dating young model Andrew Darnell
"Vogue" songstress Madonna is reportedly dating a new young man, IMG model Andrew Darnell. And while they aren't #RedCarpetOfficial, they both certainly have no problem making it #InstagramOfficial. Over the past few weeks, the "Express Yourself" pop icon and the model have both posted steamy pics of themselves to their respective IG accounts. Darnell was included in a series of posts about her Paper Magazine cover shoot, including one shot where she's licking his bare chest. Darnell also posted a pic of him lovingly gazing at her while she makes love to the camera (as only Madge can). She posted a snap of the duo locking lips and playing tonsil hockey to her account, and over the long Labor Day weekend, she posted photos of her and the model hanging out backstage with Nigerian musician REMA.
According to Page Six, the couple joined some friends after the concert in NYC for dinner, and patrons at the restaurant spoke to the outlet about how close the pair were. "They were definitely smooching. She and Andrew were being very openly affectionate all night, snuggling and cuddling in the booth," an insider told the outlet. The "Like A Virgin" legend has previously spoken about the media's obsession with her romances with younger men, telling Harper's Bazaar in 2017,  "I have lovers who are three decades younger than me. This makes people very uncomfortable. I feel like everything I do makes people feel really uncomfortable."