Scott Eastwood Once Claimed Ashton Kutcher Cheated On Demi Moore (With His Ex)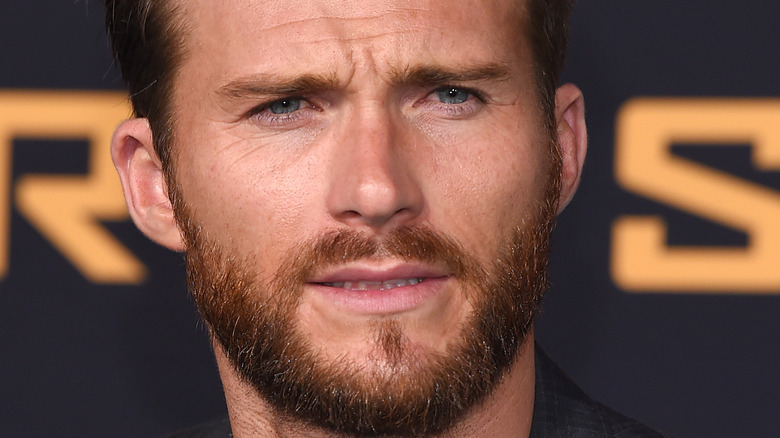 DFree/Shutterstock
Today, Ashton Kutcher is happily married to Mila Kunis and the couple shares two children, but you're probably aware that this isn't the former "That '70s Show" star's first time being in a high-profile romance. Before he and Kunis tied the knot in 2015, Kutcher was married to Demi Moore for around six years. The two married all the way back in 2005, though Moore was the one who announced things were ending in 2011, two years before their divorce was finalized. She confirmed in a statement, "It is with great sadness and a heavy heart that I have decided to end my six-year marriage to Ashton. As a woman, a mother and a wife there are certain values and vows that I hold sacred, and it is in this spirit that I have chosen to move forward with my life," (via the Guardian). 
So, what exactly drove these two apart? While Kutcher and Moore are the only ones who will ever truly know what happened to ultimately lead them to divorce, the twosome's marriage was fraught with cheating allegations ... which is something that none other than Scott Eastwood fanned the flames of.
Did Ashton Kutcher's alleged cheating with Scott Eastwood's ex ruin his marriage?
For this bombshell, we're throwing it back to 2015 when Scott Eastwood got candid on the drama-spilling Bravo show "Watch What Happens Live with Andy Cohen." The "Invictus" actor didn't exactly hold back while appearing alongside Ashton Kutcher's former "Two And A Half Men" co-star Jon Cryer. Eastwood cut in when Cryer was asked by host Andy Cohen what it was like to work with Kutcher, saying, "If it makes you feel any better he did sleep with one of my ex-girlfriends. But she was my current girlfriend at the time." Yikes! The "Longest Ride" star then unequivocally answered "yes" when Cohen asked if they were together when the apparent dalliance went down. Double yikes!
Clearly in the mood to tell all, Eastwood continued, "I think it was the catalyst that broke him and Demi up." The incident he was referring to was the one widely reported before Kutcher and Demi Moore's split that involved incriminating photos of the "Dude Where's My Car?" actor and two young women in a hot tub. "Her and her friend. Remember those pictures? My buddy and I dated those two girls," Eastwood stated. Kutcher was accused of allegedly cheating on Moore in 2011, shortly before she announced their split. Sara Leal, who is most likely the former girlfriend Eastwood was referring to, spoke out about their purported encounter to Us Weekly, claiming Kutcher told her that he and Moore were already separated.
Ashton Kutcher reportedly wasn't happy that Scott Eastwood spilled the tea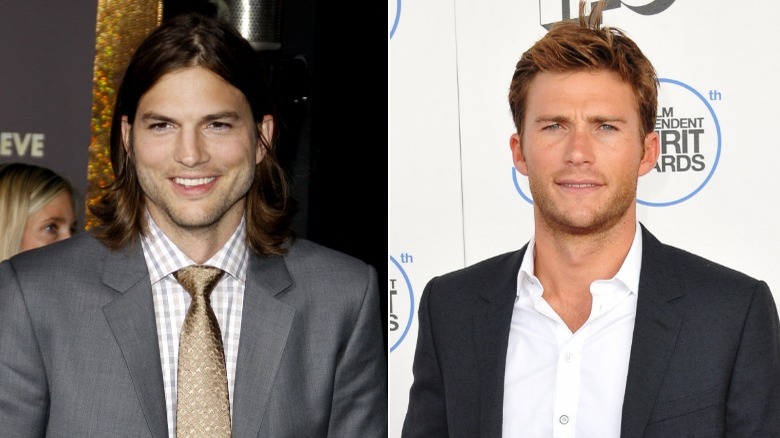 Tinseltown & Featureflash Photo Agency/Shutterstock & undefined
As you can probably imagine, Ashton Kutcher apparently wasn't happy to hear that Scott Eastwood brought up past cheating claims in such a public way. "Ashton is livid that Scott would bring up his affair with Sara Leal. He cannot comprehend why Scott would choose to do that now, other than the fact he's got a film to sell and needs all the publicity he can get," a source told Hollywood Life shortly after Eastwood got chatty on Bravo. The insider noted that Kutcher has never officially spoken about the allegations. "Ashton himself never confirmed he had an affair, nor did he ever admit that was the reason for his break-up with Demi Moore," they shared.
However, Moore has pretty much stated that this is what went down. The actor got very candid about the demise of her marriage to Kutcher in her 2019 book, "Inside Out," claiming that he told her that his seeing other women shouldn't be a dealbreaker because they had engaged in threesomes together. "Ashton said, that blurred the lines and, to some extent, justified what he's done," she wrote, alleging he cheated with more than one woman. Moore even recalled confronting one of the women the "Just Married" star was accused of cheating with, writing, "I knew she wasn't lying. He admitted it right away."