Ice-T And Coco's Love Story Started On The Set Of A Music Video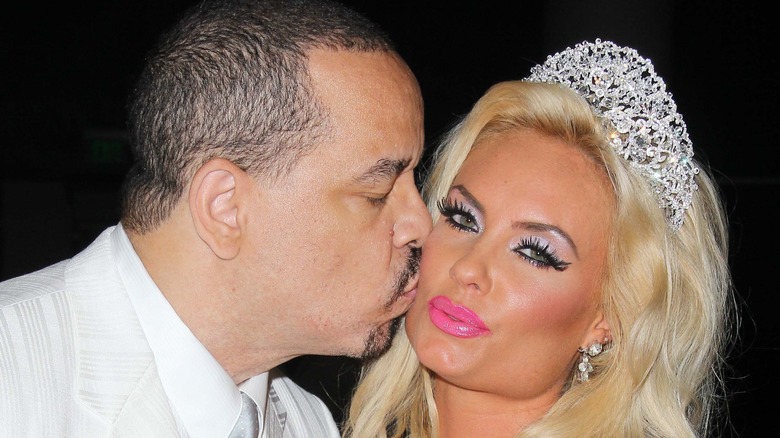 s_bukley/Shutterstock
Ice-T and Coco Austin. Coco Austin and Ice-T. Whichever way round you put these two, there's no doubt that the longtime loves are couple's goals. The rapper-turned-actor and the model have been married since 2001 and they're still head over heels for each other.
Here's a recent example: Austin's super sweet Instagram birthday tribute to her man on February 16. The reality TV star posted a snap of herself and her husband as he turned 65 years old, captioning it, "Happy Birthday to the love of my life also the man who's been holding me down for decades." She then added, "You're such a hard worker and an awesome daddy.. I love you so... Lets party!" And, knowing these two, we're guessing they really did party!
But while we know this is a love that's already lasted decades, just how many decades are we talking about? The pair's first introduction was like something out of a movie, and their meet-cute has us oh so jealous.
Ice-T asked Coco Austin out on the spot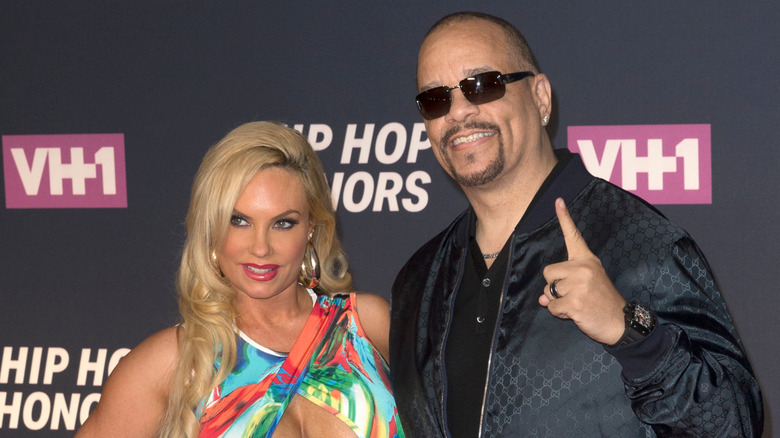 Lev Radin/Shutterstock
Ice-T and Coco Austin took a trip down memory lane to their first meeting on "Mario Lopez: One on One" in 2017, confirming they met on set after the project's producer, who was also Ice-T's friend, introduced him to Austin, who was a model for the shoot, in the hopes of getting him out of a grumpy mood. 
Ice-T wasn't a fan of his friends trying to introduce him to ladies, but this time it was different — and it sounds like it was love at first sight. Or smile, we should say. "So I turned around, and the first thing I saw were her teeth," the rapper recalled of Austin, joking it was pretty soon after that he turned his attention to her chest. "I struggled to remain calm," he then admitted, sharing he instantly went on the charm offensive. "'Would you ever consider dating a gangster rapper?'" Ice-T recalled asking Austin, who admitted she didn't know what one even was. "So, I go, 'Oh, well, if he's nice," she shared, to which Ice-T told her, "'Well, baby, if you take the 'n' off 'nice,' you get 'Ice.'" And the rest, as they say, is history.
Ice-T also opened up about that crucial first meeting on "The Howard Stern Show" that year, revealing the NSFW reaction he had to seeing Austin for the first time. He recalled, "I'm like, holy s***, 'What the f*** just happened?' I was just kind of stunned." 
Ice-T and Coco Austin married mere months after meeting
Clearly, it was meant to be, because Ice-T and Coco Austin have been inseparable ever since then. And it didn't take them long to get serious, either. Just a few months, in fact! 
Coco reflected on their whirlwind romance on her now-defunct blog, writing, "He became my best friend and this instantly was someone I didn't want to live without. We just knew we wanted to be together, we were like yin and yang, like peanut butter and jelly." The two tied the knot in Las Vegas on New Year's Eve 2001, with Austin admitting they didn't invite any family or friends. "I will never forget looking at him face to face just me and him no one else in the room but a priest and a pianist. He got choked up while he spoke which made me get choked up," she shared. Fans got an inside look at their relationship in their 2014 reality series, "Ice Loves Coco."
In November 2015 the couple welcomed their first child together their adorable daughter Chanel Nicole. Ice-T was already a dad to two children from two previous relationships."[Before] I was kind of wild and crazy and didn't really care about what people think. Now I do care what people think, and I want them to think of me as a better person, not the wild Coco," the model admitted to People in 2017 of how motherhood changed her. "I want them to see me as the mother Coco, and that I'm a good person at heart."