The Rare Medical Condition Floyd Mayweather Sr. Lives With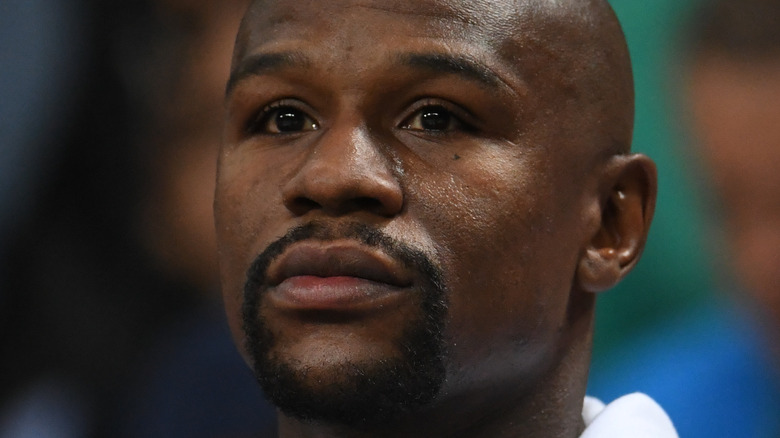 A.RICARDO/Shutterstock
Floyd Mayweather Jr. is believed to be — especially to himself — the greatest boxer of all time. In 2021 he declared to ESPN that he's "TBE" (the best ever) because he retired with a perfect record of 50-0. Sports writer Cliff Eastham backs up the claim. "There is not one, in my opinion, who is or was superior to Floyd Mayweather," Eastham vowed on Bleacher Report. "If there ever was a complete package in one boxer, he would be it."
Many would beg to differ, but few could argue against Mayweather Jr. being one of the wealthiest fighters ever; the athlete really earned the nickname "Money." According to World Boxing News, he earned a staggering $2.7 billion from television pay-per-view sales alone during his career. 
Boxing is in the genes for Mayweather Jr. as he's from a family that's full of incredible athletes. The multi-prizewinner — who's retired more times than Cher at this stage — inherited his skills from his fther, Floyd Mayweather Senior.
Mayweather Sr.'s days in the ring were prematurely cut short after his brother shot him in the leg while he was holding his son. He attempted a post-recovery comeback, but eventually quit boxing to concentrate on his up-and-coming offspring's career instead. Mayweather Sr. has a colossal scar that remains to forever remind him of that fateful day. However, that's not the only issue he struggles with daily. There's also the rare medical condition Floyd Mayweather Sr. lives with.
Floyd Mayweather Sr.'s little known disease causes bouts of severe pain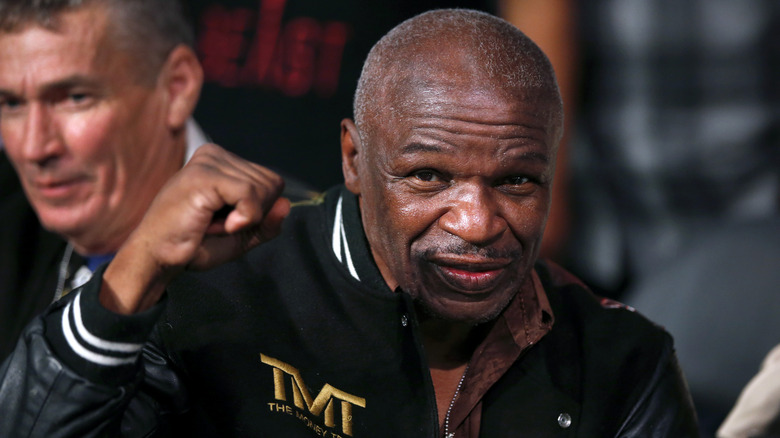 Steve Marcus/Getty Images
Floyd Mayweather Jr. is known for his formidable physique. Because of his ability to duck and dodge punches, the boxer hasn't taken many hits to the face. In fact, Mayweather Jr. used to have the nickname "pretty boy" due to his good looks. He also still enjoys excellent health, unlike his father. Floyd Mayweather Sr. lives with a rare medical condition that results in him suffering horrendous bouts of pain.
"This disease I got is serious, man. It attacks every organ in your body, and sometimes I have my good days, and then other days are bad," Mayweather Sr. told Fight Hype. He said he has Sarcoidosis, which according to the Mayo Clinic, causes "the growth of tiny collections of inflammatory cells (granulomas) in any part of your body — most commonly the lungs and lymph nodes."
"I was at the club on Saturday night, and I felt fine," Mayweather Sr. explained. "Right when the show was ending, man, I got a pain in my ribs, and I was like, 'Damn!' I couldn't even walk, man. I got out to my car, and I drove about 3 to 4 yards and had to put it in park." Still, Mayweather Sr. vows to not allow the disease to disrupt his everyday life. Despite the painful flare-ups, he continues to train his stable of boxers, which, sadly, hasn't included his son for over two decades.
Floyd Mayweather Sr. was his son's trainer and manager until Floyd Mayweather Jr. fired him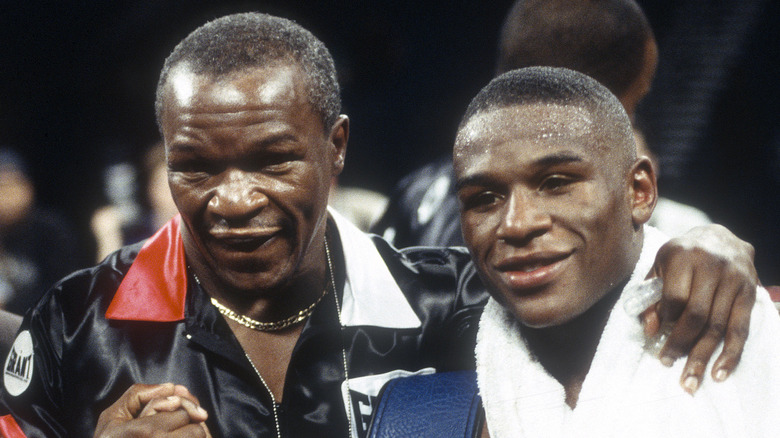 Focus On Sport/Getty Images
Thanks to his stellar career, Floyd Mayweather Jr. lives in one of the most jaw-dropping celebrity homes, well, three actually. The Sun reports that the boxer owns mega-mansions in Los Angeles, Las Vegas, and Miami. However, it wasn't always that way.
Mayweather Jr. grew up dirt poor and experienced a difficult childhood. Los Angeles Times reports that his mom was addicted to drugs. His dad was a dealer — which sounds like a match made in narcotic heaven but results in a toxic and chaotic environment that is nothing but hell for a kid. However, Floyd Mayweather Sr. was determined that his boy wouldn't follow in his footsteps. So, the former pro boxer introduced his son to the ring. He was his trainer and manager right up until Mayweather Jr. kicked him to the curb.
According to Bleacher Report, the athlete fired his father in 2000, claiming that his expectations of perfection were impossible to maintain. Instead, Mayweather Jr. chose to train with his more laid-back uncle, Roger Mayweather, instead. Hopefully, he's not the brother responsible for shooting Mayweather Sr. in the leg. In an HBO documentary, the duo's already contentious relationship worsened, resulting in Mayweather Jr. 86ing his father from the gym and his life. The tumultuous two made up in 2017. Still, given their hotheaded history, it's anybody's guess how long their peace truce will last.