Why Floyd Mayweather Used To Have The Nickname 'Pretty Boy'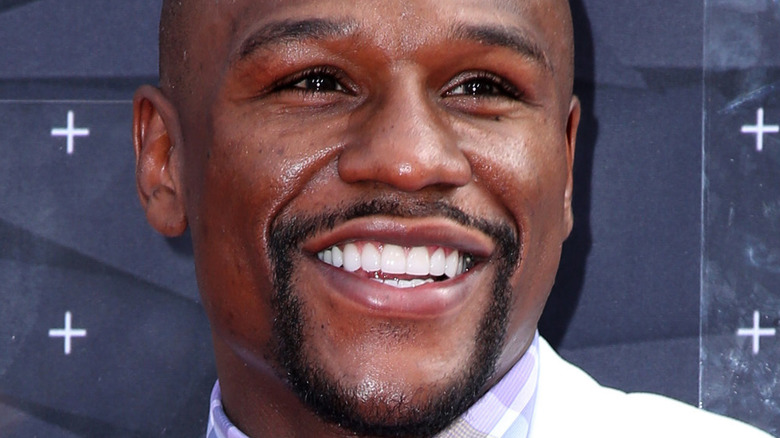 Kathy Hutchins/Shutterstock
Floyd Mayweather is a world champion boxer who held an undefeated 50-0 record when he retired from the sport in 2017, per talkSPORT. His impeccable performance in the ring has resulted in many accolades being granted to the boxing champ, including being named as the greatest boxer of all time by BoxRec in 2019 (via GiveMeSport). Mayweather posted about this honor on Instagram when news of his accomplishment broke, with the caption, "Numbers don't lie and boxrec [sic] told the truth. It is what it is."
Boxing is in Mayweather's blood. His father and two of his uncles, Jeff and Roger, were also boxers, Biography reported. From a young age, Mayweather was so focused on boxing that he dropped out of high school to pursue his passion full-time. His family saw his boxing talent from a young age, so Mayweather's father and grandmother supported his choice to leave school. As Mayweather became an amateur boxer, he earned a nickname from his peers that seems to be contradictory to his strong, skillful approach to boxing: "Pretty Boy."
Floyd Mayweather was able to avoid injuries to his face in the ring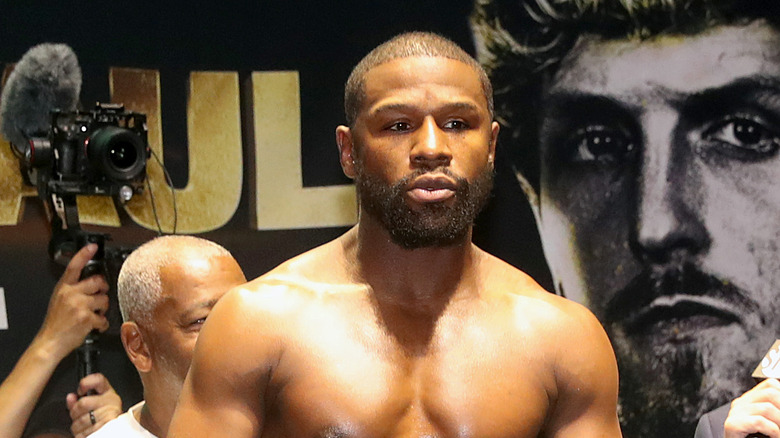 Johnny Nunez/Getty Images
Over the course of Floyd Mayweather's amateur boxing career, he earned an excellent 84-6 record and showed great potential for becoming a successful pro boxer, per Biography. His ability to defend against his opposition was outstanding from the start. Unlike other boxers, who would leave the ring having to deal with bruised, battered, and swollen faces, Mayweather rarely received facial injuries during fights, due to his elevated defensive skills. As a result of his limited facial scars compared to his peers, Mayweather was soon called "Pretty Boy" by the boxing world.
"I got that name, not because of my looks, but because when my fights finished, I never came out cut or bruised. My amateur teammates gave me the name," Mayweather said to The Sweet Science in 2005. Mayweather's "Pretty Boy" status was especially apparent during his 2005 fight against Arturo Gatti. As reported by The Sweet Science, Gatti had to end the fight after only six rounds due to a tough beating, while Mayweather left the ring unscathed.
Floyd Mayweather has gone from 'Pretty Boy' to 'Money'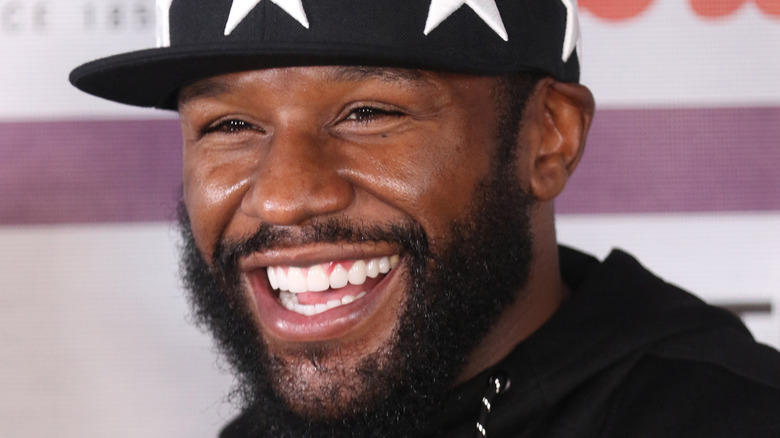 Aaron Davidson/Getty Images
Following his unparalleled career in professional boxing, during which he finished in 2017 with a perfect 50-0 record, Floyd Mayweather remains a top competitor in the sport. He occasionally participates in fights at 44 years old. One of his most recent fights took place in 2021, against YouTuber Logan Paul. This battle ended with no official winner, ESPN reported. Despite the anticlimactic ending, over 1 million pay-per-views were sold, according to USA Today.
His dominant status as a top international boxer has earned Mayweather a new nickname from his peers: "Money." When he appeared as a guest on "Jimmy Kimmel Live" in 2017, Mayweather explained that he could potentially make $350 million from a fight against Conor McGregor alone, and people had begun to call him "Money," due to his significant earnings. It looks like the "Pretty Boy" who left school to pursue his boxing dreams has made every one of those dreams come true.